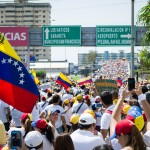 Latin America was not immune to global tumult in 2015. In the case of this enormous region, almost five times the size of India, the economic downturn affected the politics. In Brazil, Argentina and Venezuela, left-wing regimes stood discredited.
Brazil never subscribed to the populist rhetoric of the New Left led by Venezuela. The private sector was nurtured even as massive redistributive programs were funded by the state. The government of the Workers Party (PT), in power since 2003, faces a credible threat this year. An economy in recession, and a serious corruption scandal, threaten Dilma Rousseff's presidency. Even popular former President Lula is under scrutiny for alleged misdeeds.
The opposition Social Democratic Party of Brazil (PSDB – right wing notwithstanding the name) candidate – Aecio Neves – lost to Rousseff by less than three percent in 2014. The party waits in the wings as the ruling coalition appears to fracture. President Rousseff may well survive a congressional move to impeach her in February, but has had to make several compromises with the business establishment.
The most visible political change took place in Venezuela. In December, the Democratic Unity Roundtable (MUD) coalition won 112 of 167 seats in the unicameral parliament, thrashing the ruling United Socialist Party of Venezuela (PSUV) of Hugo Chavez, Latin America's leftist icon, whose spirit lingers well after his death in 2013. Acute scarcity of essential supplies, inflation over 150 percent, a currency (Bolivar) at over 800 to the dollar (official rate 6.3) led to desertion of millions of voters fed on Chavez's social programs.
Most analysts do not hold out hope for the regime. Oil constitutes ninety percent of Venezuela's export. The IMF estimated GDP contraction of ten percent in 2015 and six percent in 2016. Venezuela owes China over fifty billion dollars in exchange for oil yet to be extracted. It owes India's ONGC about five hundred million dollars. It also owes Indian pharma companies, Dr Reddys and Glenmark, tens of millions of dollars.
The outgoing parliament, dominated by the PSUV, appointed extra judges to the Supreme Court in December. The Court then annulled the election of three opposition parliamentarians, to keep the opposition's majority below two-thirds. President Nicholas Maduro clamped an economic emergency on the country in January. It remains to be seen if the opposition will maintain its unity, despite differences between some of its principal protagonists.
Argentina swore in business-friendly Mauricio Macri of the Republican Nomination (Propuesta Republicana – PRO) as President in December. The first democratically elected candidate not from the Peronist party in Argentina since 1916, Macri ended twelve years of rule by Nestor Kirchner (2003-09), and his widow Cristina, who defied the establishment and were seen as excessively populist. Macri's slim margin of less than three percent over the Peronist party candidate, backed by Kirchner, is compounded by a parliamentary majority now with the opposition.
Macri has promised "a market balanced by a strong state." His ministers of finance, foreign affairs, energy, transport and production are from the private sector. He still recognises the need to retain energy and transport subsidies for the poorer sections. He will eliminate strict currency controls imposed by Kirchner. Negotiation with US-based vulture funds  – holding Argentina's credit rating to ransom with ten percent of Argentina's debt –  will prove more difficult. The US government has welcomed these and other initiatives, and now supports loans for Argentina in multilateral financing institutions, potentially releasing hundreds of millions of dollars for vital infrastructure projects.
While three of the most prominent countries in the region have witnessed political turmoil, it may be premature to speak of a rightward shift in Latin American politics. All three have seen improvements in social indicators and a substantial reduction in poverty this century. This has been partly due to revenues generated by the commodity boom. They also weathered the financial crisis of 2008-9.
The rejection of populist and corrupt politics augurs well for Latin American democracy and the rule of law. Institutions are being built and strengthened with demands for public scrutiny over government. Developments in these democracies need to be monitored carefully.
India has a stake in the political stability of all three countries. The region supplied almost twenty percent of our annual oil imports ($ 20 billion) in 2014-15. Admittedly this figure has gone down in absolute terms, to around $ 5 billion in the first half of 2015-16. Import of soya from Argentina and Brazil, around $ 2 billion in 2014-15, looks set to continue.
There are significant Indian investments in extractive and manufacturing industries. India's public sector ONGC (Videsh) Ltd., BPCL, OIL and IOC have invested over $ 5 billion till date in Brazil and Venezuela. The Aditya Birla group is a major player in Brazil's aluminium industry. Automobile companies Mahindras, Bajaj have assembly plants in Brazil. Indian pharma majors are almost all present through local acquisitions or distribution networks, as are chemical companies such as UPL, in Brazil and Argentina.
The economic downturn has taken its toll on Indian exports to the region, though it must also be noted that India has not lost market share. Social programs dependent on affordable generic medicines will guarantee Indian pharma companies a long term presence, despite temporary setbacks. The new government in Buenos Aires should ensure a level playing field for Indian pharma, something its ostensibly friendly predecesor could not. Reforms in Argentina should improve currency stability, essential for our exports.
With the Indian growth story the only shining star on a depressing global horizon, Indian enterprise is being wooed. Careful assessment of political risk will help protect Indian investment and insulate trade with Latin America from political vicissitudes.
Ambassador Deepak Bhojwani has served as India's ambassador to Venezuela, Colombia, Cuba and other countries and is a Latin American expert.
This article was exclusively written for Gateway House: Indian Council on Global Relations. You can read more exclusive content here.
For interview requests with the author, or for permission to republish, please contact outreach@gatewayhouse.in.
© Copyright 2016 Gateway House: Indian Council on Global Relations. All rights reserved. Any unauthorized copying or reproduction is strictly prohibited.