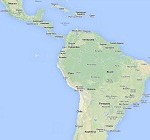 Economic performance
Latin America is projected to do better economically by increasing GDP growth to 3.1% in 2014 from 2.6% in 2013, according to a December report by UNECLAC (United Nations Economic Commission for Latin America and Caribbean). In 2013, the macroeconomic fundamentals have become stronger and more robust, making the region resilient and less vulnerable to external shocks.
It is creditable that the Latin American economies have stayed relatively stable and sound in 2013, despite the global economic slowdown. The only exceptions are Venezuela and Argentina, which ended the year worse off economically than they were in 2012, with issues such as high inflation, foreign exchange shortages and restrictions on imports. Both countries are paying a heavy economic price for poor governance.
Poverty on the decline
The poverty rate has decreased significantly from 48.4 % in 1990 to 27.9 % in 2013. Extreme poverty has declined from 22.6% to 11.5 % in the same period, according to a report titled 'Social panorama of Latin America' released on 5 December by UNECLAC.
Credit for the reduction in poverty and inequality in Latin America goes to the proactive poverty alleviation programmes, such as Brazil's Bolsa Familia, of the leftist governments in the region. But with a still significant poverty rate, the region must keep up its pro-poor policies in the coming years.

Ambassador Viswanathan is Distinguished Fellow, Latin America Studies, Gateway House. He is the former Indian Ambassador to Argentina, Uruguay, Paraguay and Venezuela, and Consul General in Sao Paulo.
This blog was exclusively written for Gateway House: Indian Council on Global Relations. You can read more exclusive content here.
For interview requests with the author, or for permission to republish, please contact outreach@gatewayhouse.in.
© Copyright 2014 Gateway House: Indian Council on Global Relations. All rights reserved. Any unauthorized copying or reproduction is strictly prohibited.