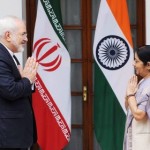 As reports on the Joint Comprehensive Plan of Action (JCPOA) agreement between Iran and the P5+1 countries (the U.S., the UK, France, Russia, China, and Germany) began to trickle out from Vienna on 14 July 2015, India and Pakistan quickly put out statements welcoming the deal. The deal will have major consequences for South Asia, and both countries realise that since they had curtailed their engagement with Iran when the sanctions were in force, both will now have to make extra efforts to benefit from the strategic and economic opportunities arising from a potential rapprochement with Iran.
This is particularly true of India, which in the pre-sanctions period was one of Iran's major partners in energy and security cooperation. Iran was the second-largest supplier of crude oil to India and both countries propped up the Northern Alliance in Afghanistan against the Taliban. [1] But this partnership unravelled quickly after 2006, when the United Nations imposed sanctions against Iran and India's engagement with the U.S. began to blossom. While India continued to import oil from Iran, it progressively cut volume under U.S. pressure.
This downward spiral in India-Iran relations contrasted with Iran's dealings with China. As U.S. and European companies kept away from Iran, China and its companies made strategic investments in Iran, exporting technologies and providing a cushion from sanctions. Now, the JCPOA provides an opportunity for China to further push companies, such as Sinopec and China National Petroleum Corporation, to increase their investments in Iran. With its One Belt, One Road (OBOR) strategy in place, China will take steps to plug Iran into this network through multiple projects such as energy grids, pipelines, and highways.
Pakistan, which has already been enmeshed in OBOR through the China-Pakistan Economic Corridor and the Gwadar-Nawabshah pipeline project, stands to gain from the Chinese push in Iran. The implementation of these projects and their linkages with OBOR will enable Pakistan to increase its trade with Iran, and address its persistent energy woes. But there is also some disappointment within Pakistan, where the political leadership appears to lack the initiative to seize the opportunities arising from the Iran deal.
For India the economic implications of the deal are also linked to the country's energy security and connectivity plans.
The deal benefits India's energy security as it will enable Iran to bring more oil to the market, as much as 2.3 million barrels per day,[2] which could portend a general stability in oil prices. This is important for India, the world's fourth largest energy consumer, a country critically dependent on oil imports.
The removal of sanctions also does away with multiple constraints on trade with Iran. India will be able to make payments for Iranian oil imports in U.S. dollars, and insurance companies will now be able to underwrite tankers carrying Iranian oil. India is also exploring the building of an undersea pipeline in the Arabian Sea to import Iranian gas. Additionally, it is developing the Chabahar port, which will enable it to access Afghanistan and Central Asia, bypassing Pakistan.
But the deal also poses challenges for India.
While India continued doing business with Iran during the sanctions regime, it also sought to contain that engagement due to fears of antagonising the West. In 2009, India voted against Iran at the International Atomic Energy Agency over its uranium enrichment activities. The Iranians were miffed by this treatment but couldn't do much with their limited foreign policy options.
Iran now has multiple options for investment from China, Russia, the U.S., and Europe. In these circumstances, Indian policymakers fear that Iran will drive a hard bargain on various issues. This is already evident in the case of the Farzad-B gas field – the Iranian media is reporting that the country has turned down India's latest offer to develop the field, which comes after procrastination by India's state-owned  ONGC Videsh Limited. [3]
Iran's new attitude will have an impact on Indian companies looking for potential openings in a number of sectors such as food, pharmaceuticals, transportation, services, banking, information technology, and construction. Iran will also get access to over $100 billion of assets frozen abroad,[4] significantly boosting average Iranian consumption. Here Indian companies face strong competition from Russian, American, European, and Chinese companies, which have comparatively low costs and advanced technologies.
On security, Iran and India have explored ways of coordinating their positions on Afghanistan. Joining hands with Iran gives India a good opportunity to evaluate its policy options, such as reviving the erstwhile Northern Alliance. Of late, India has felt left out of Afghan dynamics, while the 'Murree Peace Process' (a political reconciliation between the Afghan government and the Taliban), initiated by Pakistan and China, is gaining traction. Engagement with Iran will also be important for India in countering the Islamic State, the terrorist group that operates mainly in Iraq and Syria, which has announced plans to carry out attacks in India.
Another major foreign policy challenge for both India and Pakistan will be balancing a prospective engagement with Iran against each country's current ties with Saudi Arabia, which has stridently opposed the Iran deal. Pakistan's ties with Saudi Arabia have been uneasy, and Islamabad refused to contribute to the Saudi-led war effort in Yemen. On the other hand, India's relationship with Saudi Arabia has flourished in recent years, particularly on counter-terrorism matters. An additional dimension to consider is the possible impact on India's burgeoning defence ties with Israel, an avowed opponent of the Iran deal.
The course the JCPOA takes will become clearer over time. But right now it is evident that the deal has unveiled new dynamics for South Asia and West Asia, which can impact the regional balance of power in South Asia, as well as India's and Pakistan's engagement with Iran.
Sameer Patil is Fellow, National Security, Ethnic Conflict and Terrorism, at Gateway House.
This article was originally published by the East Asia Forum. 
You can read more Gateway House content here.
For interview requests with the author, or for permission to republish, please contact outreach@gatewayhouse.in.
© Copyright 2015 Gateway House: Indian Council on Global Relations. All rights reserved. Any unauthorized copying or reproduction is strictly prohibited
References
 [1] Mukherji, Biman and Saurabh Chaturvedi , 'India Hopes to Up Oil Imports After Iran Deal', Wall Street Journal, 25 November 2013, < http://blogs.wsj.com/indiarealtime/2013/11/25/india-hopes-oil-imports-increase-after-iran-deal/>
[2] Faucon, Benoît and  Summer Said, 'Iran Wants to Double Oil Exports After Sanctions Lifted', Wall Street Journal, 5 July 2015, < http://www.wsj.com/articles/iran-projects-oil-exports-to-almost-double-after-sanctions-lifted-official-1436098424>
[3] Press TV, Iran turns down Indian company's offer to develop gas field, 3 May 2015, < http://www.presstv.com/Detail/2015/05/03/409216/iran-oil-gas-farzad-b-field-india-development-project>
[4] Reuters, How to Spend $100 Billion? A Headache Looms for Iran, 15 July 2015, <http://www.ndtv.com/world-news/how-to-spend-100-billion-a-headache-loom-for-iran-781876>