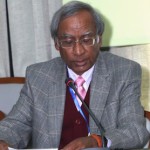 The following presentation was given by Ambassador Rajiv Bhatia at an event hosted by Southeast Asia Research Group on 9 January, 2018.
Indo-Pacific Architecture – Latest Trends
Much pleased with the shift from Asia-Pacific to Indo-Pacific as the focus on India has intensified. It also denotes a vindication of what ICWA did under my watch as DG, the convening of an international conference on 'Geopolitics of the Indo-Pacific Region: Asian Perspectives' in March 2013. Just five years back, the choice of theme was considered bold and innovative. Now the Indo-Pacific is accepted widely. Even the Chinese seem to be objecting to it less!
Indo-Pacific has at least two geographical definitions: 1. from the east coast of Africa to the western Pacific, and 2, East Asian region stretching from India to Japan and Australia. Let us concentrate on the latter.
EAS and other ASEAN-related institutions have striven hard to craft an open and inclusive security architecture, but they have failed so far. Mainly due to one country – China, and largely due its disturbing actions in the South China Sea.
Hence, the need for alternative security architecture and this is where the Quad comes in. It is a response to China's hubris. Its trajectory will be largely shaped by China's actions in the future.
If China chooses to be confrontational and insists on defying international law and rules-based order, the Quad will gain momentum. If, on the other hand, China takes care to make its rise peaceful, the Quad will be happy to wait and watch.
These are very early days for the Quad. It is 'not a silver bullet.' Nor does it have to be 'an Asian NATO.'
But the four Powers (viz US, India, Japan and Australia) should continue doing their homework. In public, they will speak in divergent voices, but internally they should forge – and they seem to be doing so – a common and coordinated position on the line to be drawn for China's assertive approach on Asian affairs.
Role of Others, esp. Vietnam 
The Quad must engage with all member states of ASEAN, with the exception perhaps of Laos, Cambodia and Philippines – for the present.
The other seven states are important, but not in equal measure. Perhaps the four most important ones are: Vietnam, Indonesia, Myanmar and Singapore. The other three – Thailand, Malaysia and Brunei – should not be ignored, but they require a different handling.
Focus must be on Vietnam, and on further deepening the comprehensive strategic relationship  between India and Vietnam:
To Vietnam, India is a time-tested strategic partner. Helps in providing regional balance to Vietnam's foreign policy which concentrates attention on ties with China, Russia, India, US and Japan.
To India, Vietnam has been an important friend from well before it even joined ASEAN. It enjoys immense goodwill and admiration for its historic role in defeating a major colonial power (France), a super power (US), and giving a bloody nose to its giant neighbour in the north (China).
Vietnam's passionate nationalism, blended with its resilient economic policy, has endeared it to India deeply.
We should listen to Vietnamese arguments with attention. These are: Vietnam wants 'more of India in ASEAN'; South China Sea is a 'common security challenge to all'; and there is 'a serious disconnect between what China says and what it does.'
Our Expectations from Vietnam 
To share with us its perception where each ASEAN country stands on the road to negotiations for a new COC with China
To help us reduce the gap existing between ASEAN's Master Plan on Connectivity and India's policy approach
To assist us on RCEP so that it brings a balanced outcome of shared gains
To take interest in India's current endeavours to secure an all-round rejuvenation of BIMSTEC. (There is a strongly emerging view in strategic circles that three CLMV countries should become Observers in BIMSTEC, as the fourth country – Myanmar – is already a member.
To share with us its candid assessments, on a continuing basis, on the strengths and vulnerabilities of China under President Xi Jinping
Conclusion
There is huge scope for expanding and diversifying bilateral dialogue and mutual cooperation to newer areas
For this, Vietnam's image as an authoritarian political system and society needs to be softened. This should be possible by engaging more with India's civil society, academia and media
Another effective way is to bring young and hitherto-untouched scholars within the ambit of India-Vietnam dialogue in the future. I am glad to note that SEARG has been helping to do so. Its counterpart institutions in Vietnam can perhaps do more!
Rajiv Bhatia is Distinguished Fellow, Gateway House. A former ambassador to Myanmar, he writes regularly on East Asian developments
This speech was exclusively written for Gateway House: Indian Council on Global Relations. You can read more exclusive content here.
For interview requests with the author, or for permission to republish, please contact outreach@gatewayhouse.in.
© Copyright 2018 Gateway House: Indian Council on Global Relations. All rights reserved. Any unauthorized copying or reproduction is strictly prohibited