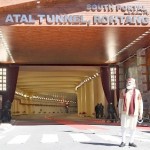 The inauguration of the Atal tunnel by Prime Minister Narendra Modi in Himachal Pradesh last week, is a step closer to the all-weather connectivity push for Leh and forward areas in the Union Territory of Ladakh. The tunnel will connect Leh with the Lahaul-Spiti Valley in Himachal Pradesh and is an important stretch of connectivity for residents of Ladakh and Indian Army troops deployed in Leh and forward areas as it will provide them with road network even during the Winter season. This infrastructure build-up consists three elements: border roads, strategic railway lines and Advance Landing Grounds (ALGs) – airfields where the Indian Air Force cargo aircraft can land and take off on shorter airstrips. These are of particular significance now because of the continued Chinese incursions into the region, and will add to the logistical capabilities of the IAF, as it provides supplies to the troops which will remain deployed during the harsh winter.
a) Border roads: The Indo-China Border Roads, 3,290.32 km long; 73 have been approved, of which 61 have been given to the Border Roads Organisation (BRO). The BRO has already completed 75% of its job.[i]
b) Strategic rail lines: Comprising 14 projects running along the China, Nepal and Pakistan borders.[ii] Of these, four in the first phase, run along the Line of Actual Control (LAC) – the Missamari-Tenga-Tawang line, the Bilaspur-Manali-Leh line, the Pasighat-Tezu-Rupai line and the North Lakhimpur-Bame-Silapathar line.[iii] These pass through the rugged terrains of the Himalayas, and have been a challenge. The railways had targeted 2019 as the completion date for the final location survey (which maps the terrain, the route alignment, sections of the route etc.), but is lagging.
c) Advance Landing Grounds: Three are already activated in Ladakh and seven in Arunachal Pradesh,[iv] [v] with one more planned for renovation in Tawang.
Sameer Patil is Fellow, International Security Studies Programme, Gateway House. 
This infographic was exclusively made for Gateway House: Indian Council on Global Relations. You can read more exclusive content here.
For interview requests with the author, or for permission to republish, please contact outreach@gatewayhouse.in.
© Copyright 2020 Gateway House: Indian Council on Global Relations. All rights are reserved. Any unauthorized copying or reproduction is strictly prohibited.
References
[i]Standing Committee on Defence, Lok Sabha Secretariat, 'Ministry of Defence: Demands for Grants (2020-21)', March 2020, http://164.100.47.193/lsscommittee/Defence/17_Defence_5.pdf
[ii] Lok Sabha, 'Unstarred Question No. 2306′, Government of India, 30 November 2016, http://loksabhaph.nic.in/Questions/QResult15.aspx?qref=43040&lsno=16
[iii] Lok Sabha, 'Unstarred Question No. 1294′, Government of India, 25 July 2018,
http://loksabhaph.nic.in/Questions/QResult15.aspx?qref=70000&lsno=16
[iv] Ministry of Defence, 'Annual Report 2018-19′, Government of India, 2019, https://www.mod.gov.in/sites/default/files/MoDAR2018.pdf
[v] Lok Sabha Secretariat, 'Standing Committee on Defence (2016-17) Twenty-Fifth Report', March 2017, https://eparlib.nic.in/bitstream/123456789/65182/1/16_Defence_25.pdf