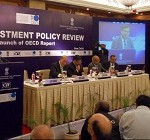 Just three years ago, India was viewed as another Asian upcoming economic giant, along with China. Now, instead, the country is in a severe economic slowdown with a potential balance-of-payment crisis. A plummeting rupee and declining foreign exchange reserves have led some experts to compare it with India's 1991 crisis with its subsequent IMF bailout.
Certainly New Delhi's economic mismanagement is largely to blame. But so is the Indian business community. In the last few years, it has abdicated the role it has historically played in providing the government with an independent opinion and pushing for the critical reforms required.
There is a clear opportunity for corporate India to step up and pull the country out of the current crisis by proactively altering its approach to government inaction. Top-of-the-list is reform of the apex chambers of commerce. These have become insiders' clubs and event managers at best, rather than the representative voice of the wider business community. This is particularly important now, when our weak 4.5% growth rate will probably dip further. Setting their own house in order will reinstate the legitimacy lost over the years. Only then can they credibly push governments for change.
Externally, the chambers must renew the push for labour reforms particularly in the archaic Industrial Disputes Act of 1947. This will stimulate growth and create jobs with commensurate benefits. The vast numbers of contract jobs that exist today are underpaid, have no security, and do little to build the skills needed for a productive labour force. So far, the record of the chambers on these fronts has been dismal.
The chambers played almost no role in the formulation of the unaffordable Food Security Act and the Land Acquisition Act, the latter of which will surely stymie business expansion. Nor did they insist on clear infrastructure outcomes from the work assigned by the NREGS, also a funds-guzzler. Instead of putting forward a well-researched paper that showed how enterprise can help to efficiently develop industrial and agricultural infrastructure to ensure food security, the chambers merely opposed the food bill or recommended fixing the distribution system before the passing of the bill – all to no avail. They did press for subsidies to be reduced, again a consideration that New Delhi ignored. By the time the legislation was passed, it was too late. All that remained  was to bemoan the Acts – and hope for the U.S. Federal Reserve to continue its quantitative easing programme so that the flow of foreign funds into the Indian stock market continues.
The subsequent collapse of the rupee was even more acutely felt by Indian business, which has increased its overseas presence and loans but not its export competitiveness. India's gross domestic capital formation has dropped from 38% of GDP in 2007 to 35% in 2013, reflecting the declining overall investment. What's left is an entitlement-driven economy supported by taxpayer money, with policies now hard to overturn or reform. Like Brazil in 1985, this can lead to a fiscal crisis – the last thing business wants.
Internally, the chambers must advocate for more efficiency and preparedness within their membership. Indian business seems to have gone back to the bad old days of the 1980s, when over- and under-invoicing was rampant, capital flight took place under cover of various corporate endeavours, bank loans were endlessly refinanced leaving the public banking sector weak, 'competitiveness' was just a word and minority shareholders were always getting shafted.  The chambers can change this by setting high standards and holding all members accountable.
India's business community must take responsibility for long-term structural changes. It must not revert to its old 'Bombay Club' instincts when it regarded India as its protectorate, demanding preferential treatment over multinational competitors. Indeed all businesses in India, including multinationals, must have a level playing field, and be assisted in that by policies pursued by the chambers of commerce.
This refreshing change will only happen if the chambers honestly restructure themselves. Their focus must stay on advising the government on business policy, looking beyond the interests of a few powerful members, independently funding their organisations, and supporting their lobbying with serious research.
Germany provides a good model.  There, all companies are required to be members of one of the 80 chambers, which in turn are part of the single Association of German Chambers of Commerce and Industry, an inclusive and politically powerful group.  In India, only 7,100 companies are members of the apex Confederation of Indian Industry, despite there being an additional at least 30 million micro, small and medium enterprises, just   5% of which are officially registered. CII, FICCI and ASSOCHAM are not reflective of the multi-layered landscape of Indian enterprise which comprises these vibrant but voiceless smaller ventures. Their representation can be improved by creating and empowering local district-level chambers whose membership should comprise small and medium business.
A last word: the post of chamber president is reserved for those who seek it, typically business owners of large enterprises looking for access to the corridors of power.  Better to follow instead the U.K., where the chief spokesperson is a professional, not a business owner, enabling him or her to represent the independent views of a broad set of businessmen without the baggage of vested interests.
Business activism is the need of the hour. Only then will corporate India regain its lost legitimacy, and India, its lost growth.
Dr. Rajiv Kumar is Senior Fellow at the Centre for Policy Research, New Delhi.
Karan Pradhan is Senior Researcher at Gateway House: India Council on Global Relations.
This article was originally written for The Economic Times, here. You can find more exclusive features here.
For interview requests with the author, or for permission to republish, please contact Rajeshwari Krishnamurthy at krishnamurthy.rajeshwari@gatewayhouse.in or 022 22023371