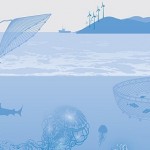 The Indian Ocean Region (IOR) Defence Ministers' Conclave on 4 February 2021 presents an important opportunity to reflect on the fundamental inter-linkage between defence and development, security and prosperity. Defence and security as well as development and prosperity are required; a state or a region cannot do with just one or the other. An integrated security-development matrix needs to be pursued together as national or pan-regional objectives.
A realistic perspective, therefore, envisages appropriate deployment of and balance between hard and soft power. This mindset governs India's policy towards the IOR which is a subset of the larger Indo-Pacific Region, the favourite term today with most governments and scholars of strategic affairs.
This essay delves into the rationale and scope of the Blue Economy as an instrument to spur broader and speedy economic development in the IOR. It has become indispensable, given the increasing pressures of the global population on land-based resources and limitations of conventional economy to satisfy the need for more employment opportunities and equitable growth.
IOR
The IOR has gained strategic, political and economic weight in the 21st century. This will continue in the present decade and beyond. The complexity of inter-state relationships too has grown, with the shift of power from the west to the east; the rise of China, India and others; the increase in China's assertiveness with an expansionist and aggressive intent; and the quest of the major players for a workable balance of power.
While the unfolding rivalry and strife have been a cause of concern and some action, it is in the area of development that competitive energy can be positively harnessed and sound regional cooperation pursued. Exploiting the full potential of a sustainable Blue Economy offers a promising path.
IORA AND BLUE ECONOMY
Such positive thinking guided the Indian Ocean Rim Association (IORA) to begin championing the cause of a multi-dimensional growth of the Blue Economy. It is fair to examine as to what the Blue economy is. While no universally acceptable definition is available, this author helped in crafting a comprehensive definition which is given below:
The Blue Economy encompasses a wide range of economic activities pertaining to sustainable development of resources and assets in the oceans, related rivers, water bodies and coastal regions – in a manner that ensures equity, inclusion, innovation and modern technology. Subtly distinguishable from the "ocean economy" in terms of nuance and emphasis, the Blue Economy is a newer and more contemporary term, popular with Small Island Developing States (SIDS) as well as international organisations, media, experts and governments in a growing number of countries.[1]
Not surprisingly, the IORA has been an early and steady champion of the Blue Economy, as its membership exclusively comprises a cross-section of countries, rich and poor, whose shores are washed by the waters of the Indian Ocean. The Association's website stresses the former's commitment to "growing the Blue Economy in a sustainable, inclusive and people-centered manner."[2]   Its decision-making chronology is noteworthy:
October 2014: Blue Economy was recognised as a special focus area at the 14th IORA Ministerial Meeting in Perth. It was assessed to have potential for "generating employment, food security, poverty alleviation and for ensuring sustainability in business and economic models in the Indian Ocean."[3]
September 2015: IORA's first Ministerial Conference on the Blue Economy, held in Mauritius, resulted in a declaration calling for harnessing the oceans and maritime resources to drive economic growth, while safeguarding sustainability and environmental protection.
2017: The year saw some progress. First, at the Association's first-ever summit, held in Jakarta in March, the Blue Economy was recognised as a major cross-cutting theme requiring the member governments' special attention. The Jakarta Concord emerged, so did the Action Plan (2017-21) which led to the establishment of the Working Group on Blue Economy a little later. Second, Indonesia also hosted the second Ministerial Conference on Blue Economy in May under the title 'Financing the Blue Economy', which produced a substantive statement of principles, elements and guidelines that could shape regional cooperation.
September 2019: The third Ministerial Conference on Blue Economy took place in Dhaka, which focused attention on 'Promoting Sustainable Blue Economy – making the best use of opportunities from the Indian Ocean.' Speaking at this conference, Sheikh Hasina Wazed, the prime minister of Bangladesh, pointed out, "There is an intricate relation between peace, security and sustainable development," adding that the region should "simultaneously look Blue Economic growth and think blue."[4]
December 2020: The most recent IORA Council of Ministers Meeting, hosted by the UAE in virtual format, took note of cooperation possibilities in this domain. The representative of Bangladesh, the next chair of IORA, highlighted the significance of cooperation in the areas of fishing, shipping, maritime safety and security, tourism, and disaster management.[5]
INDIA'S PERSPECTIVE
India enjoys a pivotal position in the Indian Ocean. It accords a high priority to its relations with the region. New Delhi is deeply committed to the success of the IORA (earlier known as IOR-ARC), an institution which was established in March 1997, following the interaction between South Africa's President Nelson Mandela and the Indian leadership in January 1995. It registered modest success in its early years. Its reinvigoration began later, with India as the Chair during 2011-13. Subsequent Chairs – Australia, Indonesia, South Africa and the UAE – have carried forward this process, with the Blue Economy emerging as a central theme for the IORA.
India's perspective on the Blue Economy has been shaped by the policies of the government and studies by business leaders, maritime experts and think tanks.
The government's approach was articulated by Prime Minister Narendra Modi in a series of speeches between 2015 and 2020, especially those delivered in Mauritius (2015), Singapore (2018) and Thailand (2019). His enunciation of the concept of SAGAR ('Security and Growth for All in the Region'), an inclusive Indo-Pacific, and the Indo-Pacific Oceans' Initiative (IPOI) brought together the security and development dimensions. Support for a suitable framework for the development of Blue Economy was also voiced. This is built around India's own Sagarmala Programme, an ambitious $120-billion initiative to upgrade and further develop the country's coastal and maritime infrastructure, keeping in mind the developmental and security elements of the Blue Economy like port modernization, connectivity, port-linked industrialisation and coastal community development.
New Delhi has since been proactive in its dialogues and attempts to forge cooperation centered around the Blue Economy, with South Asian neighbours, ASEAN, Australia and Japan, African partners and BRICS.
Other institutions in India too have been active. The NITI (National Institution for Transforming India) Aayog, a policy think tank of the Government of India, undertook a detailed multi-sectoral study of maritime issues, including the Blue Economy. Reports of its seven working groups were released recently. Indian think tanks like RIS, ORF and Gateway House have been engaged in research and programmes to enhance public awareness about the issues and stakes involved.
Significant also is the role of the Federation of Indian Chambers of Commerce and Industry (FICCI), a premier national business chamber, in researching and disseminating knowledge about the Blue Economy within its vast corporate membership and its partners. In recent years, it held a series of business interactions in coastal India and sustained outreach with potential external partners such as the EU, Norway, France, Germany etc. to promote the Blue Economy. Its first publication, Blue Economy Vision 2025: Harnessing Business Potential for India Inc and International Partners (2017)[6] was formally presented the same year at the IORA senior officials' meeting in Jakarta.[7] This was followed by a second publication in 2019 on Blue Economy: Global Best Practices – Takeaways for India and Partner Nations.[8]
This increased research and promotional activity have created better awareness within India, of the Blue Economy and its potential to harness "both mature and new sectors ranging from ports and shipping, fisheries and aquaculture to marine bio-technology, renewable energy and deep-sea mining."[9]
While Indian business has not actively set out a company-specific strategy for the Blue Economy, Indian venture capitalists and social enterprises have independently seized regional opportunities. For example, in 2017 Aavishkar-Intellicap Group, an Indian-origin, Singapore-based social impact venture fund, made a $2 million investment in a fishing community in Sumbawa island in the strategically important Lesser Sunda region of Indonesia.[10]
The business and strategic community are now joining hands to seriously explore the economic potential. During October 2020-January 2021, a series of six dialogue sessions called the 'Quadrilateral Virtual Series on Blue Economy – India's Pathway to Sustainable, Secure and Resilient Economy' were hosted jointly by Konrad Adenauer Stiftung (KAS), National Maritime Foundation (NMF), The Energy and Resources Institute (TERI), and FICCI, involving a large number of domain experts. The report on their deliberations is awaited.
POLICY SUGGESTIONS
The Conclave of IOR's Defence Ministers, hosted by India's Ministry of Defence in collaboration with the Ministry of External Affairs, is a valuable platform to jointly develop dimensions of regional cooperation. Hence a few important policy suggestions:-
Development of the Blue Economy requires a comprehensive approach covering its three pillars: security, sustainability and business profitability. A healthy ocean alone can produce robust economic opportunities and address issues like climate change, biodiversity and food security. To ensure clean oceans, a Public-Private Partnership (PPP) is essential. Practical ways to nurture it should be a major policy objective.
Full potential of the traditional sectors of Blue Economy such as fisheries and aquaculture, shipping and port development may be leveraged by increasing investments in building infrastructure, human resources, financing and governance systems for ocean development.
Sustainable development and green growth are the new paradigms. Requisite financial tools are being put in place. Green or blue financing generated through regular budgetary allocations, business investments including FDI and equity, and development assistance should be stepped up and publicized widely to secure greater business engagement.
Additionality in the Blue Economy's contribution to the economy will be ensured only if the power of technology is optimally deployed. In this regard, the relevance of the Fourth Industrial Revolution (4IR) technologies such as Artificial Intelligence and Machine Learning is self-evident. A suitable policy framework and financial incentives are required to help entrepreneurs in utilising the new technologies.
India, together with the next two chairs of IORA – Bangladesh and Sri Lanka – should consider hosting a well-designed Regional Conference on the 'Business Perspectives of the Blue Economy' in 2021, with the assistance of relevant specialised institutions.
CONCLUSION
At the launch of the Sagarmala Programme in March 2015. PM Modi stated, "Investing in the maritime sector is not only investing in one's own future, but on the future of the planet and that of the coming generations."[11] He presented an updated view on the Blue Economy in January 2021. While inaugurating the Kochi-Mangaluru gas pipeline to the nation, he observed, "Blue Economy is going to be an important source of 'Atmanirbhar Bharat'."[12]
Self-reliance and interdependence within the IORA can turbo-charge this single lane of regional cooperation and conservation, thus setting the right example.
Amb. Rajiv Bhatia is Distinguished Fellow, Gateway House and a former ambassador.
This article first appeared in An Ocean of Opportunities, Ministry of Defence.
References
[1] FICCI 2017 Knowledge Paper. https://www.gatewayhouse.in/wp-content/uploads/2017/06/FICCI_Blue-Economy-Vision-2025.pdf
[2] Blue Economy. https://www.iora.int/en/priorities-focus-areas/blue-economy
[3] Ibid.
[4] 'Third IORA Ministerial Blue Economy Conference', IORA, 6 September 2019. https:// www.iora.int/en/events-media-news/news-updates-folder/third-iora-ministerial- blue-economy-conference.
[5] Rear Admiral (Retd.) Md. Khurshed Alam, BN Secretary, Maritime Affairs Unit of the People's Republic of Bangladesh, 'Official Press Release: 20th IORA Council of Ministers Meeting on 17 December 2020 held by the United Arab Emirates, virtually', IORA News, 18 December 2020. https://www.iora.int/en/events-media- news/news-updates-folder/official-press-release-20th-iora-council-of-ministers- meeting-on-17-december-2020-held-by-the-united-arab-emirates-virtually.
[6] FICCI 2017, Blue Economy Vision 2025: Harnessing Business Potential for India Inc and International Partners http://www.ficci.in/desk-study-page.asp?spid=20896&deskid=54535.
[7] Rajiv Bhatia, 'Indian Ocean Rim Association Senior Officials Meeting', Gateway House, 25 May 2017. https://www.gatewayhouse.in/iora-senior-officials-meeting/
[8] http://ficci.in/spdocument/23166/Blue-Economy-Business.pdf
[9] Rajiv Bhatia, Inaugural Address entitled 'Indo-Pacific, the contested theatre' at International Seminar on "Indo-Pacific: Emerging Dynamics", hosted by UGC Center for Maritime Studies, Pondicherry University, 21 February 2019.
[10] For details, see: Manjeet Kripalani, 'Innovation's role in the Blue Economy', Gateway House, 6 September 2017.: https://www.gatewayhouse.in/blue-economy-in-taiwan/
[11] Prime Minister Modi, 'Release of National Perspective Plan, Sagarmala Programme', Inauguration of Maritime India Summit 2016, 14 April 2016. https://www.narendramodi.in/pm-modi-at-the-inauguration-of-maritime-india-summit-2016-in- mumbai-440341.
[12] PM dedicates Kochi-Mangaluru Gas Pipeline to the Nation', 5 January 2021. https://www.narendramodi.in/prime-minister-narendra-modi-dedicates-kochi- mangaluru-natural-gas-pipeline-to-the-nation-553214.