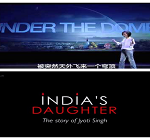 On February 28, Under the Dome, a documentary on pollution and environment in China, by Chinese journalist Chai Jing, went viral within Chinese cyberspace.  Within 48 hours, the film had been viewed more than 200 million times and had become the centre of national discourse. A few days later, on March 4, the BBC released India's Daughter, a documentary by Leslee Udwin on the Nirbhaya rape incident that shook the country in 2012. Within days, this film too went viral on the internet and proceeded to dominate national media.
Both films documented harsh realities that the two countries have been grappling with for years— in China, the issue of pollution, environment degradation and its effects; in India, the issue of male brutality and violence against women.
In both countries, the ruling governments, the Communist Party in China, and the BJP-led government in India, decided that banning online access and distribution of the documentary was the best course of action. In doing so India's mandate for online censorship is widening to look more like China's.
'Under the Dome'
Twenty hours after being uploaded online, the documentary had gone zou hong (viral) across WeChat, Youku and QQ. The film even received praise from the minister of environment protection, Chen Jinling, while the country's vast army of censors and sophisticated infrastructure watched idly.
Finally on March 5, orders were issued to websites to delete the film, and to media personnel not to post content about the film[i] on platforms like WeChat and Weibo. By then, hundreds of millions had already seen the film. It is speculated that groups and individuals within the Communist Party with an interest in building support for pro-environment reforms encouraged the spread of the film.
'India's daughter'
In the case of India, the BBC documentary was aired in the UK and around the world, but preemptively banned from release in India. It was posted on YouTube, but then removed at the request of the Indian government.
Ultimately, the Indian government was powerless to stop the online spread of the film. More copies emerged on YouTube and then on various file hosting and file sharing websites. Within days the country was up in arms—not just in response to the shameful statements and confessions by the rapist and the lawyers who defended him, but also the government's decision to ban the film.
Expanding censorship 
India is no stranger to banning art, films or books. It has been done routinely so for many decades under the pretext of religion or indecency, that the public almost expects it, instead of the honest discussion of a grave issue that ought to ensue.
In this case, the government's decision to ban the film was based on the fear of international embarrassment and 'loss of face' and tourism. Home minister Rajnath Singh declared it was "a conspiracy to defame India". The government then clutched at the few legal straws it could grasp, choosing charges like "a huge public outcry and serious law and order problem" and the alleged violation of permission to film inside Tihar Jail.
These are exactly the kind of charges that the Communist Party in China regularly levies on activists, books or any information that the party perceives as causing the country to diu lian (lose face).
India is clearly taking a leaf out of China's copybook on internet censorship, and widening its mandate for online censorship.
In September 2014, 23 individuals, including minister of Telecom Ravi Prasad and Computer Emmergency ResponseTeam (CERT) director-general Gulshan Rai, met to discuss placing a filter on the internet. Telecom minister Ravi Prasad argued for it based on the "larger issue of respecting cultural values of the country and sentiments of the Indian society"[ii].
In December 2014, the government moved to temporarily ban access to 32 websites under the pretext of a national security threat. The ban included popular culture websites such as Daily Motion and Github, a popular website among software engineers.
But India is hobbled by its own lack of human and cyber infrastructure to enable comprehensive and efficient blocking of content. Its attempts at doing so have been clumsy and ineffectual. This was evident in the government's order to all ISPs to block access to the 32 websites, without clear instructions on how they should do so. This resulted in the different ISPs using varied methods to do so, some less effective than others, allowing filters to be easily circumvented.
Censorship fails 
Unlike China, India is a democracy, with a far more open Internet, with most Indians using international platforms like Facebook and YouTube. This precludes India from excercising the sort of control on Internet use that China does.
It is disturbing that India and China, two of Asia's leading countries, choose to block access to content that informs and educates their public on major national issues.
In the case of these two documentaries, the irony is that India too has a major pollution problem. In fact, it ranks even worse than China on some indicators. Yet this has not become a major national issue—yet. In the future, will the government move to ban a film about India's pollution problem, if released? If New Delhi is genuinely afraid of "losing face", then it should constructively join and perhaps even initiate the ensuing national debate, and act on the disturbing realities exposed in these films, rather than attempt to conceal them through censorship.
Dev Lewis is Digital Media and Content Coordinator at Gateway House
This blog was exclusively written for Gateway House: Indian Council on Global Relations. You can read more exclusive content here.
For interview requests with the author, or for permission to republish, please contact outreach@gatewayhouse.in.
© Copyright 2015 Gateway House: Indian Council on Global Relations. All rights reserved. Any unauthorized copying or reproduction is strictly prohibited.
---
[i] "Minitrue: Delete "Under the Dome"" China Digital Times (CDT). March 7, 2015. http://chinadigitaltimes.net/2015/03/minitrue-delete-dome/.
[ii] Pahwa, Nikhil. "It Looks like India's Going to Get a Web Filter." MediaNama. November 13, 2014. http://www.medianama.com/2014/11/223-it-looks-like-indias-going-to-get-a-web-filter/