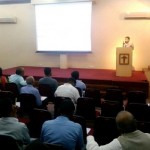 When I arrived in Chennai for this conference, I was skeptical. Soft diplomacy sounds good on paper, but the hard realities of the India-China relationship, including the countries' fractious border conflicts, seemed to make the theme premature, or even naive. While people-to-people connections are important and are worth expanding, the impact of people-to-people relations will surely be limited while the boundary dispute remains unresolved.
The opening keynote speakers made this point upfront: one of them, Ambassador Ashok Kantha, director of the Institute of Chinese Studies, maintained that there is reason to believe that India and China can use soft diplomacy to manage their geopolitical relationship more productively. They cited Sino-Japanese relations, which, in spite of centuries of trouble, have achieved greater circulations of students, academics and tourists than India and China, whose civilisations have known each other and interacted for two millennia. While acknowledging the challenges – different economies and forms of government, China's irredentism, rankling memories of the 1962 war – they argued that enhanced soft diplomacy could reduce negative perceptions among both Chinese and Indians.
Some key suggestions to foster cultural understanding between the two nations and its people included increasing the number of Confucius Institutes[1] in India and Indian cultural centres in China; higher enrollment of students – there are 20,000 Indian students in China, but only 2000 Chinese students in India – and making India a more attractive destination for Chinese tourists.[2] Fostering city relationships and other activities that bring citizens of both cities together on a common platform, like a Mumbai film festival in Shanghai and vice versa, also received favourable mention.
One interesting presentation described a setback in people-to-people interaction. The traditional movement of people across borders in the high Himalayan passes for trade and pilgrimage has largely ended, barring a few exceptions (such as, the Nathu La Pass) as a result of border pressures, including Chinese propaganda and fake news, spread among locals in India's border areas.
Yet there have been some exceptional success stories in soft diplomacy. India's brand ambassadors in China, by all accounts, are actor Aamir Khan and the late Yoga Guru B.K.S Iyengar. Khan's movies, beginning with Three Idiots (2009), have all been blockbusters in China, Iyengar had a following of 30,000 practitioners back in 2011, when he first visited China.
But the most heartwarming story involves Mao Tse Tung's student, Xu Fangcheng (known as Hu Hsu in India), who lived in India from 1945 to 1978. During his time in Pondicherry (since 1954), he translated into Chinese all 50 volumes of the Upanishads, the Bhagavad Gita, Kalidasa's lyrical poem, Meghaduta (the Cloud Messenger), and the works of Sri Aurobindo. Fangcheng's translations have been going into reprint at a furious rate ever since they first appeared on the Chinese market in 2000. In turn, he left behind a bit of China in India too: he gave all his Chinese paintings to the Ashram, along with his translation of Confucius from the original into English.
Stories like this give one hope. Maybe Fancheng's works, along with Khan and Iyengar, in particular, will begin a virtuous cycle in India-China people-to-people relations – one strong enough to help contain the volatile border stand-offs.
Sifra Lentin is Mumbai History Fellow at Gateway House.
Click here to view details about the event.
This blog was exclusively written for Gateway House: Indian Council on Global Relations. You can read more exclusive content here.
For interview requests with the author, or for permission to republish, please contact outreach@gatewayhouse.in or 022 22023371.
© Copyright 2018 Gateway House: Indian Council on Global Relations. All rights reserved. Any unauthorized copying or reproduction is strictly prohibited.
References
[1] The learning of Mandarin was described as "a penance that leads to perfection".
[2] What is meant by this is that Indian tour operators, guides and hotels have to be more mindful of cultural mores, such as the fact that the Chinese eat dinner by 6.30 pm or that many Chinese tour groups are made up of only women, who are mid-budget tourists.