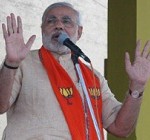 Narendra Modi has been re-elected as the Chief Minister of Gujarat, giving him an unprecedented fourth term in office. With 115 of the 182 seats in the Gujarat Legislature, Modi will be able to comfortably continue the development work that he began a decade ago, that is now referred to as the 'Gujarat model' – growth and prosperity through a focus on the basics of development (power, roads and water, education and enterprise) and governance, overseen by a strongman at the helm. His win will also give him a legitimate chance to walk onto the national political stage – and perhaps change the fortunes of Indians. "The game has changed, and India is in play from now on," says Surjit Bhalla, well-regarded New Delhi economist and author of Devaluing to Prosperity, a book on global growth processes.
What Bhalla means is this: with this victory, the fate of India's two national political parties has changed, and the battles within and without will play out over next few months leading up to the national elections of 2014.
For sure, the resurgence of Modi is a blow to the Congress party and its family story. The Gujarat election pitted one model of development versus another. On the one side is the development-through-governance work of the nerdy Modi, a minister of the opposition Bharatiya Janata Party (BJP), famously single and childless. Pitted against him is the Gandhi family-owned and run, venerable but dynastic Congress Party and its agenda of staying in political power by legislating rights and quotas – the Right to Information, the Right to Education, the Right to Food, promotion quotas, community and caste quotas, minimum livelihood guarantees. Both have benefitted India, but the former has generated revenue and employment for the state while the latter has broken the budget and left India teetering on a fiscal cliff.
The contrast between the two parties was glaringly obvious in Gujarat, where Rahul Gandhi, son of Congress Party leader Sonia Gandhi, who is often touted as the party's prime ministerial candidate, campaigned against Modi last week. In Godhra district, for instance, where riots in 2002 against the Muslim population turned many against Modi, Rahul Gandhi came late to his rally, making thousands of his bussed-in constituents wait for three hours in Gujarat's merciless mid-day heat. He narrated stories about his great grandfather Jawaharlal Nehru's friendship with the Gujarati Mahatma Gandhi, promised to fulfil Gandhi's dream of a developed Gujarat, took a few swipes at Modi, and promising water and irrigation plans if voted into power, left.


The Congress Party rally (Courtesy: Satish Padmanabhan/Outlook)
Modi, on the other hand, made a direct and emotional connect with those who turned out to meet him. He was rarely late, and his meeting grounds – even those in Congress bastions – were covered with shamianas to keep out the sun. He was a servant of the people, he reminded them, unlike the Congress leaders who preferred to rule the people. He provided water and education and roads and jobs and stopped the migration of Gujaratis to other states. Most of all, he was their 'watchman' at the door of the state's treasury, rather than the looter. For good measure and with an eye to Delhi, Modi added a dollop of foreign policy in his local speeches, bringing up the tendentious India-Pakistan negotiations of land in Sir Creek, 90% of which sits within Gujarat and 10% in Sindh across the border in Pakistan.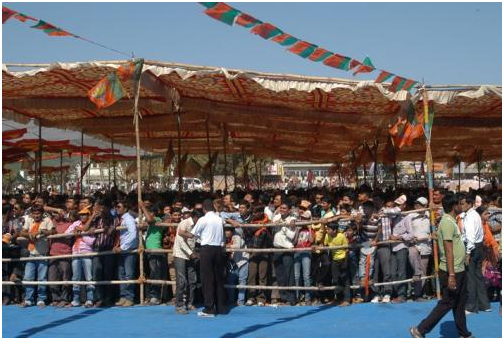 The crowd at the BJP's rally (Courtesy: Satish Padmanabhan/Outlook)

The secret to Modi's success is not just his oratory – it is his ability to empower the state's bureaucracy, and work through them to achieve his goals. Two years ago, in the tribal district of Godhra, the 26-year-old district collector Shalini Aggarwal won a national and international award for innovating a zero- waste management system working with local women; the system is now being replicated in other districts of Gujarat like Tapi as also in states like Rajasthan, Bengal and Sikkim. She is working hard to electrify the tribal villages in Tapi to meet the national goal of providing power to below-poverty-line families by 2014, and to help citizens meet their livelihood goals through the government's national rural employment schemes. Officials like her can work efficiently because Gujarat government programmes are IT based, and therefore transparent and easy to monitor.
Modi's win puts him ahead of most of the BJP national leadership – and head-to-head with the Rashtriya Swayamsewak Sangh (RSS), the pro-Hindu ideological base of the party which sees Modi, one of their faithful, as dangerously superseding them. Consequently, a shake-up within the BJP, which has been a weak and vacillating opposition party unable to seize its future, is imminent.
Will Modi come out tops? Modi is still controlled by the RSS, evident in the fact that he fielded no Muslim candidates in the just-concluded election. Nor is he popular among his peers in the party, who view him as competition for the top job. In India's inclusive coalition politics, these are disqualifications for a potential prime ministerial candidate. To make it possible then, and to reduce the influence of the RSS, Modi will need a groundswell of support from the rank-and-file BJP cadres, those vast numbers who see his brand of development economics as the answer to India's current woes.
A revived BJP under Modi's leadership could draw toward it some of the independent regional parties, and cause the Congress Party to split. The break could leave a rump that supports the Gandhi family, while the rest become or join regional leaders. The biggest national challenge to Modi is Nitish Kumar, the chief minister of Bihar state who has engineered the most spectacular turnaround of a state in India's 65-year-old history. Kumar's appeal goes beyond GDP; he prides himself on gender, caste and religious equity. Kumar's is a powerful story – and another, more inclusive development model for India.
For the next few months and leading up to the national election of 2014, the political battle for India will intensify. Modi has time to change his stripes to become a more acceptable national leader by delivering greater gender and religious equity to his state. The Congress has a chance to deliver more growth, and put its competent leaders like P. Chidambaram, ahead of family. The outcome of these two choices will determine who rules India's future.
Manjeet Kripalani is the Co-founder and Executive Director of Gateway House: Indian Council on Global Relations.
This article was exclusively written for Gateway House: Indian Council on Global Relations. You can read more exclusive content here.
For interview requests with the author, or for permission to republish, please contact outreach@gatewayhouse.in.
© Copyright 2012 Gateway House: Indian Council on Global Relations. All rights reserved. Any unauthorized copying or reproduction is strictly prohibited