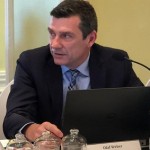 Gateway House (GH): What is the potential of green finance in India?
Olaf Weber (OW): The potential of green finance in India is very high. First, of course, India can address current issues, such as air quality problems that affect health. Secondly, there is the opportunity to develop new technologies and also export them to other countries. China is a good example of that: it used green technologies' potential well. Third, of course, it has a positive influence on economic development, on other industries as well. Green technologies can help grow the economy. These are the different types of positive impact that green technology can have on the Indian economy, and at the same time, on the environment. I think the time when green and economic development were contradictory is over. Rather, it is now a win-win situation if India develops green technologies.
GH: Apart from renewable energy, what are the other sectors where green finance could make a difference? For instance, can metro rail projects avail of green finance since they end up reducing emissions?
OW: Transport projects are really a good way to invest with respect to green finance and green technology because transportation globally is one of the main contributors to climate change and to other environmental problems. We all know that in the future it won't be possible for everyone to use their own cars, especially in cities. We already see some investments in green infrastructure, especially in transport. China is an example for that; they invested a lot in high-speed rail, for example, and other transport systems. But we also need to invest in cities.
Water is a big problem in many countries, including India; so there could be investments in water through green technology.
Or take Delhi's problems with air pollution: we need investments to prevent these types of air pollution and maybe also provide incentives to those that cause the air pollution: farmers, for example. India can, maybe, develop technologies that farmers can use to prevent the burning of fields. There are many ways to invest in green technologies. It isn't only about energy, but about many other things as well.
Olaf Weber is Senior Fellow, Centre for International Governance Innovation (CIGI), Canada & University of Waterloo Research Chair in Sustainable Finance, Professor & Associate Director of Graduate Studies.
This interview was exclusively conducted for Gateway House: Indian Council on Global Relations. You can read more exclusive content here.
For interview requests with the author, or for permission to republish, please contact outreach@gatewayhouse.in
© Copyright 2019 Gateway House: Indian Council on Global Relations. All rights reserved. Any unauthorized copying or reproduction is strictly prohibited.