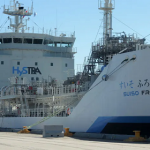 Green hydrogen – hydrogen produced using renewable energy – can address key economic, technical and geopolitical challenges that complicate the urgent search for clean energy technologies to address the global climate crisis. In particular, it could be the answer to the scarcity of minerals needed to produce batteries for electric vehicles, the low energy density of lithium as a source of power for electric vehicles and the intermittency of renewable energy. 
But green hydrogen projects need to be financed in a sustainable manner, so that they don't end up impoverishing countries that embrace it, as a number of recent big-ticket infrastructure projects have. This can be an area of cooperation for the countries of the Quadrilateral Security Dialogue (India, Japan, US and Australia), which are the major economies of the Indo-Pacific region and have vibrant finance sectors. Private enterprise also needs to be encouraged to take up green hydrogen projects, especially in smaller countries where the startup and venture capital ecosystem is less developed. 
Challenges of Existing Green Tech
Renewable power generated using sun and wind has become widespread globally and in India, but the intermittency of green energy is a growing challenge as its role in the energy mix increases. This message was driven home in August-September 2021, when renewable generation in the UK dropped and led to a scramble for natural gas, pushing prices of the latter to record high levels.[1] Costlier natural gas will make fertilizer more expensive and will affect food prices as well as production. This shows that without large-scale energy storage, renewable energy cannot be a replacement for traditional power sources. Lithium or lead acid batteries cannot store electricity at a grid scale. 
The other promising green technology, electric vehicles, also faces significant challenges: They run on lithium batteries, which require massive amounts of lithium and cobalt. It is not clear whether the supply chains of these minerals can scale up by 25-50 times, or even more, to meet the needs of a vehicle fleet large enough to meet clean-energy goals. Distribution of cobalt is also a major issue, as two-thirds of the global supply comes from a single source, the Democratic Republic of Congo.[2] The lithium supply chain, too, is concentrated, though to a lesser extent.[3] Finally, the low energy density of lithium (about 1% of petroleum fuels)[4] makes it unsuitable for heavy-duty users such as trucks – the major user of fuels. 
Hydrogen, which can be generated from water via electrolysis using renewable energy, can resolve many of these issues. First, it can be produced when renewable energy is available and stored in bulk, solving the intermittency problem. Green hydrogen plants – which will produce hydrogen using renewable energy, are currently under construction or in operation in several countries including Norway[5], Japan[6], France[7], UK[8] and the Netherlands[9]. However, most of these are small scale projects of up to 25-megawatts of electrolyzer capacity – and are a long way off from providing large volumes of hydrogen at affordable prices. 
Meanwhile, work is also on in using green hydrogen in major applications such as power and transport. South Korea is already experimenting with use of green hydrogen in electricity generation.[10] In addition, because its energy density is higher than petroleum or even natural gas, it, unlike lithium batteries, is a viable option for powering heavy duty trucks. Leading automakers such as Toyota[11] and Hyundai[12] have already developed hydrogen-powered trucks. This means its use would reduce the need for uncertain supplies of lithium and cobalt. However, it may be several years before viable prototypes translate to large scale on-road use, as is the case with any new technology.
Large scale use of hydrogen in power and transport sector can help clean up the energy sector, while reducing the need for minerals with vulnerable supply chains. However, there are some challenges before green hydrogen becomes widespread. 
Hydrogen: Making it Viable
Green hydrogen is still a decade or more away from large-scale implementation. In addition to technology issues that must be resolved, adoption of green hydrogen will require capital and new business models. It is important that this adoption be financed sustainably: Experiences in Sri Lanka and Pakistan offer a stark warning of risks of unsustainable infrastructure finance done on opaque terms. At the end of 2021, both countries found themselves facing balance of payments crises. Sri Lanka has had to curtail several imports including fertilizers and automobiles, while Pakistan is negotiating a financial package with the IMF. Both the currencies are likely to witness significant devaluations, causing hardship for their populations. A significant contributor to the financial crises of both these countries have been the expensive loans taken to build big-ticket infrastructure showpieces such as ports, power plants and ports. 
Three key recommendations can help promote faster adoption of green hydrogen: 
Integrating Hydrogen with Existing Supply Chain
Hydrogen can be blended with natural gas in some existing uses, such as compressed natural gas (CNG) as vehicle fuel and piped natural gas as household fuel. It also could be substituted for natural gas as the energy used in the production of urea, a fertilizer. Countries that rely on imported gas, such as India, Sri Lanka and Bangladesh, might welcome this change since they have been hurt by the spike in gas prices in the last months of 2021.[12][13]
Such uses of green hydrogen would be an ideal way to test the new technology since they would enable small-scale trials in production, handling and use of green without making large investments, thus making the financial risk of stranded infrastructure to host economies low. Recent experience with solar power has shown dramatic cost reductions over a few years, but countries short on capital will prefer to make large investments later on, after the technology has been tested and some savings already accrued.
CNG is used on a large-scale in India, Sri Lanka and a number of other countries in the Indo-Pacific region, while fertilizer is seen as a crucial sector with food-security implications. Using locally produced green hydrogen for sensitive sectors to replace imported natural gas may be politically easier.
Funding for Hydrogen Projects
Green hydrogen projects will require finance – debt and equity. Local governments in smaller Indo-Pacific nations may have limited capacity to raise the capital needed. The Quad countries can establish a fund or a special institution focused only on green hydrogen. Green hydrogen production technology currently is at a very early stage and cost of hydrogen is too high to be a viable energy source on its own.[15] While using hydrogen in existing supply chains will provide a better understanding of the challenges of this technology, it will require funding on favorable terms to be viable, especially in the smaller states of Indo-Pacific, such as Sri Lanka and Bangladesh; green hydrogen should not be allowed to lead to white elephants like the Hambantota Port or debt traps for host nations.[16] Loans on lenient terms, which also fall under the category of green finance, can prove the new technology and help Indo-Pacific states meet their commitments to mitigate climate change. 
Hydrogen-focused Venture Funds
To be sustainable, green hydrogen business models need to be locally driven rather than top-down solutions coming from governments or multilateral bodies. To enable this, local startups working on business models related to green hydrogen need to be encouraged. Governments don't have a great record at innovating or in picking out winners. This is best left to the market. However, in smaller economies, venture capital and private equity industry are not mature enough to support such ventures. The Quad governments could be seed investors in country specific venture funds, with rest of the money coming from private investors, including those interested in green energy, who will back promising green-hydrogen related businesses. Such a fund needs to focus on a specific technology – a venture fund with a broader focus may find opportunities in other, higher growth sectors to be more lucrative and may not be the right instrument to push this technology. 
Green hydrogen offers a way for Indo-Pacific states to meet their climate-change mitigation commitments while helping improve energy security. This needs to be done in a financially sustainable manner utilizing market forces, rather than top-down megaprojects, which have proven financially disastrous is several countries. Free market economies need to work together to make this happen.
Amit Bhandari is Fellow, Energy and Environment Studies Programme, Gateway House.
Saeeduddin Faridi is Researcher, Gateway House.
This paper has been published by Gateway House, with the support of the United States Embassy, New Delhi. Read the full compendium 'India in the Indo-Pacific: Pursuing Prosperity and Security' here.
The views and opinions expressed in this paper are solely those of the authors. The views expressed in the paper do not necessarily reflect those of the United States Embassy, New Delhi.
For interview requests with the authors, or for permission to republish, please contact outreach@gatewayhouse.in.
© Copyright 2022 Gateway House: Indian Council on Global Relations. All rights reserved. Any unauthorized copying or reproduction is strictly prohibited.
References:
[1]https://fortune.com/2021/09/16/the-u-k-went-all-in-on-wind-power-never-imaging-it-would-one-day-stop-blowing/
[2]https://www.bp.com/content/dam/bp/business-sites/en/global/corporate/pdfs/energy-economics/statistical-review/bp-stats-review-2020-full-report.pdf
[3] https://www.bp.com/content/dam/bp/business-sites/en/global/corporate/pdfs/energy-economics/statistical-review/bp-stats-review-2020-full-report.pdf
[4] https://www.aps.org/publications/apsnews/201208/backpage.cfm
[5]https://hydrogen-central.com/stord-hydrogen-140-tonnes-green-hydrogen-norway/
[6] https://www.toshiba-energy.com/en/info/info2020_0307.htm
[7]https://totalenergies.com/media/news/press-releases/total-and-engie-to-develop-france-s-largest-site-of-green-hydrogen
[8]https://www.reuters.com/markets/commodities/bp-plans-large-scale-green-hydrogen-project-uk-2021-11-29/
[9]https://www.renewablesnow.com/news/dutch-volth2-gets-permit-for-25-mw-green-hydrogen-plant-757376/
[10] https://www.doosanfuelcell.com/en/media-center/medi-0101_view/?id=57
[11]https://global.toyota/en/newsroom/corporate/34464066.html
[12] https://trucknbus.hyundai.com/global/en/products/truck/xcient-fuel-cell
[13]https://www.ppac.gov.in/WriteReadData/CMS/202109300544488436499DomesticNaturalGasPricefortheperiod01stOct2021to31stMarch2022.pdf
[14]https://www.reuters.com/article/bangladesh-lng-imports-idUSL1N2R4086
[15]Glenk, G., Reichelstein, S. Economics of converting renewable power to hydrogen. Nat Energy 4, 216–222 (2019). https://doi.org/10.1038/s41560-019-0326-1
[16] https://amti.csis.org/chinas-maritime-silk-road-implications/