The past decade has recorded significant progress in the adoption of green energy around the world. This has been made possible by a combination of technological advances, easier availability of capital and regulatory measures. However, further progress is likely to slow due to the economic shocks caused by the Covid-19 pandemic and the Russia-Ukraine crisis.
Energy shortages arising from these two shocks are leading to increased usage of fossil fuels, at least in the short term. Higher energy prices have pushed poorer consumers out of energy markets – and thus into energy poverty and deprivation. Slower global growth and higher inflation also will reduce financial resources available for green investments, especially in lower-income countries. The global challenge is to continue the green transition while ensuring that lower-income countries have access to affordable energy. Another important issue is taxonomy – a common definition for green, renewable and sustainable projects will facilitate financial flows towards these sectors. As a group that represents the world's largest economies, the G20 is well placed to act on these issues. India's G20 Presidency provides the opportunity to highlight the concerns of the developing world, the challenges of functioning democracies, and potential solutions. This Task Force offers recommendations for the G20.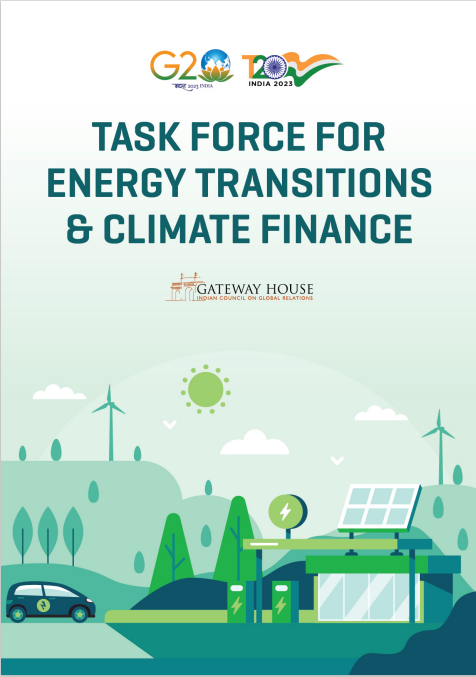 The Gateway House G20 Energy Task Force acknowledges these goals and addresses these priorities through working groups focusing on:
• Energy Markets – policy measures to address energy poverty, which has intensified in the past few years.
• Energy Transitions – steps to encourage the use of green energy and sustainable technologies in a global economy with fewer resources to manage climate-change.
• Climate Finance – strategies to help generate the financial resources needed to nurture green technologies.
You can download the PDF version of this paper here.
This report was exclusively written for Gateway House: Indian Council on Global Relations. You can read exclusive content here.
For interview requests or for permission to republish, please contact outreach@gatewayhouse.in.
© Copyright 2023 Gateway House: Indian Council on Global Relations. All rights reserved. Any unauthorized copying or reproduction is strictly prohibited.