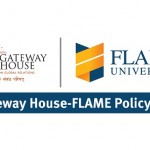 Pune/Mumbai, February 10, 2021: FLAME University, a pioneer of liberal arts education in Pune, India has partnered with Mumbai-based leading foreign policy think tank – Gateway House: Indian Council on Global Relations – to launch The Gateway House – FLAME Policy Lab. This is a pioneering effort, the first such university-think tank partnership in India, bringing the country in line with global intellectual institutions. The Gateway House-FLAME Policy Lab will produce original, applied, pure and multidisciplinary research and intellectual property that will result in joint peer-publishable research for FLAME and Gateway House. The output of the Lab will be relevant to students, academia, government, and India Inc. The initiative is aimed at encouraging participation of stakeholders in new ideas for the future.
FLAME University students will intern at the Lab and the University's faculty will work with Gateway House scholars on a range of subjects from risk analysis and geopolitical simulation to international security, energy, international law, space, science and emerging technologies.
Speaking about the creation of the lab, Dr. Dishan Kamdar, Vice Chancellor, FLAME University, said "The first ever Public Policy Lab from FLAME University and Gateway House India aspires to create a body of relevant, cutting-edge and rigorous world-class research to enable effective policy making in the country. As an academic institution, our endeavour is to create knowledge that will be data-driven, independent, and unbiased, which will support the policy makers of our country. A multi-disciplinary approach is core to the research agenda at FLAME University as we encourage our faculty and students to conduct research across diverse areas such as politics, history, economics, healthcare and others which are of importance in the global and Indian context.''
Ms. Manjeet Kripalani, Executive Director and co-founder, Gateway House, said, "The study of international affairs is gaining importance in India, as the country finds itself a critical player in world affairs, from business and trade to strategic positioning. Young Indians increasingly see themselves as global citizens and want India at the high table. FLAME University is one of the few education institutions in India that offers the subject to its students in a comprehensive study, with the requisite, qualified faculty. Gateway House will bring its decade-long experience of pragmatic policy thought and ideas to the Lab. The creative chemistry of the partnership – the marriage of Pune, the city of knowledge, with Mumbai, the city of finance and trade, to the policy drive of Delhi – will work to fulfill those aspirations."
About FLAME University 
FLAME University is the pioneer of liberal education in India, delivering the country's premier interdisciplinary education experience. It is driven to being one of India's most respected and reputed centres of learning – the premier destination of choice for higher education in the nation for learners and teachers, to push the design and nature of studies and to create a societal up-gradation phenomenon, particularly in the fields of liberal education and leadership.
FLAME has been set up with an idealistic vision and a social commitment to contribute to society nobly. FLAME grooms students who have a strong desire to learn and grow continually, welcome new ideas, value diversity with a desire to succeed and give their best towards excellence in all spheres of life. Its curriculum includes perspective building, skills, and competencies for communication, problem-solving skills, creativity, innovation, teamwork, and ethics that also meet the needs of the country's diverse sectors and beyond.
With more than 100 quality full-time faculty members, the university offers an unparalleled educational experience. The student-teacher ratio is 10:1, unmatched at the higher education level in India. Spread on 60 acres of green expanse with aesthetically designed infrastructure, and the campus currently consists of four schools: FLAME School of Liberal Education, FLAME School of Business, FLAME School of Communication, and FLAME School of Fine & Performing Arts.
FLAME University has been established as a state private university vide the FLAME University Act 2014 (Maharashtra Act No. II of 2015) of the Government of Maharashtra. It is recognized by the University Grants Commission (UGC) under Section 2(f), and degrees awarded by the University are recognized under Section 22 of the UGC Act, 1956
About Gateway House: Indian Council on Global Relations:
Gateway House: Indian Council on Global Relations is a foreign policy think tank in Mumbai, India, established to engage India's leading corporations and individuals in debate and scholarship on India's foreign policy and the nation's role in global affairs. Gateway House is independent, non-partisan and membership-based working towards co-designing perspectives on global issues that are important to India with a focus to taking India from a global rule taker to rule maker.
Our key areas of study are geopolitics, geoeconomics, energy & environment, space and ocean studies, international security (maritime, cyber and digital), international law and Bombay history.