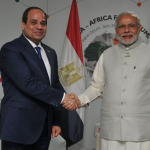 Egyptian President Abdul al-Fattah al-Sisi's bilateral visit to New Delhi from September 1-3, 2016 promises to rejuvenate India's age-old ties that failed to fulfil their promise in the Mubarak decades and the aftermath of the Arab Spring. Despite high-level visits from both sides, the last by Manmohan Singh in 2009, the bilateral relationship has remained moribund. The al-Sisi visit provides an opportunity to resume the interaction on a broader range of bilateral, regional and international issues in which both have a major interest.
That al-Sisi will be accompanied by a delegation, comprising important ministers and business leaders, testifies to the importance of Egypt as the only possible investment destination in North Africa, aside from Morocco. al-Sisi, having brought the country back from the brink of turmoil after the Muslim Brotherhood interregnum, has created an international image where every major power wants him to succeed.
His goal is to raise $30 billion, needed for stabilising the economy: $12 billion will come from the World Bank, $4 billion from the IMF and about $5 billion will come from the Gulf countries, particularly Saudi Arabia and Qatar. The success of Egypt's economic reform programme will depend on sticking to the World Bank's stipulations. al-Sisi will look to India for project financing in the context of his visit to New Delhi in October 2015 during the 3rd India-Africa Forum Summit.
Following the end of colonialism, the India-Egypt relationship flowered, based on the friendship between Jawaharlal Nehru and Gamal Abdel Nasser and a shared partnership in the nonaligned movement. It, however, cooled soon after in the background of their divergent political interests during the Cold War and the parallel development of their economies.
Mubarak's ouster after four decades, which heralded the beginning of the Arab Spring, was a time for popular resurgence in Egypt when the country was more internally focused. It was for the first time ever that the popular election in 2011 brought in a Muslim Brotherhood government under Mohammad Morsi, which soon went under, having misread popular sentiment in favour of a more syncretic, albeit Islamic, governance structure. In this background therefore, although a number of agreements were signed, not much came out of Mohammad Morsi's visit to New Delhi in 2013.
The al-Sisi visit comes at an opportune time for India's renewed foray into West Asia with the Indian Prime Minister's visits to UAE last year and to Qatar, Saudi Arabia and Iran so far this year. It also reflects al-Sisi's desire to rejuvenate the bilateral relationship.
The turmoil in West Asia has led to new, and hitherto, unexpected alignments like that between Israel and Saudi Arabia, the rise of Iran after the lifting of U.S. sanctions, the continuing fratricidal wars in Yemen and Syria and a waning U.S. interest in the region. The region is divided between regimes like Syria and Egypt which continue to hold on  to a more secular ethos, and others like Iraq, Iran and those in the Gulf which are Islamic, in greater or lesser measure, in their orientation. This lack of cohesion in the Arab and Islamic world is reflected in Arab institutions, like the Arab League and the Organisation of Islamic Cooperation (OIC), which have become divisive and unrepresentative of their lofty goals. It provides a platform for India and Egypt, now emerging from the fall-out of the Arab Spring, to jointly work to help in bringing about peace in the troubled region.
In line with their agreement to combat terror and transnational crime, signed in 2015, the al-Sisi visit provides an opportunity to raise the continuing acts of Pakistan-sponsored terrorism in Pathankot and Kashmir which have received no condemnation from the OIC and to forge a common front against terrorism. With al-Sisi's stance against Islamic groups, like the Muslim Brotherhood, India will expect al-Sisi to join its voice in condemning terrorism by Pakistan-based terror groups like Lashkar-e-Taiba.  Further, with its proximity to an Arab world in turmoil, an intensification of the political and intelligence contacts between the two countries will be mutually beneficial. With Egypt's close intelligence exchanges with Israel, the possibility of a three-way interaction between Egypt, India and Israel would be to advantageous to all.
The visit provides India an excellent opportunity to assess the investment potential of manufacturing and energy in Egypt. Egypt is the largest market in the region and India's sixth largest trading partner although trade has never been an important component of the relationship. In 2012, total bilateral trade was $5.42 billion and fell to $4.76 billion in 2014-15 with a decrease in both Indian exports and imports. At the same time, there are 46 Indian companies, with investments in Egypt, including in pumps and compressors, buses, carbon black, textiles and other industrial intermediates. With ONGC, GAIL and GSPC already established in Egypt, the al-Zor gas field, which is expected to come on-stream in two years' time, promises viable investment possibilities. It is imperative for ONGC and GAIL to make an early visit to Egypt to look at investment options.
While India has set up both a vocational centre and an IT centre at al-Azhar University, Cairo, the visit provides an opportunity to consider making other investments, such as, in intermediate industrial goods, tourism infrastructure and IT, through the funds allotted via India's Africa Fund. Egypt's massive investment in building the new Suez Canal has been an issue of economic viability for the country. It provides India an avenue to set up consumer and machine tool industries in the canal zone for markets in the neighbouring countries in Africa, like Sudan, and the Gulf. In this context the meeting of the India-Egypt Joint Business Council in March 2016 created the right atmosphere to take bilateral economic cooperation to higher levels. It is reported that al-Sisi will also be accompanied by a business delegation.
In the context of a syncretic culture that accommodates religious differences, India and Egypt have an important reason to work jointly to mitigate the religious intolerance fanning out after the crisis in Syria. The Maulana Azad Cultural Centre in Cairo can be invested with a major role to promote this idea. It provides sufficient reason for them to be involved in the U.S.-Russian efforts to bring peace to Syria. The continuation of unending religious strife in Syria is a reflection of an exacerbating religious divide in the Islamic world which affects Muslim populations round the world. India and Egypt, with support from the U.S. and Russia, can bring the force of their religious syncretism to convene an OIC meeting for working on a grass-roots solution to this vexed issue to build religious peace in the region.
It is too long since India and Egypt displayed the political will to step up bilateral relations. Hopefully, the al-Sisi visit can rekindle the traditional warmth and friendship that historically marked their interaction bilaterally and in international forums. It will not only prove mutually beneficial, but redound to alleviating the religious and economic strife in West Asia.
Rajendra Abhyankar,  former Secretary, Ministry of External Affairs, teaches at the School of Public and Environmental Affairs, Indiana University, Bloomington
This article was exclusively written for Gateway House: Indian Council on Global Relations. You can read more exclusive content here.
For interview requests with the author, or for permission to republish, please contact outreach@gatewayhouse.in.
© Copyright 2016 Gateway House: Indian Council on Global Relations. All rights reserved. Any unauthorized copying or reproduction is strictly prohibited.