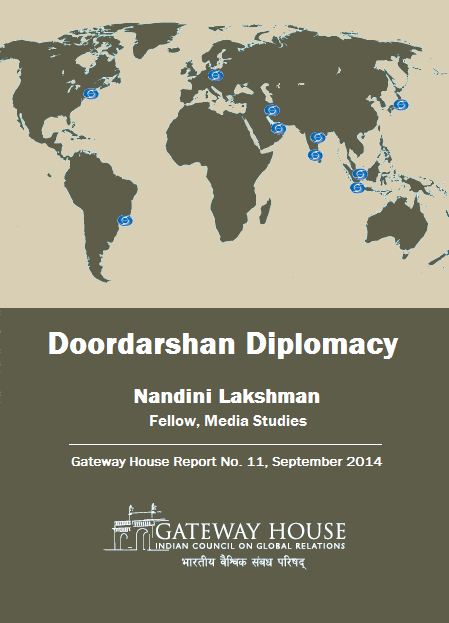 This report examines the current state of Doordarshan and formulates an agenda for transforming the channel into an effective foreign policy tool for India.
Introduction
Over the past decade, rapid changes in technology and communications have impacted, more than ever before, the way countries across the world handle their diplomacy and foreign policy. In turn, global diplomacy too has evolved and responded to the changing demands and expectations of the public.
The transforming, technology-driven media are challenging political as well as geographical boundaries, and becoming a vital resource for news and views about global affairs. Television channels, along with social and digital media, have now become essential tools in the foreign policy discourse.
Various global channels have established their presence in a field previously dominated by the British Broadcasting Corporation (BBC) and Cable News Network (CNN). The BBC, a semi-autonomous public service broadcaster of the United Kingdom and the privately-owned CNN of the U.S.ii were for long the face of international news and perspectives.
Increasingly though, their hegemony is being challenged by newer entrants offering different dimensions of the news as well as alternative perspectives. Russia Today, Al Jazeera, CCTV, and France 24 are now regarded as the definitive voices of Moscow, West Asia, China, and France, respectively.
India too has a foot in the door: DD World was launched in 1995 with a mission to build bridges of communication with the Indian diaspora of over 25 millioniv and to showcase the real India—its culture, values, traditions, and diversity. However, the channel, now called DD India, is yet to be effectively used
to explain the country's global and domestic positions and perspectives.
Exploring the vast and untapped potential of a global Doordarshan channel at this time is critical; international curiosity about India is growing. We are increasingly seen as an alternate economic bloc with new business models and development experiments that can be replicated across the emerging economies.
India is also a country seeking foreign investments, and it is the headquarters of various transnational companies as well as Indian multinationals.
Equally important, India is seen as a nuclear power and a significant voice on the Asian stage—both positions we do not adequately project, but which other countries look to for their own strategic positioning.
Foreign policy is important and the world wants to know what the Indian government has to say on a host of issues. So far, India's foreign policy, as well as its communication of this policy, have been reticent. India must have its own well-articulated alternative perspective on global events, which has to be effectively communicated. In the absence of a strong projection of its viewpoint, India is losing the information war because no one is hearing the Indian voice on world affairs.
Finally, there is India's soft power, which has significant potential as a critical component of modern diplomacy; it is a front on which India can confidently compete in the world.
If the U.S. is seen as an exemplar of democracy and therefore its culture is deemed attractive, even though its foreign policy may not have many supporters, India too is equally attractive—it is a pluralistic society; the birthplace of global religions and home to the Dalai Lama, English-speaking professionals, and secular values; it is the land of Mahatma Gandhi and his teachings of non-violence, of rich cuisines and a thriving popular culture.
So if the U.S. has Google, the iPod, MTV, Hollywood, and Microsoft, India has Gandhi, Bollywood, yoga and curry—all of which can be effectively projected though a revamped global television channel that broadcasts the voice and views of India.
At times, our soft power is indeed effectively used. For example, when Khaleda Zia was the prime minister of Bangladesh, visiting Indian diplomats catered to her fondness for Indian television serials by carrying tapes of long-running Indian television soap operas.
In 2011, the Ministry of External Affairs did launch a crop of programmes—such as India Global, India Is, India File and India-Africa: a shared future—on the AIR FM Gold channel and on YouTube, to promote India and its soft power. [2] But a lot more has to be done.
You can download the PDF version of this paper, here.
Nandini Lakshman is Fellow, Media Studies, Gateway House.
This paper was exclusively written for Gateway House: Indian Council on Global Relations. You can read more exclusive content here.
For interview requests with the author, or for permission to republish, please contact outreach@gatewayhouse.in.
©Copyright 2014 Gateway House: Indian Council on Global Relations. All rights reserved. Any unauthorized copying or reproduction is strictly prohibited.