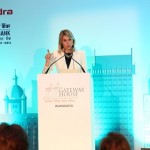 Your Excellency Honourable Chief Minister, Ladies and Gentlemen, it is my pleasure to be here and address you at the Gateway of India Geoeconomic Dialogue.
I can see India's role increasing in the world today and I am also pleased that India shares common strategic interests with the European Union, including Estonia. I am here today, accompanied by the best Estonian companies looking forward to doing business in India and making new contacts. I hope that we will find good Indian companies interested in Estonia for growing their business and making investments as there is a lot that our country can offer.
As you all know, everything digital has truly taken over! Some new game-changing technologies will be around in just a few years. The automotive industry has declared that by 2021 autonomous vehicles will be commercially available. Kids born today won't need to apply for a driving license—unless, of course, they really enjoy driving cars themselves. These changes will affect our industries, lives and capabilities. They will also influence the way we earn money, how we operate and what is self-evident for us.
In Estonia, we strongly believe – and know from experience – that digital solutions can really empower economic growth and the well-being of people. Digital development can bring significant economic gains in various ways–from a better business environment to direct growth in terms of jobs, exports and better public finances.
To start with, a bit of background. Estonia is a country that extends beyond its borders. We are a small EU member state in Northern Europe. However, maybe exactly due to our size, digital has been our development engine. Just for comparison: your population is 1.3 billion, ours is 1.3 million! Digital innovations have helped our country undergo fast development over the past 20 years. And we always like to look forward.
Estonians are at the very edge of digitalisation of both public and private services. We are open to new and innovative solutions. We believe being digital empowers us, and saves us lots of valuable time.
Since the 1990s, Estonia has focused on developing e-services, either in relation to banking, parking, prescriptions, declaring taxes, voting, signing documents, establishing a company or other activities. Doing all this online has provided us with notable accessibility, convenience and efficiency. The government has been at the forefront of this development.
Today, almost all public services in Estonia are digital and accessed through secure digital identities that are provided to every citizen and resident.
Besides making life easier from a business perspective, IT solutions help us make life easier for everybody, especially in moments when you need your country the most – that is, for instance, in healthcare: 95% of health data is digitised and 97% of doctors' prescriptions are digital.
This means that in an emergency, for example, a doctor can use a patient's personal ID code to read time-critical information, such as blood type, allergies, recent treatments, on-going medication or a pregnancy.
The ID card complies with the highest EU standards and provides citizens with digital access to all of Estonia's secure e-services, releasing them from bureaucracy and making daily tasks faster and more comfortable.
Another cornerstone of e-Estonia is the X-Road data exchange system, which works like an open source highway for data traffic. The unique aspect of this system is that it lacks a centralised or master database – all information is held in a distributed data system and can be exchanged instantly upon request, providing access 24/7.
Public and private sector enterprises and institutions can connect their information system with X-Road. This allows institutions to save resources, since a cooperative and secure data exchange layer already exists with all the other X-Road members. Over 900 organisations and enterprises in Estonia use X-Road daily. Using X-Road saves us more than 800 working days each year.
By the way, today, Estonia has shared its e-governance journey with 60 governments and exported its solutions to over 130 countries around the world.
Of course, when having this much action online, we need to think of our cybersecurity.
Ladies and gentlemen, I am happy to say that another cornerstone of e-Estonia is our secure cyberspace. Being a digital society means exposure to cyber threats. With solid investments in cyber security infrastructure, Estonia has developed extensive expertise in this area, becoming one of the most recognised and valued international cyber security experts.
For example, today it takes 207 days—or seven months–on average to discover data breaches. With Estonian KSI block chain technology, these breaches can be discovered instantly. In fact, Estonia is the first country in the world to use block chain technology at the national level for security purposes.
With all these factors in place, we have managed to build and offer digital services that are, in fact, attractive to the wider world. For this, we have opened up our digital services to the world and are eager to expand in this direction. The e-residency provides a transnational digital identity to anyone in the world to do location-independent business online. I invite you to join our digital nation: run a company in the European Union from a distance and digitally sign documents.
There are already over 30,000 e-residents from more than 150 countries. They have established more than 3,000 new companies in Estonia; and they run more than 5,000 companies.
I am happy to say that Estonia already has more than 1,200 e-residency applicants from India!
The numbers are still small on a global scale – but we are only getting started. Already today, each week we receive more e-residents than there are babies born in Estonia. Hence, we grow faster in digital space as an economy and country.
We are now also focusing on the new and exciting field of Artificial Intelligence (AI). For Estonia, AI is e-governance 2.0. We see it as an enabler for a far more efficient and user-friendly future. We believe there should be a cross-sectoral approach to AI and we do not believe in over-regulation. For instance, just last year, we found a way to test self-driving buses on the streets of Tallinn without changing any laws.
But AI is not just about self-driving cars. Another example of what we like to do with AI in Estonia concerns our healthcare sector. In the Estonian healthcare system, we aim to build an AI assistant for our family doctors, whose aim is to combine all the health records, genome data, real time measures and all the scientific research available to give advice to the doctor.
And these are just first steps. E-Estonian progress has been stable, but it does not stop here. Make sure you keep yourselves updated with what we are doing, because e-Estonia is the future of e-governments.
Dear friends, I have been praising my country a lot, and it's all because I truly believe in it. I know that India has also made some impressive steps in establishing its digital society.
I would like to invite you to visit Estonia, talk to our companies and experts and I hope we can build and develop a joint digital future.
Thank you and I wish you interesting discussions during the conference!
Urve Palo is Minister of Entrepreneurship and Information Technology, Republic of Estonia.
This speech was delivered as the Special Address at The Gateway of India Geoeconomic Dialogue 2018, held in Mumbai on the 12-13th of March 2018. Click here to view her speech.
You can read exclusive content from Gateway House: Indian Council on Global Relations, here.
For interview requests with the author, or for permission to republish, please contact outreach@gatewayhouse.in.
© Copyright 2018 Gateway House: Indian Council on Global Relations. All rights reserved. Any unauthorized copying or reproduction is strictly prohibited