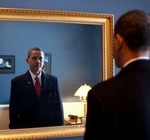 President Barack Obama is coming to India and the hype is slowly building up. Despite the concern that our relations with the U.S. under Obama are not as warm as they were under George W Bush, there is an air of opitimistic expectation about this visit, which our and their babus have very proudly informed is the longest visit abroad of his presidency. The (Indian) media is full of stories and speculation, the commentators are out in full cry pondering over what the outcome will be and chief ministers are lining up to shake his hand.
In Mumbai, the streets are being repaved, traffic lights and road dividers are getting a new coat of paint and hardened criminals are being kept in jail to prevent any mischief. The security is slowly building up and sites like the Taj Mahal Hotel, where he is staying are like a fortress already.
But while we here are all agog over this visit, what could be going on in Obama's mind? Is he too looking forward to seeing his country's newest pal on the block, the economic power in the making whose kids are studying away and stealing the jobs that should go to his country's kids and which is standing outside the United Nations waiting to be invited into the sanctum sanctorum of the Security Council?
Perhaps he is. He knows, or ought to know that though Bush was popular with the Indian government, he was not personally liked by large numbers of Indians who were angry about the war in Iraq and similarly, while the Indian government is wary of Obama, the people of this country like and love him.
But it is a good bet that at this moment, Obama is mainly if not exclusively thinking about the mid-term elections in his country. The mid-term elections are a very important date on the political schedule of the U.S. and the two parties pull out all stops because they know that victory could give them real political control of the levers of power. Next week, the U.S. voters will elect one-third members to the Senate and the Congress and many commentators are seeing it as a referendum of sorts on Obama's two year rule. Certainly, by going out and campaigning hard for the Democrats, Obama has inevitably brought the spotlight on himself and hammered away not only on local issues but also on his own record, especially on health care reform and the economic stimulus. He  has attacked the Republicans, holding them responsible for the economic mess in the country and warned voters not to elect them if they want to avoid further mistakes.
His worries are understandable. Polls show that the Democrats are trailing and may lose heavily. Worse, his own personal popularity is at its lowest in two years, with only 44 percent Americans supporting him. Since opinion polls are gospel in the U.S. – the country likes to take its pulse all the time – this means that everyone is convinced that he is an unpopular President. And an unpopular President is a weakened President, which cannot be good for him as he tries to push through his policies.
Nor are the Republicans the only rivals he is facing. Outflanking them is the Tea Party, an amorphous group of scattered local units of conservatives who have sprung up almost spontaneously all over the U.S. in the last year or so. They are named after the Boston Tea Party of 1773 where colonised Americans threw British tea into the water protesting against "taxation without representation" . The modern avatar is against the healthcare reform, Obama's showpiece legislation and also criticise the various economic stimulus programmes launched by him and Bush's administration during its last few months. The Tea Party folks believe that Obama is turning socialist and that the bail out of banks is harmful. The members of these outfits are said to be mainly white, reasonably well educated and often, as one poll found, likely to call themselves born again Christians. Though the Tea Party is not contesting the polls – it is not yet registered as a party – it is almost certain that its members would vote for the Republicans, and that too the most rabid, right wing types.
Clearly therefore, Obama comes to India at a time when he will be shaken, and even weakened by the predicted electoral loss of the Democratic Party. This loss will weigh on his mind as he enters the third year of his administration. Indeed, the pundits have already begun to speculate how this loss and his falling popularity will impact on his chances of getting the nomination for another term.
In India he can hope to get a good reception, but here too he will be asked some tough questions. His trip has a strong business angle and on that front ties are strong, but the sore points of outsourcing bans and visa fee hikes remain. Manmohan Singh may or may not sing love songs to him as he did to Bush, but he is going to want to know what India will get in return for ordering billions of dollars worth of arms from the U.S.. For example, India wants the ban on dual-use technology lifted. Will that happen and how far with the U.S. go on it? And of course there is the question of aid to Pakistan and how that country can be made to cease its cross border terrorism. These are inconvenient issues that won't be covered up by all the buzzwords and sweet nothings that will be generated during the photo-ops. But let us not be too pessimistic. It may well turn out to be a path breaking visit by a President keen to show he is definitely a friend of India despite what the perception is. After all, both countries have embarked on a path of mutual cooperation and have a lot in common. They must build upon these commonalities to consolidate this relationship further.
Sidharth Bhatia is a freelance journalist and writer
This article was exclusively written for Gateway House: Indian Council on Global Relations. You can read more exclusive content here.
For interview requests with the author, or for permission to republish, please contact outreach@gatewayhouse.in.
© Copyright 2010 Gateway House: Indian Council on Global Relations. All rights reserved. Any unauthorized copying or reproduction is strictly prohibited