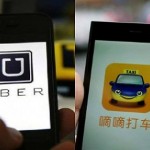 Uber, the mobile app-based taxi service, is quickly expanding across the world as it attempts to become the Google or the Facebook of the crowd-sourced transport industry. Recently valued at over $41 billion, [1] Uber has been towering over its U.S. and international competitors such as Lyft, which has a valuation of $2.5 billion. [2]

Services such as Google and Facebook have the logic of economies of scale at a global level. The convenience and value of being connected to the largest online community drive people's decisions to join these networks instead of smaller, local offerings. But in the case of the global crowd-sourced mobile app-based transport industry, the same logic does not apply, and there is far more room for local competitors to grow and thrive.
In countries such as China and in other emerging markets, Uber's local competitors are threatening to curb the company's rise—by tapping into a market that thrives on people-to-people-interactions and is not just a digital exchange.
In China, on 14 February 2015, the Kuaidi Dache and Didi Dache taxi-hailing apps merged. Both are already robust and well-known local apps, and they now control more than 99% of the 154 million user base of the Chinese taxi app market worth $320 million. [3] Additionally, the merged group has received $600 million in funding from Chinese and international investment groups, raising their valuation to $8.75 billion. [4] (Uber, by comparison, has raised around $1 billion and Lyft $530 million, [5] in funding in China).
A commuter's decision to use a taxi app is typically based on price, safety, and the ease of use. There is no natural monopoly here, but lots of room for local growth, especially due to the space to build local relationships in the business. Uber's local competitors, in China and in other developing markets, stand to gain a lot, particularly if they can make user-friendly, multi-language GUIs (graphics user interfaces) and other customised offerings that cater to local tastes and preferences.
As Victor Koo, founder of Youku.com (a Youtube-like site) and former president of Sohu.com (a Chinese internet gaming and search engine service) said: "In China it is critical that the GUI appeals to local tastes, which are very different from the U.S. and elsewhere."[6]

In Nairobi too, for example, Maramoja is competing against Uber for the Kenyan and other African markets. This highly localised app's unique value proposition is that the driver is someone recommended by someone the user knows and trusts—rather than one who comes with police-verified credentials that are not necessarily trustworthy.
But the success of such services is not only determined by the ease of use and the functionality of the app. All companies must also operate and abide by local government regulations. This inevitably puts giants like Uber, despite their early momentum, at a disadvantage in foreign markets, especially when local taxi companies can lobby local governments to keep the foreign conquerors out.
But the factor of government regulations does not apply only to China, where the Communist Party is known for banning foreign internet apps.  In India, when an Uber driver sexually assaulted a woman in New Delhi in December 2014, the local government moved to temporarily ban Uber and subsequently made it more difficult for foreign upstarts to establish the credibility of their safety and capabilities.
The logic that local companies in the crowd-sourced transport app industry have a distinct advantage—due to customised services and the ability to comply with local regulations—can also be applied to the crowd-sourced trucking industry.  Globally, the logistics industry is usually local and point-to-point. The industry is also known for a huge amount of over-supply of trucks or storage space, because it is hard to keep track of which truck has what spare capacity, particularly on the return trip.
In this industry, valued globally at $1 trillion in 2011, [7]crowd-sourcing is already taking off. New York-based Transfix and California-based Cargomatic, for example, have received $8 million in funding from venture capitalists. [8]

China's cash-rich internet giants, as ever, are quick to catch on: RenRen in March 2015 invested $1.5 million in the San Jose-based Trucker Path, and they can clearly use their local skills to bring this technology back to China. [9] In the crowd-sourced transport and logistics industry too, smaller local players will emerge and shape the industry in their respective countries and regions.
The same goes for waterways shipping, still a huge logistics pathway in developing markets: China had 30 billion tonnes of road freight and 5.5 billion tonnes of water freight in 2013, [10] mostly transported by small local players—this is a massive opportunity.  With smartphone penetration skyrocketing in China, it is clear that RenRen and others will want to push these services through their networks as essential business tools.
In such a scenario, will Uber be able to live up to its $41 billion valuation, leading to a glorious IPO in the future like Google and Facebook? Or will swift competition from local players with better local connections and understanding of local conditions break this space into a more national or even regional market?
Jack Marr is Visiting Fellow, City University of Hong Kong's Department of Management. He was founder of New York University's Stern School of Business in Shanghai, and has been a Senior Lecturer at the Kellogg School of Management MBA program at Northwestern University in Chicago and a contributor to the Economist Intelligence Unit.
This article was exclusively written for Gateway House: Indian Council on Global Relations. You can read more exclusive content here.
For interview requests with the author, or for permission to republish, please contact outreach@gatewayhouse.in.
© Copyright 2015 Gateway House: Indian Council on Global Relations. All rights reserved. Any unauthorized copying or reproduction is strictly prohibited
References
---
[3] Custer, C, 'China's taxi app market breaks 150 million users, and it's totally dominated by two apps', TechinAsia, 5 November 2014, <https://www.techinasia.com/chinas-taxi-app-market-breaks-150-million-users-totally-dominated-apps/>
[4] Qingqing, Chen, 'US hedge fund firms invest $600m in Didi Dache, Kuaidi Dache', Global Times, 4 April 2015, <http://www.globaltimes.cn/content/915038.shtml>
[5] Somerville, Heather, 'Tech Companies Continue To Land Mega VC Deals', CIO Today, 26 April 2015, <http://www.cio-today.com/article/index.php?story_id=123003YLA28C>
[6] In an interview with the author in 2006
[7] Doll, Alexander, Dirk Friebel, Matthias Ruckriegel, and Christian Schwarzmuller, 'Global logistics markets', Barclays, August 2014, <https://www.rolandberger.com/media/pdf/Roland_Berger_Global_Logistics_Markets_20140827.pdf>
[8] Lawler, Ryan, 'Cargomatic Gets $8 Million To Build An Uber For Truckers', TechCrunch, January 2015, <http://techcrunch.com/2015/01/29/cargomatic/>
[9]Lardinois, Frederic, 'Trucker Path Raises $1.5M From Renren To Help Truckers Truck Better', Tech Crunch, 5 March 2015, <http://techcrunch.com/2015/03/05/trucker-path-raises-1-5m-from-renren-to-help-truckers-truck-better/#.1lio1w:ftzv>