This is the first of a three-part series. Read the second part here.
It is difficult to imagine today that Iran was once India's neighbour. The Partition of India and the formation of the State of Pakistan in 1947 separated the two geographically. But the Indian subcontinent and Persian Empire (today's Iran)[1] have had political, economic and social ties for almost two millennia. Bombay's Iranians are an emblem of that soft border of the past.
The Iranian community, made up of Zoroastrians, and Muslim Shias (about 2,500 in number today,[2] have been a recognisable part of Mumbai since the late 19th century for the Irani cafés-cum-provision stores they set up. There were about 350 then[3], most of them being Zoroastrian-run; about 15% were run by Shias. (Today there are only 35 left.)
Their popularity among Bombay's migrant labour and the working classes led to their mushrooming literally on every street corner. Hindu merchants considered corner premises inauspicious and let them out cheap to the Irun, the term by which the local people referred to the owners sitting at the cash till.[4]
They, however, were not the earliest immigrants from Iran. The earliest Iranian community to settle in Bombay were the Muslim Shia merchants from Shiraz, Bushire and Isfahan, who arrived in the city sometime in the early half of the 19th century, having been involved in the Persian Gulf trade over generations. (This will be the subject of Part II of this series on Mumbai's Indo-Iran history.) Bombay had begun its dizzying rise as the foremost port city in the East. Developments in manufacturing, banking and financial markets were to make it the financial capital of India by the 1870s.
The later immigrants, both Zoroastrian and Shia, came from the drought-hit provinces of Yazd and Kerman and found a new livelihood in Bombay through the cafes they set up. The main towns in this arid region of southern Iran – Yazd, Jaffarabad, Khairabad – were once oasis settlements that were part of the caravan network of the southern Silk Route. Its residents were mostly horticulturists and these regions were known for the fruit they produced (especially the legendary Taft pomegranates), artisanal items, such as silk embroidery, and their Qahva-Kanas or coffee houses.[5]
Why did they go into the tea shop business? "Because Iran itself has Qahva-Kanas which used to supply opium for smoking, coffee and black tea; so the Yazdis had some history of preparing tea. The concept of Qahva-Kanas evolved into the Irani cafes and restaurants in Bombay," says Sayed Safar Ali Husaini, owner of Lucky Restaurant in Bandra and a leader of the Yazdi Shia community in the city.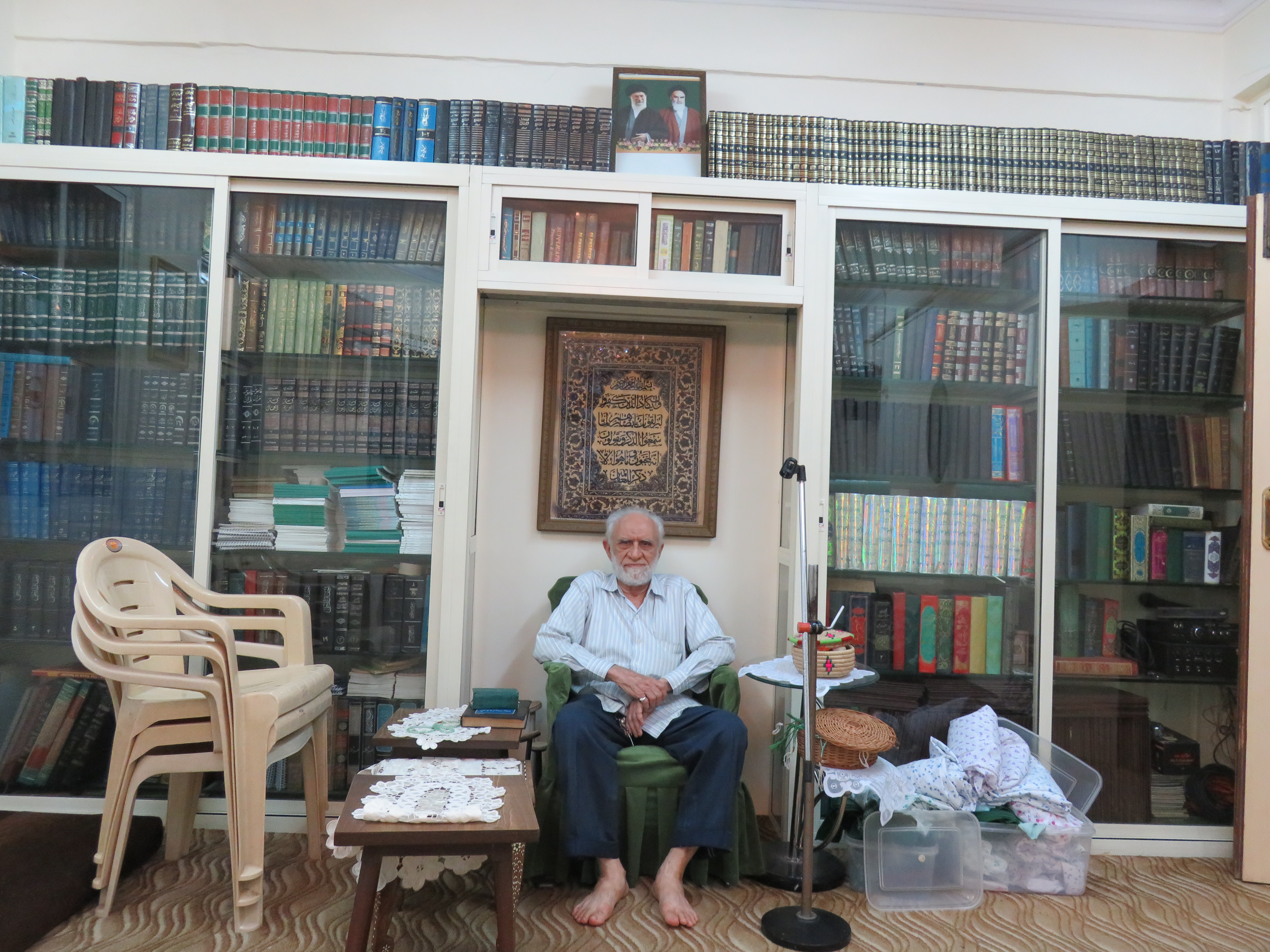 Yet, the first Irani café owner was a Zoroastrian, Khodadad Oshtori,[6] [7] who opened his tea shop in Dhobi Talao[8] in the early 19th century. This points to an early Irani Zoroastrian presence in the city – prior to the first big wave of immigrants from Yazd and Kerman, where successive droughts – beginning with the Great Famine in Iran (1870-72) – destroyed arable land and impelled their flight.
Referring to those desperate times, Dr. Mansoor Showghi Yezdi, a documentary film-maker whose award-winning film, Café Irani Chai, documents this history, says, "My grandfather, Haji Mohammed Showghi Yezdi, was a strapping 16-year-old, when he came walking all the way from his village Khairabad in Yazd. He walked – because he didn't have a single pie[9] in his pocket, just like the group of people he was with." This group began breaking up as they progressed on their journey through the subcontinent, with some staying back in Quetta, Karachi, and Lahore, before reaching Bombay, Poona, and finally, Hyderabad, where Irani restaurants are concentrated even today.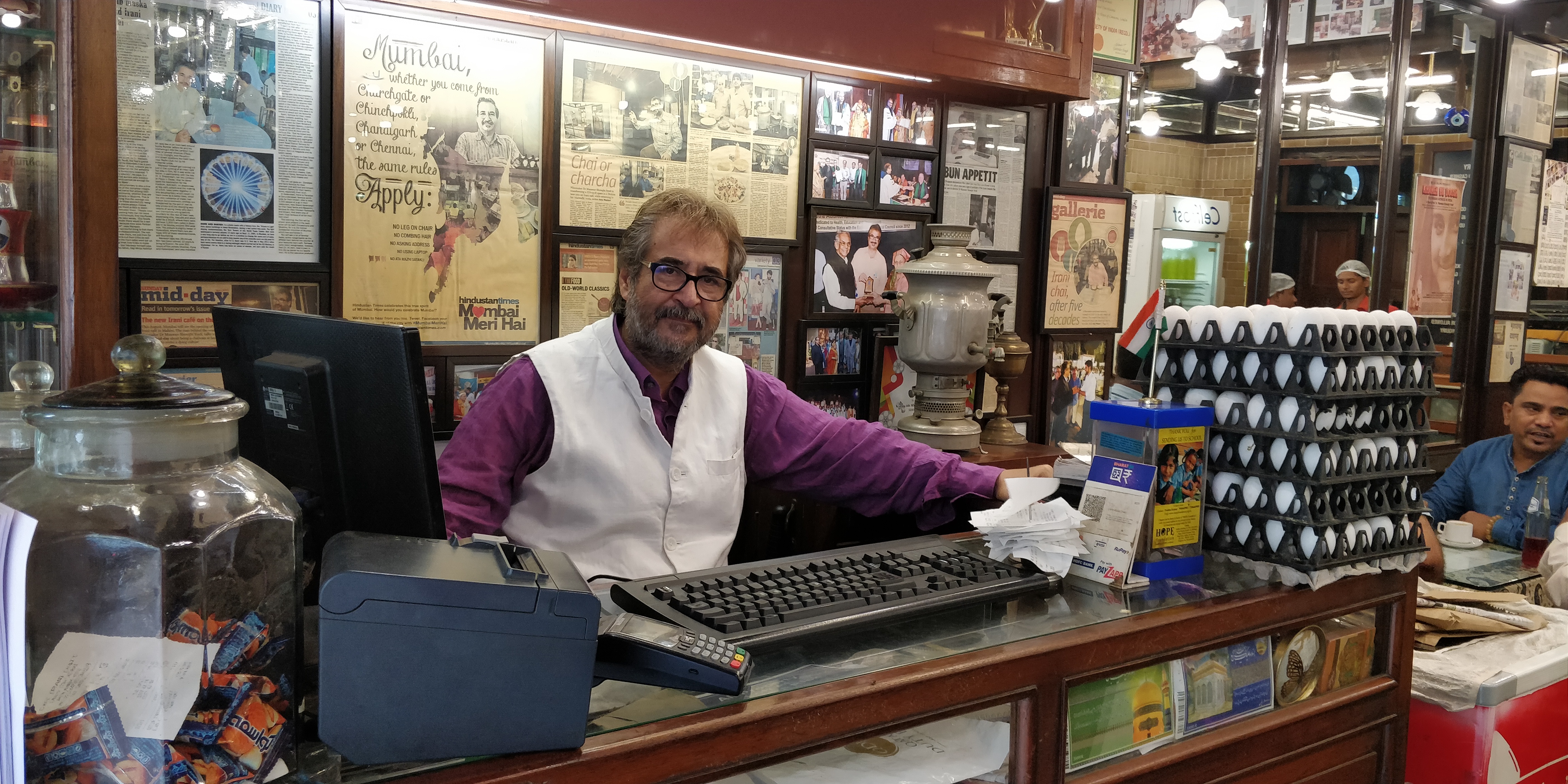 The Iranis were drawn by the prospects of a better life in British India, especially Bombay and Poona, where Iranian Zoroastrians had already settled. "I have come across many circulars dated around 1895, stating that the Iranis are welcome in British India because of the good relations between Britain and Persia," says Deepak Rao, author of Mumbai Police: 150 Years. "All of them had to report annually to the Registration of Foreigners (Asiatic) branch of the Bombay CID to extend their stay – this was standard practice which they gladly fulfilled."
There was also a geopolitical aspect to this. The Iranis were fleeing destitution in their own homeland: British India was an alternative because of what is referred to as the 'Great Game' in West Asia, with the Russian and  British Empires  competing for spheres of influence in a weak Qajar Persia.[10] [11]
The large influx of Iranians into Bombay and the opening of Irani tea shops and restaurants in the late 19th and early 20th centuries changed the way citizens  ate, socialised and shopped: small items, such as toiletries, over-the-counter medicines, detergent and other knick-knacks, were all available here.
Chai, brun-maska and Mughlai cuisine
More than household provisions, Irani restaurants are best known for their  characteristic, no-frills ambience and menu. The traditional restaurants have mirrored walls (called 'closed circuit TVs' by their owners!), European bentwood chairs, marble-topped tables and chequered flooring. The fare is limited, yet satisfying: for example, breads – crusty brun, sweet buns or soft pao, served  buttered, with milky, sweet tea.
Buns and milky tea are not specialities in Iran, where people drink copious amounts of reddish-black tea without milk. Traditional Iranian bread too is actually a flatbread, the oblong-shaped naan, made from barley flour, which does not at all resemble the city's Irani bakery breads.
The adaptations, such as brun and pao, evolved from the locality where the first Irani restaurants opened. This was Dhobi Talao, where Kayani & Co.,[12] possibly the oldest existing Irani café in the city is located. Dhobi Talao was home also to   the maximum number of Goan Christians, the bakery pioneers. "They took the Iranians under their wing, who, being active knowledge gainers, began experimenting with making the popular pau, brun, bun et al," says Dr Showghi. Next, just as they had been able to rent corner premises at throwaway prices, the Iranians were now also able to buy the bakeries from Goans, returning to Goa to retire or immigrating to Portugal.
Irani restaurants also came up in large numbers in mill areas like Lower Parel, Worli and Lal Baug, to cater to mill-workers, whose first shift began at 6 am.  "From the 1940s to the 1960s, workers, before going to work or before heading home, would drop in at these restaurants for their chai brun-maska," recalls Rashid Irani, well-known film critic and partner at Brabourne Restaurant, Dhobi Talao, which closed its shutters in 2008.
Besides breakfast fare, which included options, such as Kheema-pao and a variety of omelets, was the introduction of Mughlai and Parsi food. The Iranians knew that the staple dishes from their homeland, like Ab Ghosht (a mutton soup), would have no takers in India because they were too bland for the Indian palate – and adapted once again by introducing Mughlai food.
"Mughlai was a development by Bombay restaurants because of the mixed cultures here," says Sayed Safar Ali Husaini. "The cooks were from Uttar Pradesh and north India. The Iranians never became cooks. The early dishes on our menu were: Ghosht, chops, Khara Ghosht , Kheema, dal and vegetables. Subsequently, Paya, Bheja, and Zabaan were introduced."[13]
A few restaurants like Sarvi at Nagpada (Iranian Shia) and Britannia and Universal (Irani Zoroastrian) in the Fort area, are known for their Iranian dishes. Sarvi became popular for its Iranian naan and kebabs, while Britannia and Universal (more recently) serve Berry Pulaos that have won renown. Husain says that Chelo Kebabs were introduced into Iran only a century ago – and entered Bombay's Irani menus too.
These dishes may become rarer as traditional Irani tea shops and restaurants in Mumbai close due to unprofitability, the sheer rising costs of electricity, municipal permissions and the food itself. The few that are flourishing reinvented themselves as permit rooms (such as Alfred and Lord Irwin at Dhobi Talao),[14] vegetarian eating places (Golden Star at Charni Road) or  more upscale restaurants (like Mocambo on Sir P.M. Road).
Besides their distinctive a la carte menu, the Irani cafes stood out also for their names. The Zoroastrian Iranis named their shops after ancient Persian dynasties (such as, Sassanian Boulangerie). They (and the Shias too) frequently used the names of British royalty or viceroys and governors (such as Brabourne or Lord Irwin) for their establishments, which required special permission from the authorities. Generic names (Light of Persia) or some unusual ones (Café de la Paix, Iran Like Restaurant) were also used for easy identification of the place as being Irani-owned.
These names are evocative of a time gone by. Today, few members of the younger generation are willing to sit at the cash counter from 6 am to 11 pm: most have  migrated to the West, Toronto being a favourite destination. Their fathers and grandfathers made the business the centre of their lives when they brought to Mumbai the culture of the Qahva-Kanas. The few cafes that survive today summon up the spirit of an Iranian legacy that has endured – unshaken by the ubiquitousness of both the Udupi restaurant since the 1960s, and more recently, American franchise chains.
Sifra Lentin is Bombay History Fellow, Gateway House.
This is the first of a three-part series. Read the second part here.
This article was exclusively written for Gateway House: Indian Council on Global Relations. You can read more exclusive content here.
For interview requests with the author, or for permission to republish, please contact outreach@gatewayhouse.in
© Copyright 2019 Gateway House: Indian Council on Global Relations. All rights reserved. Any unauthorized copying or reproduction is strictly prohibited.
References
[1] In 1935, the Iranian government requested those countries it had diplomatic relations with, to call Persia 'Iran', which is the name of the country in Persian.
[2] In the 1901 Census, the Persian speakers in Bombay were 3000, however, this appears to be a reference to the Iranian Shia community as these Persian speakers are included in the population of 155,121 Muslims in Bombay. In the 1951 Census, the population of Persian speakers in the city was 6527. Today, according to Community leaders, viz two Trustees of Irani Masjid, Dr. Mansoor Showghi and Sayed Safar Ali Husaini (a leader of the Yazdi Shias) the city's population ranges between 2500 to 3000 if taken on the higher side. http://www.iranicaonline.org/articles/bombay-persian-communities-of
Census figures for the Irani Zoroastrians were unavailable as they were counted along with the older Parsi community.
[3] According to Deepak Rao, who had worked on compiling the names of 350 Irani Cafes in Bombay in 1947 with Bruce Carter, who has published part of this list as per road names only from the alphabets A to K on his blog http://www.iranichaimumbai.com/search/label/history, most of the cafes and restaurants were Zoroastrian- owned.
[4] Hindu merchants in Bombay were superstitious about corner properties, designating them as Waghmukh, (meaning 'akin to an open tiger's mouth'). It was believed that however much money was invested in such a property the returns would always be poor. In contrast, Gaumukh ('like a cow's mouth that is never fully opened') premises, being considered auspicious, were always in demand and therefore, more expensive.
[5] Qahva-Kanas or coffee-houses were popular across the Middle East, including Iran. It was only in the 19th century that Iranians developed a taste for tea, so much so that black tea is consumed through the day.
[6] Darukhanawala. H.D., Parsi Lustre on Indian Soil: Volume 2 https://archive.org/details/in.ernet.dli.2015.62648/page/n791
[7] Ibid. The surname 'Oshtori' was given in jest by one of Khodadad's Iranian friends when he saw him minding the children of his Parsi employer and shouted out, "Al Oshtori', which means 'Oh camel bearer', a pointed reference to the camel as a beast of burden. Khodadad initially worked as a domestic servant in a Parsi home before he thought of the idea of opening the first Irani tea shop in Dhobi Talao.
[8] Dhobi Talao, which literally means a water tank where local washermen (dhobis) washed clothes. The tank was filled up in 1917 and on this site now stands the Framjee Cowasjee Institute, which is located opposite the Metro Theatre.
[9] During British rule, and the first decade of independence, the rupee was subdivided into 16 annas. Each anna was subdivided into 4 paisas. So, one rupee was equal to 64 pice (paisa). In 1957, decimalisation occurred and the rupee was divided into 100 naye paise (Hindi/Urdu for 'new paisas').
Here when using the term pie, the reference is to a single paise.
[10] 'The Great Game' was a term popularised by Rudyard Kipling in his book, Kim. It is used with reference to the competition between the British and Russian empires to strategically outmanoeuvre each other in Asia. Russia was fearful of British inroads into Central Asia, Britain of Russia wanting to invade India (although Russian archives later proved this was not the case). One of the countries where this competition played out was Qajar Persia.
[11] The Qajar Dynasty is an Iranian royal dynasty of Turkic origin, specifically of the Qajar tribe. They ruled erstwhile Persia from 1789 to 1925. The last Qajar ruler was deposed by a military coup engineered by Reza Khan in 1921 and in 1925 by the Majles (Parliament), who elected Reza Khan and vested him with sovereign powers. He became the first Shah of the Pahlavi dynasty.  Shah Reza Pahlavi I was the father of the last Shah of Iran, Reza Pahlavi II.
[12] Kayani & Co. was established by Khodadad and Khodamorad Shukriye of Yazd in the year 1904. It shifted to its current premises in Jer Mahal building in 1913.
[13] Each term has a specific meaning: Ghosht  means a big piece of mutton with a big bone, chops are the back, Khara Ghosht is the regular pieces, Kheema is minced mutton, Paya (trotters), bheja (brain), and Zabaan (tongue). The only vegetarian dishes were dal (lentils) and cooked vegetables.
[14] It was only the Irani Zoroastrian restaurants that introduced beer in the late 1970s and early 1980s, and not the Muslim Shia. Most Irani Zoroastrians cafes introduced beer on their menus when the liquor permits were introduced in late 1972. When the permits became unaffordable, they either gave it up or transformed themselves into full-fledged bars.