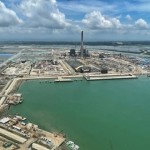 The region comprising India's eight northeastern states is undergoing dramatic change. It has overcome several (but not all) security challenges of the past and is now heading toward economic development. Political changes have brought stability to many states and are a major factor. But so is the extensive web of linkages with neighbouring Bangladesh, and a valuable third partner – Japan. The latter has emerged as a significant development partner for both India and Bangladesh.
A two-day visit to Agartala, Tripura's capital, last week to participate in the third India-Japan Intellectual Dialogue, hosted by Asian Confluence (ASCON), was an opportunity to view the region's infrastructure development. A close examination of the evolving thinking of experts and policymakers showed that the current decade may produce several path-breaking changes in the Northeast, which will bring the troika of Bangladesh, India, and Japan closer together.
One of the most important of them is the development of the Matarbari Deep Sea Port (DSP) on the south-eastern coast of Bangladesh. This is being constructed with generous assistance from Japan and is scheduled to be operational in 2027. A recent study commissioned by ASCON envisages this port as a game changer for the region. To be optimally viable, the DSP will have to cater to the needs of Bangladesh and India's Northeast. Japan is, therefore, keen that all basic agreements and understanding are in place, ensuring that the three countries are a coherent team. The long-term vision is for Bangladesh and the Northeast to become a hub and key industrial corridor of this region, serving a population of 220 million people.
Hiroshi Suzuki, Japan's new ambassador to India, speaking at the Agartala conference, emphasized that while increased connectivity of roads, railways, ports, and power/gas lines is important, it is not enough without the creation of regional industrial value chains. Hence, rapid industrialization in the sectors where the Northeast enjoys a competitive advantage assumes significance. This plan is sound because it ensures that the new connectivity links will be fully utilized and productive. Roads and ports must be accompanied by job opportunities that can come only from new industrial enterprises set up with national and foreign investment. A joint focus on comprehensive connectivity and accelerating industrialization both in Bangladesh and the Northeast is likely to be a key priority.
The Northeast is blessed with vast natural resources including agro-horticulture and forest resources, petroleum products, and hydropower. Its strategic location, with the region sharing borders with Nepal, Bhutan, China, Bangladesh, and Myanmar, is an asset. Experts are agreed that creating value chains and manufacturing products should encompass diverse sectors such as agro-processing, man-made fibers, handicrafts, assembly of two-wheelers and perhaps mobile phones, tea, rubber, and pharmaceuticals. The Northeast population, with its good education, already excels in the services sector comprising tourism, higher education, hospitality, and medical tourism, drawing potential investors' attention.
Of course, there are challenges that must be addressed before the shared vision is realized. The key to addressing them is expanding policy convergence and taking people along. Also, Japan as a single investor in the Northeast is unworkable. Indian companies too must invest. The Indian government must ease restrictions on the flow of investments from Bangladesh. The three governments should also forge closer linkages of economic cooperation. India and Bangladesh are already the biggest beneficiaries of development assistance from Japan. But only India and Japan are linked through the Comprehensive Economic Partnership Agreement (CEPA). Similar agreements should be concluded between India and Bangladesh, and between Japan and Bangladesh.
An important argument was advanced by Shahriar Alam, minister of state for foreign affairs of Bangladesh. He stressed that Dhaka and New Delhi have succeeded in "almost restoring" the pre-1965 infrastructure connectivity between India and Bangladesh and are now, in fact, going beyond it. This was possible due to a foreign policy anchored in 'Friendship to all, malice to none', inspired by Sheikh Mujibur Rahman. But, Alam added, Bangladesh which has facilitated so much connectivity, now needs "reciprocity" from other countries (read: India) so that it is better connected with other neighbours (read: Nepal, Bhutan, and Myanmar).
This is a reasonable expectation. Bangladesh is interested in becoming a part of the proposed Trilateral Highway connecting India, Myanmar, and Thailand. By agreeing and facilitating it, India can assist Bangladesh in becoming an integral part of the Act East Policy.
Two additional points require consideration.
First, when issues of regional cooperation and integration are discussed, scant attention seems to be paid to BIMSTEC these days. This is self-defeating. Its seven member-states have built this institution after years of challenging work. They need to persevere, especially by engaging their populations through universities, think tanks and civil society, so the grouping progresses towards its vision of establishing the Bay of Bengal Community (BOBC).
Second, the goal of connecting a large part of South Asia with Southeast Asia requires the leadership of a determined but conciliatory pilot. This leadership can come from the triad of Bangladesh, India and Japan (BIJ). A BIJ Forum can be launched first at the level of foreign ministers, and then include stakeholders from business – a move that will be especially welcome in the Northeast.
Rajiv Bhatia is Distinguished Fellow for Foreign Policy Studies, Gateway House, and a former ambassador.
This article was first published in The Hindu.