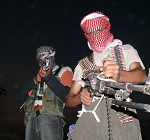 If 2013 was the year the data breaches, snooping and drone deployment began turning the world into an Orwellian dystopia, 2014 bears a close resemblance to a sharp descent into a more primal state of affairs. Terrorist attacks are unfortunately not a new phenomenon; but the vicious brutality in which they manifested themselves last year–is a frightening change.
This horrific trend that began in January with the massacre of 85 people[1], reportedly by the terror outfit Boko Haram in northern Nigeria's Kawuri village, culminated in the barbaric events of the last month: the more than 130 schoolchildren[2] slain by the Tehreek-e-Taliban Pakistan (TTP) in Peshawar, at least 150 women[3]executed by the Islamic State (IS) in Al-Anbar, Iraq and around 100 women and children[4] abducted and nearly three dozen others killed by Boko Haram in Gumsuri, a village in northeastern Nigeria.
The Al-Qaeda—arguably the inspiration for these three groups—is equally notorious for its use of spectacular and highly visual attacks, most evident in the September 11, 2001 attacks on the U.S. 2013's assault by its affiliate Al-Shabaab on Nairobi's Westgate Mall[5]. However, the difference lies in the levels of violence employed by the Al-Qaeda and its gen-next counterparts. Ironically, it is the Boko Haram and IS's apparent absence of specialist cells for research and development—that the Al-Qaeda has long been believed to possess—that leads today's groups to engage in more cruel and primitive forms of violence.
Instant violence
The Al-Qaeda had dedicated cadres to develop new techniques—complete with reconnaissance and planning—and programmes to carry out research into weapons of mass destruction (WMD) such as Project al-Zabadi[6]. While the modus operandi of today's terror groups is more along the line of instant violence, it is their belief that in the absence of a detailed ideology, the emphasis on savage violence will earn them the same scale of support from allies and dread from enemies that the al-Qaeda has acquired. Given the omnipresent nature of social media, publicity acts as oxygen for these groups, resulting in attacks that are increasingly spectacular and bloody, all to garner maximum media attention.
Accordingly, groups like Boko Haram and the IS are upping the ante with gruesome methods like public executions, video-recorded beheadings, sexual violence, and mass abduction. This is in turn triggering a vicious cycle of one-upmanship with each grouping trying to outdo the next in the brutality stakes to attract more followers and eventually, occupy more geographic territory. And these results are showing. For instance, coupled with its ever-growing social media presence, the scale of IS's brutality has attracted nearly 20,000 volunteers[7] from across the globe.
Global terror
The knife attacks at China's Kunming train station[8] in March by Uighur separatists suggest that this new strain of terrorism is expanding not only in its scale of violence, but also in its geographical spread. An aspect of the influence of groups like IS is the creation of the "lone-wolf" phenomena: self-radicalised individuals who may not travel to Syria or Iraq and instead carry out violent attacks within their countries of residence. Man Haron Monis[9], responsible for December's armed siege in Sydney, Mehdi Nemmouche[10]who opened fire in May at the Jewish Museum of Belgium in Brussels and  Michael Joseph Hall[11]who fired at the Canadian parliament in October, are three such cases. These lone wolf attacks in western countries are signs of blow back against what they perceive as the West's attack on Islam in Iraq and Syria.
Varying motives
The trajectory of viciousness is rising in jihadist attacks across the world. The victims are nearly always innocent civilians and the actions of the groups responsible, anti-government in nature. But the motives differ. The IS seeks to impose Sharia Law and establish a Caliphate. Al-Shabaab also seeks the imposition of Sharia Law through intensifying the Christian-Muslim conflict in Somalia. Meanwhile, Al-Qaeda is battling to recover allegiance amid the defection of its members to other groupings.
Pakistan's conundrum
In South Asia, the methods of terror outfits are largely still of the previous generation. Groups like the Lashkar-e-Taiba, Jaish-e-Mohammad and Hizbul Mujahideen are embedded deep in Pakistani society as a result of their charitable activities, which earn them respect, if not reverence. Additionally, these groups do not seek to challenge the sovereignty or authority of the Pakistani state and instead, work tacitly within the ecosystem fostered by the Pakistani Army and intelligence agency to unleash long-term campaigns of frequent attacks in Jammu and Kashmir.
However, the most peculiar is the case of the Tehreek-e-Taliban Pakistan, where the government of Pakistan has attempted to distinguish between a "good" Taliban—those factions that target India and advance Islamabad's agenda in Afghanistan—and a "bad" Taliban that attacks Pakistan.
In the attack on the Army Public School and College in Peshawar, where children were specifically targeted, it became clear that Pakistan's idea of "good" Taliban and "bad" Taliban is dangerously flawed. The tragedy is that such attacks have been taking place in the country for more than a decade, but with the army and intelligence agency unwilling and the government unable to stop them, the slaughter of children seems unlikely to be a watershed moment for Pakistan.
What will 2015 bring?
For these groups, the flip side of increased barbarism is the growing public revulsion at their activities, which could come back to haunt them. In 2015, for India and other long-term sufferers of terrorism, preventive methods implemented domestically like the enforcement of law and order and information-gathering will be useful in combating the threat. However, in the absence of international cooperation and information-sharing, such domestic steps may prove to be merely transient. Similarly, countries that have yet to experience jihadist terror, cannot afford to be complacent and must work towards international cooperation to safeguard their citizens and those of the world.
Karan Pradhan is a Senior Researcher at Gateway House: Indian Council on Global Relations. 
This article was exclusively written for Gateway House: Indian Council on Global Relations. You can read more exclusive content here.
For interview requests with the author, or for permission to republish, please contact outreach@gatewayhouse.in.
© Copyright 2014 Gateway House: Indian Council on Global Relations. All rights reserved. Any unauthorized copying or reproduction is strictly prohibited
References
[1] Mshelizza, Ibrahim, Joe Brockand and Mark Heinrich, 'Death toll in northeast Nigeria attack rises to 85', Reuters, 28 January 2014  <http://in.reuters.com/article/2014/01/28/nigeria-violence-idINL5N0L23PP20140128>
[2] Zahir Shah Sherazi, Mateen Haider, Hassan Jahangiri, Abdul Hakim, 'Militant siege of Peshawar school ends, 141 killed', Dawn.com, 16 December 2014 <http://www.dawn.com/news/1151203>
[3] Anadolu Agency, Iraq: 150 women executed after refusing to marry ISIL militants, 16 December 2014 <http://www.turkishpress.com/news/415983/>
[4] Grossman, Laura, 'Boko Haram fighters storm Nigerian village, kidnap over 100 women and children', 19 December 2014, The Long War Journal <http://www.longwarjournal.org/archives/2014/12/nigerian_terrorists.php>
[5] Howden, Daniel, 'Terror in Nairobi: the full story behind al-Shabaab's mall attack', The Guardian, 4 October 2013, <http://www.theguardian.com/world/2013/oct/04/westgate-mall-attacks-kenya>
[6] Darling, Dan, 'Abu Khabab and Project al-Zabadi', The Long War Journal, 19 September 2005, <http://www.longwarjournal.org/archives/2005/09/abu_khabab_and_1.php>
[7] Ketz, Sammy, 'Frustration fueling the rise of religious radicalism worldwide', Al Arabiya News, 15 December 2014 <http://english.alarabiya.net/en/perspective/analysis/2014/12/15/Frustration-fueling-the-rise-of-religious-radicalism-worldwide.html>
[8] Beina Xu, Holly Fletcher, and Jayshree Bajoria, 'The East Turkestan Islamic Movement (ETIM)', 4 September 2014, Council on Foreign Relations, <http://www.cfr.org/china/east-turkestan-islamic-movement-etim/p9179>
[9] Feneley, Rick, 'Sydney siege: Man Haron Monis, 'humanitarian' and terrorist', Sydney Morning Herald, 20 December 2014, <http://www.smh.com.au/nsw/sydney-siege-man-haron-monis-humanitarian-and-terrorist-20141219-12ajn5.html>
[10] Dickey, Christopher, 'French Jihadi Mehdi Nemmouche is the shape of terror to come', The Daily Beast, 9 September 2014, <http://www.thedailybeast.com/articles/2014/09/09/the-face-of-isis-terror-to-come.html>
[11] Frances Perraudin and Lauren Gambino, 'Ottawa shooting suspect Michael Zehaf-Bibeau: what do we know?', The Guardian, 23 October 2014 <http://www.theguardian.com/world/2014/oct/23/ottawa-shooting-suspect-michael-zehaf-bibeau-canada-parliament>
[12] South Asia Terrorism Portal, Terrorist / Extremist / Insurgent Groups – Jammu and Kashmir, 14 December, 2014 <http://www.satp.org/satporgtp/countries/india/states/jandk/terrorist_outfits/index.html>