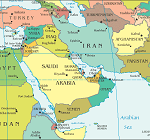 The escalating violence by the Islamic State of Iraq and Syria (ISIS), the better-armed and ruthless off-shoot of the Al Qaeda in Iraq, is now impacting India. As widely reported, 39 Indian construction workers kidnapped from Mosul on June 18 are still to be released, while Indian nurses continue to be sequestered in Iraqi cities held by ISIS.
In less than two weeks, ISIS has taken over the Syrian provinces of Raqqa, Deir ez-Zor and the contiguous northeastern Sunni majority Iraqi provinces of Anbar and Diyala, where fighting is still on. It has also taken over Mosul, Iraq's second largest city, and Baiji, which has one of the largest oil refineries in the country. It is now knocking on the doors of Baghdad, and contesting the nearby towns of Baquba, Habbaniya and Abu Ghraib. The ISIS has said it will also destroy the Shia shrine cities of Najaf and Karbala.
Several factors have contributed to the rapid military success of the ISIS in the face of a retreating national Iraqi Army.
One, the crisis in Syria and the mounting sectarian conflict, which was fanned by regional and European powers, could not be brought under control by an ineffectual UN even after three years. The crisis has led to a major humanitarian tragedy in Syria and the country's violent Islamic sectarianism has spilled over into its neighbours—such as Jordan, Lebanon and Turkey—some of them already battling their own troubles.
Two, ISIS arose in the context of the extremely violent manifestation of the religious proxy war between Iran and Saudi Arabia, which was unleashed by the U.S. invasion of Iraq in 2003. That opening of the sectarian Pandora's Box in West Asia has predictably proved impossible to close.
Three, Iraqi prime minister Nouri al-Maliki and Syrian president Bashar al-Assad have both contributed to the rise of ISIS. Maliki's revenge-seeking and marginalisation of Sunni majorities in the central provinces of Anbar, Diyala and Mosul have nullified the gains of political power that Iraq's majority Shias secured after four decades of ruthless rule by a Sunni coterie led by Saddam Hussein. It fanned the flames of Sunni resistance and militancy against the government and the Shias.
In Syria, despite an increasingly violent civil war, its majority Sunnis have been unable to dislodge the small Assad-led Shia -Alawite clique. Assad gave up the northeast Syrian provinces of Aleppo, Deir ez-Zor and Raqqa to ISIS and other Sunni armed and affiliated groups like the Syrian al-Nusra Front and the Al-Qaeda in Iraq and the Levant, who continue to contest towns and cities in the provinces of Homs, Hama and Damascus.
Four, the practice of democracy remains illusory in the region. The elections in 2014 were the first after the U.S. occupation ended in December 2011. So far, elections there have bestowed an imprimatur of political legitimacy, but have not been a real demonstration of people's power.
Five, in their war on two fronts—with the Iraqi and Syrian regimes—ISIS as well as other extremist groups have received external ideological, material and financial support. More than estimated $1 billion as well as heavy equipment are estimated to have reached the Syrian opposition groups from both western and regional powers.
From here on, the outcome of the increasingly violent conflict in Iraq and Syria can unfold on many fronts.
It could re-draw borders to carve out an autonomous Iraqi Kurdistan, a Sunni state comprising provinces that are now under ISIS control. It is highly unlikely though that the churning will provoke the Kurdish majority areas in Syria, Turkey, and Iran to also seek separation.
But from the redrawing of borders will also emerge an oil-rich mini-state of southern Iraq, covering the majority Shia southern provinces and a rump state of Syria, possibly including Damascus and the coastal region with a majority Alawite population.
The effect will also be profound on Jordan, Lebanon and Turkey. Already, these neighbours have received more than 2 million Syrian refugees. These countries have also become conduits for the movement into Syria of radical Islamist terrorists from Libya to Afghanistan and Pakistan, and an unending stream of heavy weapons.
The ISIS's takeover of contiguous Sunni provinces in Syria and Iraq can also disturb the settled religion situation in Kuwait, and this upheaval could extend to Saudi Arabia and Bahrain. Both developments will put pressure on the already beleaguered governments in those countries.
Meanwhile, Iran has pledged military forces to assist Maliki against ISIS, just as it assists Assad. Iran has also declared that it will defend Najaf and Karbala, which in turn has provoked a strong statement by Saudi Arabia against interference by foreign powers.
The stability and future of all West Asian countries is now in question, and India has three immediate issues to consider:
First, the hostages must be extricated and Indian nationals have to evacuated from other Iraqi areas controlled or contested by ISIS. India's challenge is to do this without getting enmeshed in the fast-moving religious-political and military events in the region.
In opening negotiating channels for the kidnapped workers, India can seek the support of Iraqi Kurdish leaders Massoud Barzani and President Jalal Talabani. Saudi Arabia, Qatar and the United Arab Emirates, which have access through private and other funding and provisioning networks to ISIS and other extremist groups, can be equally helpful.
Second, the disruption of Iraqi oil production in the Kurdish areas will impact international oil prices. It will make a dent in India's oil procurement, and will require purchases through the spot market.  In turn, this could severely impact domestic inflation. In the context of a possibly deficient monsoon, the immediate prospects are grim.
Third, the resurgence of intra-Islamic strife in West Asia bodes ill for an India with the second largest Muslim community in the world. Pakistan too is witnessing daily violence against the country's Shia community and other non-Muslim minorities. This is also beginning to happen in an Afghanistan waiting for the outcome of the presidential election and the departure of U.S. forces by year-end.
Al-Qaeda has already issued declarations exhorting the people of Kashmir to take up arms against the government. All these developments call for a hard and comprehensive look at India's West Asia policy, which can impact the security of nearly 5 million Indian nationals in the Gulf as well as religious harmony in our country.
Rajendra Abhyankar is Visiting Professor, School of Public and Environmental Affairs, Indiana University, U.S.; he was India's Ambassador to Syria from 1992 to 1996.
This article was exclusively written for Gateway House: Indian Council on Global Relations. You can read more exclusive content here.
For interview requests with the author, or for permission to republish, please contact outreach@gatewayhouse.in.
© Copyright 2014 Gateway House: Indian Council on Global Relations. All rights reserved. Any unauthorized copying or reproduction is strictly prohibited.