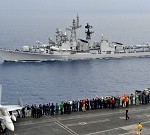 There is reason for jubilation on the security front. On August 12, India launched its first indigenously built aircraft carrier — INS Vikrant — and on August 9 the nuclear reactor onboard India's first indigenous nuclear submarine — INS Arihant — went critical. However, this jubilation must be tempered with pragmatism. Both projects have long gestation periods and for all intents, their toughest tests have yet to come. It will be five years until the INS Vikrant can be commissioned by the Indian Navy as key parts of the ship are yet to be constructed and weapons systems are yet to be installed. INS Arihant has yet to pass a series of arduous sea trials, which will test the reactor's performance and the functioning of all onboard systems.
The lag in full commissioning has consequences: India faces the prospect of a massive Chinese naval entry into the Indian Ocean region. The two projects are notable additions to the country's naval capabilities to counter the threat. Meanwhile, in the Bay of Bengal, China is expanding its naval presence to address its 'Malacca dilemma' and protect its Sea Lines of Communication. Moreover, the Chinese surveillance posts on Myanmar's coast enables them to keep a tab on Indian military activities, while building a port at Kyaukpyu in Western Myanmar. India needs a minimum of three aircraft carriers and a fleet of four-five nuclear submarines to maintain round-the-clock operational readiness in the Indian Ocean, protect energy security interests in the Persian Gulf and monitor Chinese activities in the Bay of Bengal.
The key to early and effective commissioning is to protect these two flagbearers of India's power projection capabilities from bureaucratic, technological and financial constraints. A precedent must also be set for the incorporation of more such vessels by supporting the Navy's vision of achieving a full spectrum capability — operating in a low-intensity conflict to conventional war and nuclear deterrence. One way is for the government to induct our many private shipyards to aid in naval expansion in a manner similar to how China has enlisted its private sector in shipbuilding. This will help develop India's own expertise, and reduce its reliance on its single largest partner in naval technology — Russia.
Amidst the euphoria that will surround the launch of INS Vikrant, it is important to note that this presents a bigger opportunity than merely the accomplishment of India's naval ambitions.
This blog was exclusively written for Gateway House: Indian Council on Global Relations. You can read more exclusive content here.
For interview requests with the author, or for permission to republish, please contact outreach@gatewayhouse.in.
© Copyright 2013 Gateway House: Indian Council on Global Relations. All rights reserved. Any unauthorized copying or reproduction is strictly prohibited