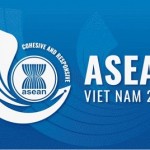 Vietnam had a busy year in 2020. It chaired the ASEAN, as also other bodies with ASEAN centrality, like the EAS[1] and ARF,[2] from November 2019. It chaired the ASEAN plus 3 with Japan, China and Korea and the ASEAN Connectivity Committee. In the same period, Vietnam was on the UN Security Council. Vietnam took over the ASEAN chairmanship from Thailand, and handed over the baton to Brunei in November 2020. The period of Vietnam's chairmanship was active and challenging. It bore the brunt of the responsibility of dealing with the pandemic crisis, at the economic and socio-cultural level. It faced the strategic consolidation of Chinese aggressive behaviour in the South China Sea (SCS) of which Vietnam was the main target.[3]
Nevertheless, Vietnam used its robust diplomacy and able chairmanship and managed well in virtual mode. Despite the novelty of virtual meetings, it communicated seamlessly with other ASEAN members and with regional powers like India and Japan. Despite China's targeted aggression, the Vietnamese kept a calm head and did not let bilateral antagonism cloud its regional leadership[4] This is what led to their success.
Vietnam's ASEAN leadership was expressed through the Chairman's Summary of two ASEAN Summits during the year, through the ASEAN initiatives and the consolidation of the ASEAN agenda. The theme was Cohesive and Responsive ASEAN. It focused on a sensible, effective and vigorous path to attaining the ASEAN ideals[5] of building an ASEAN Community of solidarity, resilience and prosperity, despite the challenge of the pandemic.
Vietnam promoted ASEAN's collective response through a holistic, multi-stakeholder, multi-sectoral approach. The ASEAN Coordinating Council Working Group on Public Health Emergencies (ACCWG-PHE), and the successful convening of the Special ASEAN Summit and Special ASEAN Plus Three Summit on COVID-19 on 14 April 2020, were achievements.[6] By the time it completed its term, Vietnam was able to talk about ASEAN enhancing its institutional capacity and effectiveness to better respond to changing circumstances.[7]
The ASEAN Community has 3 pillars: Political-Security, Economic, and Socio-Cultural. Launched in 2015, it encapsulates ASEAN's resilience and dynamism over 50 years, and seeks coordinated activities and policies among ASEAN Member States. ASEAN Community Building remained a major focus and the midterm review done during this period will guide the ASEAN till 2025. The three ASEAN Community Blueprints 2025 and the Master Plan on ASEAN Connectivity (MPAC) 2025[8] were all endorsed by the 37th Summit. Vietnam did not relent on this even though faced with the pandemic.[9] Vietnam took several initiatives to coordinate ASEAN activity.[10]
Vietnam's diplomatic style has acquired maturity. The confrontation with China is about a decade old; instead of publicly using its position to criticize China, it preferred to carry the grouping forward given the many challenges it faced. Vietnam also used its chairmanship period to draw attention to its well-performing economy. It has benefited from the relocation of production lines of resilient value chains, often from China, including both Japanese and Chinese FDI.[11] Till September 2020 Vietnam had received FDI of $21 billion.[12]
Vietnam's dexterity and confidence was on further display when as ASEAN Chair, RCEP[13] was finally concluded and signed. It was already a part of the TPP[14] and participated in APEC efforts for a FTAAP[15] with gusto. During this period Vietnam signed an important FTA with the EU[16] as well as an Investment Protection Agreement. Approximately 65% of EU-Vietnam trade will be exempted from customs duty immediately, rising to 99% over 15 years[17] The country is now established as a player willing to expand its trade and investment wings no matter how trying the circumstances.
In all this, Vietnam was credited, along with South Korea and New Zealand, with being among the best performing countries in dealing with the pandemic – the new currency for determining strategic value of a partner. The effective response to the pandemic through [18] good management, societal control and effective public health facilities raised Vietnam's global profile. Its leadership in international trade agreements, its attractiveness as a location for China+1 industry and its diplomatic stance as ASEAN Chair and member of the UNSC gave it a new aura regionally and globally. Its willingness to step beyond the ASEAN Indo-Pacific Outlook and engage with India[19] for instance on strategic terms gives it value as an important partner in the years ahead for the Quad and specially for India.
Gurjit Singh is a former Indian Ambassador to Germany. He is currently the Chair of the CII Task Force on the Asia Africa Growth Corridor and Professor at the IIT, Indore.
This article was exclusively written for Gateway House: Indian Council on Global Relations. You can read more exclusive content here.
For interview requests with the author, or for permission to republish, please contact outreach@gatewayhouse.in.
©Copyright 2021 Gateway House: Indian Council on Global Relations. All rights reserved. Any unauthorized copying or reproduction is strictly prohibited.
References
[1] The East Asia Summit.
[2] ASEAN Regional Forum
[3] Viet Hung Nguyen Cao, 'Vietnam's Struggles in the S. China Sea: Challenges and Opportunities', The Maritime Executive, 22 September 2020, https://www.maritime-executive.com/editorials/vietnam-s-struggles-in-the-s-china-sea-challenges-and-opportunities
[4] ASEAN Maritime Cooperation Reaps Fruit amidst COVID-19, Vietnam News, 17 December 2020, https://vietnamnews.vn/politics-laws/830097/asean-maritime-cooperation-reaps-fruit-amidst-covid-19.html.
[5]  Keynote Speech on Viet Nam's 2020 ASEAN Chairmanship by H.E. Mr. Nguyen Xuan Phuc, Prime Minister of Viet Nam, 6 January 2020, https://www.asean2020.vn/thong-diep-cua-thu-tuong
[6] CHAIRMAN'S STATEMENT OF THE 36 TH ASEAN SUMMIT, ASEAN, 26 June 2020, https://asean.org/storage/2020/06/Chairman-Statement-of-the-36th-ASEAN-Summit-FINAL.pdf
[7] Chairman's Statement of the 37th ASEAN Summit, ASEAN 18 November 2020, https://asean.org/chairmans-statement-37th-asean-summit/
[8] The MPAC 2025, which succeeded the Master Plan on ASEAN Connectivity 2010, focuses on five strategic areas: sustainable infrastructure, digital innovation, seamless logistics, regulatory excellence and people mobility. The MPAC 2025 was developed in consultation with relevant ASEAN Sectoral Bodies and other stakeholders. The remaining initiatives from MPAC 2010 were evaluated and incorporated in the MPAC 2025 http://asean.org/asean/asean-connectivity/master-plan-on-asean-connectivity-2025/
[9] VN leaves deep imprint on ASEAN's 2020 cooperation, Interview with Amb Binh, Vietnam News 15 December 2020, https://vietnamnews.vn/politics-laws/828658/vn-leaves-deep-imprint-on-aseans-2020-cooperation-ambassador.html
[10] COVID-19 response initiatives by Việt Nam, included the ASEAN COVID-19 Response Fund, the Regional Reserve of Medical Supplies, the Strategic Framework for Public Health Emergencies, and the ASEAN Comprehensive Recovery Framework.
[11] Trinh Nguyen, Is Vietnam Eating into China's Share of Manufacturing? CEIP, 18 June 2020, https://carnegieendowment.org/?lang=en
[12] Julien Nguyen, FDI Data Shows Vietnam's Steady Economic Growth, Vietnam Briefing, 15 October 2020, https://www.vietnam-briefing.com/news/fdi-data-shows-vietnams-steady-economic-growth.html/
[13] Joint Leaders' Statement on The Regional Comprehensive Economic Partnership (RCEP), ASEAN, 4 November 2019, https://asean.org/joint-leaders-statement-regional-comprehensive-economic-partnership-rcep/
[14] James McBride, Andrew Chatzky, and Anshu Siripurapu , What Is the Trans-Pacific Partnership (TPP)? CFR, 1 December 2020, https://www.cfr.org/backgrounder/what-trans-pacific-partnership-tpp
[15] Gurjit Singh,' RCEP Puts New Life into APEC', VIF, 24 November 2020, https://www.vifindia.org/article/2020/november/24/rcep-puts-new-life-in-apec
[16] The EVFTA came into effect on August 1, 2020, paving the way for increased trade between the EU and Vietnam, eliminating almost 99 percent of customs duties between the two countries. According to the Ministry of Planning and Investment (MPI), the FTA is expected to help increase Vietnam's GDP by 4.6 percent and its exports to the EU by 42.7 percent by 2025. While the European Commission has forecast the EU's GDP to increase by US$29.5 billion by 2035.
[17] Lukas Lindemann, Do Thanh Ha, 'EVFTA: How Will European and Vietnamese Investors Benefit?', Vietnam Briefing, 27 February, 2020, https://www.vietnam-briefing.com/news/evfta-how-will-european-vietnamese-investors-benefit.html/
[18] Sen Nguyen, 'Vietnam's Pandemic Success Is a Lesson for the World', Global Asia, September 2020, https://www.globalasia.org/v15no3/cover/vietnams-pandemic-success-is-a-lesson-for-the-world_sen-nguyen
[19] Virtual Summit between Prime Minister Shri Narendra Modi and Prime Minister of Vietnam H.E. Nguyen Xuan Phuc, MEA, 18 December 2020, https://mea.gov.in/press-releases.htm?dtl/33317/Virtual_Summit_between_Prime_Minister_Shri_Narendra_Modi_and_Prime_Minister_of_Vietnam_HE_Nguyen_Xuan_Phuc