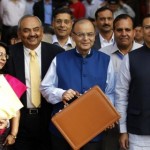 It is that time of the year again. Newspapers, business channels, Internet sites are all full of ideas, suggestions and even advice for Finance Minister Arun Jaitley. The minister's appointment diary is brimming with meetings scheduled with representatives from industry, trade unions and agriculturalists. They all come armed with wish-lists, hoping to influence the final design of this year's Budget exercise.
Jaitley is on track to present his third budget (for 2016-17) and, while patiently sticking to the routine of meeting various lobbies and representatives, he is aware of the criticism he faced for his first two Budgets and the challenges that lie ahead. It's now or never; this might be his last opportunity to introduce bold reforms and sow the seeds of future growth. Next year might be too late; assembly elections for Uttar Pradesh and Punjab among other states are scheduled for 2017 and expedient politics traditionally triumphs sensible, hard-nosed economic measures in poll-bound years; the year also marks the beginning of the countdown to 2019 general elections.
To be fair, the FM does seem trapped in a cleft stick. Look at the hand he has been dealt: the global economy is struggling to emerge from a prolonged slowdown, leading to lower demand for Indian goods and services, and shrinking exports; China's economic recalibration is spooking global capital flows and skewing the pitch for foreign direct investment (FDI) into India; indiscriminate past lending by banks (largely public sector banks) has impaired their ability to finance new projects, especially infrastructure projects; power generation and supply — essential for manufacturing activity — is stuck in a tangle of issues relating to fuel supplies, pricing, past regulatory infractions; agricultural output remains depressed due to sub-par monsoons, in addition to legacy issues of low productivity, inadequate credit and input supplies; this has dampened rural demand, thereby impacting a wide range of industries.
In addition, the pre-election promises of fortifying the country's manufacturing base, resulting in additional employment, fanned unrealistic expectations; when these did not materialise (as they were not expected to in such a short period), they spawned widespread disappointment with the regime's economic managers.
It might be instructive to review the FM's first two Budgets to decipher the tenor and direction of this government's economic policy-making. In his debut (Budget 2014-15) innings, presented 45 days after taking office, the focus seemed to be on long-term, structural reforms: FDI up to 49 per cent in defence and insurance, guarantees of a stable and predictable tax regime, real estate and infrastructure investment trusts, incentives for foreign institutional investors (FIIs) and fillip to debt markets. The second outing continued policy thrust in the same direction: greater decentralisation and balanced regional growth through higher devolution to states, commitment to increased public expenditure to kick-start investment in the economy and a host of institutional reforms to attract fresh domestic and foreign investment.
But, expectations built up in the pre-poll season cannot be wished away easily and stakeholders have started voicing their disappointment. In short, Jaitley has to find ways to prod the economy into a higher growth trajectory immediately, without over-playing his hand or pushing the economy down a fiscal slope. On the other hand, the government is committed to certain expenditure — social sector allocations (especially in a year of agricultural distress and depressed rural incomes), a higher outgo because of Seventh Pay Commission recommendations and One Rank One Pension settlement (both are expected to result in combined outflows of about Rs 100,000 crore), interest burden on past government loans, capital infusion for state-owned banks and other PSU companies, plus a host of other obligations.
The Good News
Fortunately, revenue growth has been good. Data from the Controller General of Accounts shows net tax revenue for the first eight months (April-November) at Rs 4,64,864 crore, a growth of 12.5 per cent over the corresponding period last year. Non-tax revenues rose 35 per cent, helped primarily by spectrum auction proceeds and transfer of profits from public sector companies. There are three reasons behind tax revenue growth — higher duties on petroleum goods, the new service tax rates and the enhanced cess.
There are other encouraging signs as well. Bursts of public expenditure during June, July and September have taken the government's total planned capital expenditure to Rs 97,788 crore during the first eight months of 2015-16, a 57 per cent jump over what was spent during the corresponding period last year. For example, funds allocated during 2015-16 to states and Union Territories for development of national highways, according to a PIB press release, is significantly higher than previous year: Rs 81,006.99 crore against Rs 31,495.20 crore in 2014-15, a jump of over 157 per cent. It remains to be seen how much of that allocation is actually spent. The National Highways Authority of India has so far awarded 43 projects in the current financial year for a total length of 2,624 kms.
This article was written for and was originally published by Business World. It has been republished with their permission.
You can read the full article here
Rajrishi Singhal is Senior Geoeconomics Fellow, Gateway House. He has been a senior business journalist, and Executive Editor, The Economic Times, and served as Head, Policy and Research, at a private sector bank, before shifting to consultancy and policy analysis.
For interview requests with the author, or for permission to republish, please contact Ashna Contractor at c.ashna@gatewayhouse.in or 022 22023371.