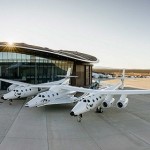 Since the late 1990s, the United Arab Emirates (UAE) has had a vision to become a central hub of the global aviation network[1] It took two decades and now, Dubai and Abu Dhabi are considered as aerotropoli, or cities built around an aviation hub, like Singapore.[2]
Because of its central location on the aviation globe and its international standing, Dubai was able to emerge as an early player in the post-COVID world. During the second half of 2021, the UAE was the venue for four major physical events: the Expo 2020 Dubai, the 2021 International Astronautical Congress (IAC), the International Cricket Council's Twenty20 Cricket World Cup, and the Dubai Air Show 2021. The UAE could organize these enormous events because of high vaccination rates, robust hospitality, convention, and sporting infrastructure, and most importantly, having two aerotropoli.
During the Expo 2020 Dubai and the 2021 IAC, the UAE began demonstrating serious intent to transform its aerotropolis into space-travel hub – an astropolis. The U.S. space launch company, Blue Origin, is in talks with the UAE's Ministry of Economy and Ministry of Entrepreneurship and other SMEs to identify possibilities for setting up spaceports for human spaceflight from UAE soil.[3] This is not the first instance where an overseas space-launch company has shown interest in setting up a spaceport – a spaceward version of an airport – in the UAE. In 2019, Virgin Galactic signed a memorandum of understanding with the UAE Space Agency to set up a spaceport and offer its launch services, at the Al Ain Airport.[4] Virgin Galactic has long had linkages with the UAE. Since 2009, its state-run sovereign wealth fund, Mubadala Investment Company, has owned substantial shares in this space tourism company.[5] UAE's stellar aviation credentials will play an important role in its new space ambitions.
The UAE used its position as host of the 2021 IAC, to introduce its four astronauts to the world[6]. Unlike India or China that are building end-to-end human spaceflight capabilities indigenously, the UAE is making the most of  its participation in the US-led Artemis Accords. This agreement will enable the UAE to use the internationally pooled technical, scientific, monetary, and human resources to send its astronauts into space, particularly on the US-led Artemis human-rated missions from 2024 onwards[7]. The UAE has a two-pronged approach to expediting its space ambitions: one, to galvanize engineering and science competencies domestically through university-industry-start-up symbiosis, to deepen its stakes in the global space economy.[8] Second, it announced a new space exploration mission in 2028 that will make a flyby of Venus and eventually venture into the Main Asteroid Belt between Mars and Jupiter.
In this pursuit, hosting the recently concluded 2021 IAC has been an strategic exercise for the UAE.[9]
For the International Astronautical Congress is the world's foremost congregation of space agencies, space industries, space R&D institutions, and governmental ministries focusing on robotic and human-rated space exploration applications. Since it began in 1950, the IAC has been held largely in Europe and North America. It was only in 1980 that the IAC moved on Asian shores, first in Tokyo in 1980 and in Bengaluru in 1988. But for the very first time, the IAC this year was held in UAE's Dubai – only the second West Asian country after Israel to host the conference. UAE's commitment to its national space programme, its leadership in this domain among the Arab countries, and partnerships with major space-faring nations, has helped it organize the IAC in its aerotropolis of Dubai.
The IAC's master of ceremonies, the UAE Space Agency (UAESA), displayed an engineering prototype of its rover Rashid, part of the Emirates Lunar Mission, which will fly to the Moon in 2022.[10] The UAE has partnered with the Japanese space-technology company iSpace, where the latter will be providing its Hakuto-R lander on which Rashid will piggyback.[11] The Hakuto-Rashid duo will land near the lunar equator for scientific investigations.  The UAE understands that space exploration is crucial for its national economy. It intends to commercialize datasets and services generated from space exploration and value-added education, innovation entrepreneurship, high-tech, and other industrial sectors.
The UAE's approach exemplifies how new space-faring nations, which have established their space programme in the last ten years, will increase their stakes in the rapidly growing global space economy and do so also by making strategic partnerships with more or equally space-capable nations.
There are significant opportunities for India to partner with the UAE. India, not an Artemis Accords signatory, is uniquely positioned to attract new space-faring nations that do not want to grow under the umbrella of either the US or China. The UAESA has an memorandum of understanding (MoU) with Indian Space Research Organization (ISRO)  since 2016 to jointly pursue space science projects apart from Earth-oriented remote sensing; satellite communication and satellite based navigation.[12] The space science part of the MoU needs greater attention as UAE has planetary exploration missions lined up for the first time.
India's 2020 space reforms provides its domestic private sector an equal pedestal in planetary exploration with ISRO. Indian and Emirati governments can expand the scope of this space agency-limited MoU and co-nurture space startups through technology funds such as Startup India and sovereign wealth funds such as National Investment and Infrastructure Fund and Mubadala Investment Company as well as through bilateral space science research grants. India is rapidly developing comprehensive capabilities with human spaceflight, and UAE-India co-operation here will become a vital alternative to the Artemis plans.
India and UAE's strategic partnership has always had great potential. But with  the 2021 IAC,  a new facet has emerged – space cooperation. Time for a serious India-UAE bilateral space dialogue to commence.
Dr. Chaitanya Giri is Fellow, Space and Ocean Studies Programme, Gateway House.
This article was exclusively written for Gateway House: Indian Council on Global Relations. You can read more exclusive content here.
For interview requests with the author, or for permission to republish, please contact outreach@gatewayhouse.in.
©Copyright 2021 Gateway House: Indian Council on Global Relations. All rights reserved. Any unauthorized copying or reproduction is strictly prohibited.
References:
[1] C. Fernandes, & G. Rodrigues (2009). Dubai's Potential As An Integrated Logistics Hub. Journal of Applied Business Research, 25(3). https://doi.org/10.19030/jabr.v25i3.1028
[2] K. Albaabi, K. Debbage, & A. Bin Touq (2013). The promise of the aerotropolis model in the United Arab Emirates: The role of spatial proximity and global connectivity. The Arab World Geographer, 16(3), 289-312. https://www.researchgate.net/profile/Khaula-Alkaabi/publication/280035259_The_Promise_of_the_Aerotropolis_Model_in_the_United_Arab_Emirates_The_Role_of_Spatial_Proximity_and_Global_Connectivity/links/55a4b87208ae81aec9130386/The-Promise-of-the-Aerotropolis-Model-in-the-United-Arab-Emirates-The-Role-of-Spatial-Proximity-and-Global-Connectivity.pdf
[3] "Ministry of Economy explores mechanisms to develop space economy, investment, tourism opportunities." Emirates News Agency, 28 October 2021. https://www.wam.ae/en/details/1395302986067
[4] S. Nasir, "UAE to sign agreement with Virgin Galactic for spaceport in Al Ain Airport." Khaleej Times, 19 March 2019, https://www.khaleejtimes.com/tech/uae-to-sign-agreement-with-virgin-galactic-for-spaceport-in-al-ain-airport
[5] "Mubadala, affiliates disclose stakes in Virgin Galactic." Arabian Business, 8 August 2020, https://www.arabianbusiness.com/transport/450561-mubadala-affiliates-disclose-stakes-in-virgin-galactic
[6] "Space sector plays major role in realising UAE's vision for development, enhances its role in shaping future of planet: Mohammed bin Rashid." Emirates News Agency, 25 October 2021, http://wam.ae/en/details/1395302984999
[7] "NASA, International partners advance cooperation with first signings of Artemis Accords." NASA, 13 October 2020, https://www.nasa.gov/press-release/nasa-international-partners-advance-cooperation-with-first-signings-of-artemis-accords
[8] "National Space Strategy 2030." UAE Space Agency, retrieved from https://space.gov.ae/Documents/PublicationPDFFiles/2030-National-Strategy-Summary-EN.pdf
[9] "UAE displays model of its moon rover at IAC 2021." Khaleej Times, 28 October 2021, https://www.khaleejtimes.com/uae/uae-displays-model-of-its-moon-rover-at-iac-2021.
[10] "MBRSC teams up with Japan's ispace on Emirates Lunar Mission." Ispace, 14 April 2021, https://ispace-inc.com/news/?p=1874
[11] "UAE Space Agency announces new Emirati interplanetary mission." Emirates News Agency, 5 October 2021, https://www.wam.ae/en/details/1395302977188
[12] "List of Agreements and MoUs exchanged during the state visit of Crown Prince of Abu Dhabi Sheikh Mohamed Bin Zayed Al Nahyan to India." Retrieved from Ministry of External Affairs, 11 February 2016, https://www.mea.gov.in/bilateral-documents.htm?dtl/26348/