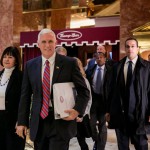 It promises to be a long winter in America. Donald Trump appears to be struggling to put a credible team in place as infighting and turf wars dominate the transition process.
The volatility is palpable, compounding the uncertainties already associated with the incoming administration in its domestic and foreign policies. The airing of internal difficulties is playing out against a damaging public spat between Trump and the U.S. intelligence community over alleged Russian hacking of the elections.
Transition from one U.S. administration to the next is always difficult given the large number of political appointments that must be made in a short time. Nearly 4,000 positions have to be filled, of which 1,212 require Senate confirmation. It is an enormous undertaking by any measure and some bumps are inevitable.
But Trump appears to be having an especially difficult time, balancing the need for change with the need to find the right candidates who are respected by their peers. He has leaned towards generals and the rich as cabinet choices besides relying heavily on  daughter, Ivanka, and son-in-law, Jared Kushner as advisers.
Reports say that his pick for defence secretary, retired Gen. James Mattis, is already in conflict with the transition team, headed by vice president-elect Mike Pence, over who should have the last word on personnel. Mattis, known as the "warrior monk" for being a lifelong bachelor and a voracious reader, was expected to bring together experienced national security experts, including those who had opposed Trump's candidacy.
But it seems the transition team, made of loyalists and ideologues, had other ideas. They are trying to fill senior positions without consulting Mattis to create separate lines of communication to the White House and  the sprawling defence bureaucracy.
Another big wrinkle to the process comes in the shape of Henry Kissinger, who is back with a bang as an informal, but regular, adviser to Trump on world affairs. Not only is Kissinger defending Trump in public, he also shares the president-elect's views on Russia as a country that is important for any "new global equilibrium".
Kissinger's former assistant, K.T. McFarland, has already been given a job as a deputy national security adviser. She is hardline and a strong critic of the Obama Administration's foreign policy.
But key cabinet members, named thus far, are better known for their personal wealth than their populism – not the kind of people with whom his disaffected voters would identify as being sympathetic to their plight. Their combined net worth is said to be $14 billion, with two billionaires and nine multi millionaires.
Critics say Trump has already broken his promise to "drain the swamp" by picking a cabinet that has more insiders than outsiders. It is "big money" at its showiest, undermining the premise of his campaign against Hillary Clinton that she was beholden to Wall Street and corporate America.
The net worth of Wilber Ross, Trump's pick for commerce secretary, is estimated at $2.9 billion, with business interests in the energy, banking and transportation sectors. Betsy DeVos, chosen to be education secretary, is married into the Amway family whose fortune is estimated at $4.8 billion.
Rex Tillerson, ExxonMobil's CEO and nominated to be secretary of state, has $400 million in assets and portfolio investments, stretching from Walmart to Novartis to Sony. In addition, he signed a retirement package with Exxon for $180 million worth of additional stocks and benefits.
Tillerson's ties to Russia are already in question and his acceptance of Kremlin's Order of Friendship award in 2013 has been termed "alarming' by some senators whose votes he needs for his confirmation. He negotiated an agreement with Russian oil giant Rosneft in 2011, betting billions on Russia's oil resources and raising Rosneft's stock by $7 billion in five days, according to Igor Sechin, the company chairman.
But U.S. and European Union sanctions in 2014 against Russia for its annexation of Crimea and intervention in Ukraine hit Exxon's bottomline hard. The company is said to have lost $1 billion in revenue.
Tillerson's stand on maintaining the sanctions will be one measure by which his future in the incoming administration may be decided. He has been doing the rounds of Capitol Hill, meeting key senators of the foreign relations committee and explaining his position on Russia.
Similarly, Ross as commerce secretary is an interesting choice because, if anything, he is a Sinophile, and a collector of Chinese art, not a China- basher like Trump and Peter Navarro, who will head the newly created National Trade Council. Ross has invested heavily in Chinese shipping and energy companies. In the past, he has called it "intellectually wrong" to make China a "whipping boy" in the U.S. as Japan was 15 years ago.
But by September last year, Ross had changed his tune. In a paper he jointly wrote with Navarro, he called China the "biggest trade cheater" for weaving "an elaborate web of unfair trade practices," dumping steel in the U.S. market and forcing technology transfers. But he is still seen as someone who would be a moderating influence and promote trade.
Trump has collected quite a team of rivals who could force new compromise positions. Apart from Ross and Navarro having different views, the interplay between Mattis, the resumptive defence secretary, and retired Lt. Gen. Michael Flynn, Trump's national security adviser (NSA), could produce fireworks.
Flynn opposed the selection of Mattis, who outranks him, and as head of U.S. Central Command, had presided over an investigation of Flynn for leaking sensitive information to Pakistan about U.S. intelligence capabilities used to monitor the Haqqani Network. Flynn's career was affected but he was not punished. He was finally forced out by the Obama administration largely for demanding that stronger measures be taken against terrorism.
Seen as a maverick with strong anti-Islam views, he certainly doesn't believe in political correctness. His meeting with India's NSA, Ajit Doval, last month was detailed and productive. The two first talked on the  phone with Flynn inviting Doval for a personal meeting in Washington.
Mattis, on the other hand, is more old-school and establishment – he has repeatedly and faithfully argued that the Pakistan army is a valuable partner in the fight against terrorists.
Apart from personality clashes, the issue of conflict of interest has come up repeatedly, with Trump's own foreign business interests being put under the spotlight. He promised to hand over the leadership of his empire to his two older sons, but detailed plans of how he would do it are yet to be revealed. As long as he has a financial stake in his companies, he remains open to attack from the Democrats, who have already drafted legislation to start impeachment proceedings unless he divests.
His real estate interests in India, Indonesia, UAE and other countries could all come under investigation unless he creates a blind trust and distances himself. Otherwise, he would be in violation of the U.S. Constitution's "emoluments clause," which prevents the president from receiving gifts from foreign governments.
The dust is unlikely to settle any time soon as senate confirmation hearings on Trump's nominees get underway next week. Some Democrats have already declared that they are likely to  be tough on the nominees.
Seema Sirohi is a Washington-based analyst and a frequent contributor to Gateway House: Indian Council on Global Relations. Seema is also on Twitter, and her handle is @seemasirohi
This article was exclusively written for Gateway House: Indian Council on Global Relations. You can read more exclusive content here.
For interview requests with the author, or for permission to republish, please contact outreach@gatewayhouse.in.
© Copyright 2016 Gateway House: Indian Council on Global Relations. All rights reserved. Any unauthorized copying or reproduction is strictly prohibited