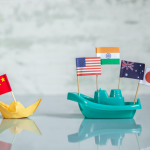 China's global competitive edge is sharpening across the military, economic, diplomatic, and technological domains. As the contours of China's ambitious and multi-faceted geopolitical strategy take shape, it is clear that the extent to which the Quad countries (Australia, India, Japan, and the United States) can collaborate across all four domains will be an important factor in determining whether China's hegemonic designs on the Indo-Pacific will succeed.
The Quad has been slow to emerge as an organized grouping—mainly due to each country's desire to avoid provoking China but also because of the bureaucratic complexity of convening and coordinating four powerful democratic nations. After 14 years of fits and starts, the Quad has begun to take shape and define its purpose: preserve the open, free, transparent, and rules-based order that facilitates trade, economic and political development in the Indo-Pacific.
Lost Time
When the Quad countries held their first meeting in May 2007, China reacted badly and sent demarches to each nation asking why they were undertaking such an initiative. Canberra and New Delhi downplayed the significance of the gathering and started backing away from the concept, casting it into cold storage for the next ten years.
In the interim, China made significant strides in its military modernization efforts and used naval power to press territorial claims in the South and East China Sea and extend its influence into the Indian Ocean. It also ramped up aggression along its disputed borders with India, strengthened its grip on Tibet, cracked down on democracy in Hong Kong and employed both state power and illegal means to ascend toward global technological dominance.
It's now clear that the "go-slow, avoid irritating China" approach to multilateral cooperation has neither helped to moderate Chinese behaviour nor delayed Beijing's attempts to bend the global order toward its authoritarian ideology.
President Biden was right to hold a (virtual) Quad summit last month as one of his first major foreign policy initiatives, building on the foundation the Trump administration had laid by resuscitating the Quad in 2017 and holding regular Quad meetings at all levels throughout its term.
The U.S. Congress has also thrown its weight behind the Quad with the Senate's recent introduction of the China "Strategic Competition Act of 2021," the first piece of major U.S. legislation to highlight the Quad. The bill calls on the United States to expand multiple avenues of cooperation with the Quad, including regular military-to-military dialogues, joint exercises, and coordinated policies to protect cyberspace and advance maritime security.
Operationalising the Quad
To build on this momentum and provide structure to Quad efforts, the four countries should establish a secretariat to organize and monitor multiple lines of effort, beginning with the tasks of the three working groups established following the Quad summit: vaccine production and distribution; climate change; and emerging and critical technologies.
On the technology front, a Quad secretariat could interact with non-government and civil society organizations that bring together industry and experts to develop solutions to complicated policy challenges. One such effort, "The Quad Economy and Technology Task Force," is currently being hosted by the Mumbai-based Gateway House and is made up of experts and business leaders from all four countries to discuss critical minerals and pharmaceutical supply chains, space and 6G telecommunications, financial technology and cybersecurity, and undersea cables infrastructure.
The issue of preventing China's domination and control of undersea cable networks, in particular, needs to be elevated in policy discussions, including within the Quad. Undersea fibre-optic cables carry 90 percent of all global data flows and are increasingly built and managed by Chinese companies, which raises questions about their security and reliability. India recently laid an undersea cable from its mainland to its Andaman and Nicobar Islands. And in October 2020, the United States, Japan, and Australia worked to together to finance an undersea cable to the Pacific island of Palau.
Yet there is more the Quad can do to manage the protection and security of undersea cables, such as pooling resources and diplomacy, leading standard-setting and regulatory efforts, and enhancing collective undersea domain awareness.
The concerns regarding undersea cables stem from lessons learned in the 5G telecommunications space, where China has sought to dominate the market through state subsidies to its own companies and by controlling the standard-setting process.  The joint investment in 5G technology announced by President Biden and Japanese Prime Minister Suga following their meeting last week is a positive step, but again, there is much more the Quad can do to create alternatives to Chinese offerings.
Quad Progress Overdue
There are myriad other issues on which the Quad should collaborate ranging from maritime security, providing infrastructure alternatives, and meeting post-pandemic economic needs in the region.
With so much work to be done and the Quad just beginning to hit its stride, it is imperative that none of the Quad countries bend to Chinese pressure and again back away from the grouping as happened 14 years ago. The misconception that placating China by avoiding collaboration among like-minded democracies might somehow make Beijing a friendlier or more cooperative partner has been laid bare. The need for Quad collaboration is urgent, and long past due.
Lisa Curtis is Senior Fellow and Director, Indo-Pacific Security Program, Center for a New American Security and co-chair, Gateway House Quad Economy and Technology Task Force.
This article was exclusively written for Gateway House: Indian Council on Global Relations. You can read more exclusive content here.
For interview requests with the author, or for permission to republish, please contact outreach@gatewayhouse.in.
© Copyright 2021 Gateway House: Indian Council on Global Relations. All rights reserved. Any unauthorized copying or reproduction is strictly prohibited.