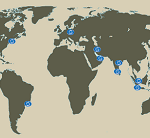 Doordarshan is a late entrant to electronic media-driven influence, and an effort will need to be made to bring it up to speed. Some government attention has been given to this. Earlier this year, in January, the long-awaited report of the Sam Pitroda Committee set up in 2013 to create a blueprint to revive Doordarshan, submitted its report to the Information & Broadcasting ministry. The recommendation: that Prasar Bharti, the parent body of India public broadcasting system, should have complete autonomy. It also suggested setting up a regulator, a sub-committee of the Prasar Bharati Board, for television and radio content to ensure public accountability.
The first step, however, should be to unshackle Doordarshan (DD) from Prasar Bharati, making DD part of an independent broadcasting authority. This is imperative because India is becoming increasingly isolated in the international community, with fewer friends and little goodwill. Positioning DD globally could be an effective way to counter this and to put out the strengths of India in a modern, accessible way.A new management with professionals from both the public and private sector who have a sophisticated knowledge of technology can reposition DD to make it web and social-media savvy
So far, India has not leveraged or explained well its many strengths and aspects: a lively and overactive domestic media, a vibrant, negotiating democracy, globally relevant and affordable products, a facility in mathematics, the quest for equity and sustainable economics, a global diaspora, soft power and cultural acceptability – and yes, a status quo foreign policy. This, an updated and globally-distributed Doordarshan can easily do.
India has been a late entrant to the arena of global electronic influence. Over the last decade, television channels, along with social and digital media, have become essential arsenals for countries in promoting their world views and foreign policy. The 55-year-old Doordarshan, with its 37 channels, has lagged behind in this 21st century medium of international persuasion. At a time when existing political and economic development models are being questioned, India's growing global engagement and the success of its diverse democracy, offers a model for countries seeking a more replicable, equitable alternative to the one promoted by the western-dominated media. This has, till now, not been projected.
Already, new channels like the state-run Russia Today, Al-Jazeera, China's CCTV and France24 have stepped into the space long-dominated by the public service broadcaster BBC and private CNN. These new players have emerged as the definitive voices of their respective nations and global views. None has been able to present a representative voice of the developing world. And despite their pervasive presence, foreign media has been unable to interpret our unique democratic processes and systems.
This is right time for Doordarshan to step on to the global stage – a stated goal of the Modi administration. Two reasons: first, the world is in transition: being re-ordered for the first time after the Second World War. The Arab upheavals, South Asia's quest for independence from both dynasty and religion, and India's political churning which signals the end of the old dynastic order through an anti-graft movement, is riveting the world.
Second, technology has transformed views and lives, enabling individuals to challenge conventional wisdom and empowering them to act in their own, not just state, interest. It has also lowered distribution costs, blunting the edge of established communication systems.
Hiring talent from the private sector will be easy – DD reaches 224 million households, the highest of any medium in India. It has generous government funding – Prasar Bharati was allocated Rs. 2,180 crores as grants-in-aid under the annual budget for 2013-14. The report pegs Prasar Bharati's fund requirement at around Rs. 17,412 crores, and suggests that the government waive off dues worth Rs. 13,641 crores due from it, to enable the public service broadcaster to start anew. DD also has early access to the schedules of government officials and ministers, giving the channel an edge over its private competitors. This makes it potentially the most influential channel in India – an attractive proposition for the best journalists and reporters. Government funding will support the development of new, well-produced, innovative quality content, particularly non-fiction programmes with an Indian perspective but global appeal.
There's another good reason for DD to make its international debut now. Two of the largest global broadcasters – BBC and CNN – are cash-strapped, as is the traditional western print media; they are curtailing coverage and pulling out correspondents from many locations worldwide.  DD can replace the authoritative opinion of foreign channels with powerful voices from emerging economies. Bureau-sharing arrangements in these countries will help optimise the field force and minimise cost. In DD's domestic bureaus, correspondents and cameramen can, and should, be encouraged to aspire for global postings based on merit.
In a beneficial reversal, taking DD global will rejuvenate the domestic channel. It will gain from the infusion of talent and the new technology that was not available during its heyday in the 1980s, helping it to compete effectively with the private channels. And most certainly, the independence of the international outfit will rub off on the domestic operation, helping DD regain its national viewership and credibility.
Hopefully, the Pitroda Committee's report has addressed these issues and opportunities – and will get the attention of New Delhi. Doordarshan is a fit case for a classic turnaround. All it needs is the right structure and talent running through the organisation, to help it emerge as the top tune-in for credible news and views on India. It will be appropriate then, that global viewers turn to DD for information on the subcontinent, instead of BBC and CNN.
Click here to read the full report on 'Doordarshan Global'.
Nandini Lakshman is the Senior Media Fellow at Gateway House: Indian Council on Global Relations.
This article was exclusively written for Gateway House: Indian Council on Global Relations. You can read more exclusive content here.
For interview requests with the author, or for permission to republish, please contact outreach@gatewayhouse.in.
© Copyright 2014 Gateway House: Indian Council on Global Relations. All rights reserved. Any unauthorized copying or reproduction is strictly prohibited