On 24th November, Taiwanese President Tsai launched the construction phase of the first of eight diesel-electric submarines planned under the Indigenous Defence Submarine (IDS) programme. This launch has set Taiwan's three-decade-old pursuit of submarine technology on an accelerated countdown. These submarines will provide the island nation credible sea-denial capabilities against Chinese amphibious assaults, till U.S. reinforcements arrive.
Currently, Taiwan operates two combat capable Hai Lung-class submarines [1] procured from the Netherlands in 1987. Since their induction, Taiwan has been unable to build on the fleet due to  sustained technology denial by China, which has used diplomatic intimidation and economic coercion.
Keeping Taiwan out
Indigenous manufacturing of submarines is a rare technological feat. Globally, more than 40 countries operate submarines, but only a handful of them are capable of making them indigenously. Germany, France, Russia, and Sweden have been the prominent exporters, while China, South Korea and Japan have recently joined this league. Other countries like India, Indonesia, Vietnam, Turkey, Argentina and Brazil are at various stages of their indigenous programme, but do not export them. The U.S. is not an active player in this space as it stopped operating conventional combat diesel electric submarines in 1990 and does not export nuclear submarines.
Submarine-exporting nations, barring China are also signatories to the Wassenaar Arrangement that requires member states to report the sale of vessels that displace 150 tonnes, as well as those that are equipped to fire missiles or torpedoes with a range over 25 kilometres.
Consequently, since 1998, no country besides the U.S. has sold major weapons systems and platforms to Taiwan. Despite severing diplomatic relations with Taiwan in 1979, the U.S.  continues to be the largest[2] exporter of arms to the island under the auspices of the Taiwan Relations Act (TRA). In April 2001, the Bush administration announced an arms sales package that included eight diesel submarines.
As the U.S.  had stopped manufacturing diesel electric submarines in the 1950s, it offered to produce the submarines under licensed European design for Taiwan. Wary of Chinese retaliation, European states refused to license the production for Taiwan.
Recognizing these difficulties, in 2005 Taiwan set-up an inter-ministerial task-force, that identified the CSBC Corporation, a Taiwanese entity as capable of submarine-building capacity. Availability of submarine designs, propulsion, key military hardware such as combat management systems, weapons, sensors and acoustic suppression technology were vital to this indigenous endeavour. The IDS programme became formal in 2014. It comprises two phases – design and construction.
Chronology of Taiwan's IDS Programme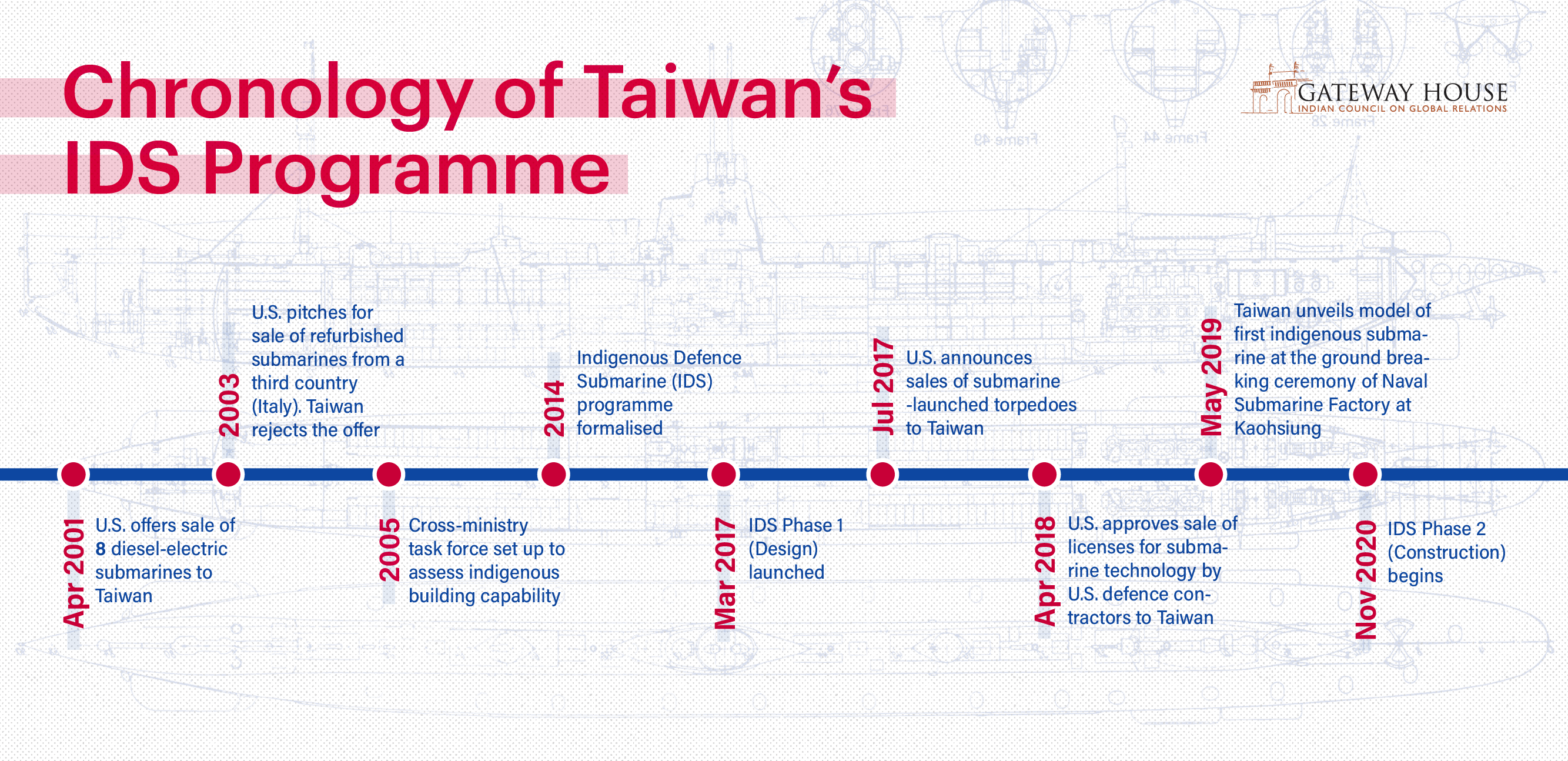 The prolonged unavailability of the submarine blueprints delayed the launch of  IDS Phase I to 2017. Some reports indicate that of the six foreign firms evaluated for the design phase – one Indian, one Japanese, two European and two U.S. firms – the European design may have been shortlisted. In April 2018, the U.S. announced it would license critical submarine technology to Taiwan, removing significant hurdles to the commencement of IDS Phase II.
The sea trials of the first indigenously-constructed Taiwanese submarine are likely to commence by end of 2024 and the vessel will be put into active service by 2026. The commencement of the IDS construction phase therefore marks a technological leap for Taiwan amidst increasing geo-political tensions in the Taiwan Strait.
That's great – but given the grave current threat, Taiwan needs the submarines today and not six years later. Even the September 2020 announcement, that by 2021 Taiwan will commence the long overdue refurbishment programme for both the Hai Lung class submarines in 2021, creating a strategic gap. It is likely that this gap will be magnified especially at a time when China seems to have shed its principle of hiding its strength, believing its time has come. China now has 65 to 70 submarines at its disposal, and it is showing its strength
Since 1999, [3], only three Chinese intrusions were recorded on the median line [4]. However, since August this year, Chinese aircraft have breached the median line and Taiwan's Air Defence Identification Zone (ADIZ) over 100 times. Taiwanese Defence Minister Yen De-fa recently disclosed that in the year 2020 alone, 2,972 of the 4,132 air force missions were launched in response to Chinese [5]– imposing a cost of $ 900 million – 8% of Taiwan military's budget this year.
Chinese incursions across Median Line and inside Taiwanese ADIZ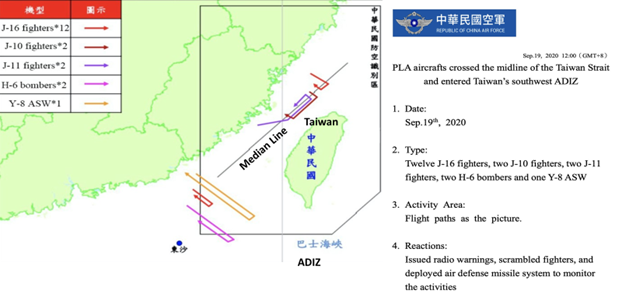 Source: Ministry of National Defense, Republic of China
The Chinese strategy to militarily exert itself, especially during the pandemic-induced economic downturn, would have worked, had world opinion not turned against it.  Indo-Pacific players Taiwan, India, Japan and Australia have now all committed to additional military spending and capability upgrades, thereby plugging strategic gaps built over the years through Chinese grey zone activities.
On 07 Oct 2020, the U.S. National Security Adviser Robert O'Brien reiterated the need for the Taiwanese "to turn themselves into a porcupine". On 10 Oct 2020, President Tsai in her address on the 'National Day' said, "We will continue to modernize defensive combat capabilities and accelerate the upgrading of our asymmetrical capabilities to deal with military expansion and provocation from the other side of the Taiwan Strait". This is a necessary step, especially as Taiwan's annual military spending over the last decade has been stagnant between $9 billion and $10 billion.
The launch of IDS Phase II, fast minelaying boats and the recent announcements by the U.S. for the sale of 66 F-16 fighter jets[6] and other advanced weapons and systems, will supplement Taiwan's self-defensive capabilities. Taiwan will be better able to turn itself into a porcupine to counter the Chinese dragon.
Designed by Debarpan Das.
This article was exclusively written for Gateway House: Indian Council on Global Relations. You can read more exclusive content here.
For interview requests with the author, or for permission to republish, please contact outreach@gatewayhouse.in
© Copyright 2020 Gateway House: Indian Council on Global Relations. All rights reserved. Any unauthorised copying or reproduction is strictly prohibited.
References
[1]  Taiwan has four submarines – two of these: Hai Shih and Hai Pao are of World War II vintage former U.S. Navy vessels and currently used only for training. The other two Hai Lung-class vessels procured from the Netherlands in 1987-88 are part of its combat submarine force.
[2]  Since 1990, the United States Department of Defense (DoD) has notified Congress of 104 major arms sales to Taiwan.
[3] U.S. Health and Human Services Secretary Alex Azar made a historic visit to Taiwan on 09 Aug 2020
[4] The median line was defined in 1955 by US Air Force General Benjamin O. Davis Jr. who drew a line down the middle of the strait, the US then pressured both sides into entering into a tacit agreement not to cross the median line. The PRC did not cross the median line until 1999
[5]  Majority of these intrusions were made by the Chines Maritime Patrol and Anti-submarine aircrafts Y8 and Y9
[6] US had last sold 150 F16s to Taiwan in 1992