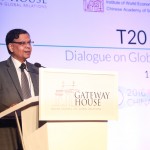 Director, Gateway House, Neelam Deo, Mr. Jin Song, Professor Zhibo, distinguished guests and friends. Let me first express my deep sorrow at the loss of 50 innocent lives yesterday in Orlando, Florida in the United States. After a very uplifting visit by the Prime Minister, this was a bit of a dampening news last night, as I checked into the hotel.
The subject today is the G20. And at T20, let me first begin by congratulating our guests from China here who have done a superb job of organizing this year's Presidency. We already have had two Sherpa meetings and of course there are dozens and dozens of other meetings that are going on, and I can testify first-hand that the arrangements in all their aspects have been absolutely unmatched.
I did ask Neelam before I came here because it's not often that I speak on G20. So I did ask what she would like me to cover. I did get a few tips on what I should speak about. So here is a set of things, a set of questions that Neelam raised and I will just use those as the basis of what I am going to say. As you all know, G20 is the premier global economic governance platform. It consists of 20 members, obviously, but the twist is that there are 19 countries which are members but the 20th one is the European Union representative. The countries that are members, (these are the numbers given out generally) account for about 85% of the gross world output and 75% of world trade, not counting the EU intra trade. If you count EU intra trade, it's about 80% of the world trade.
Roughly, all the major countries are members – the United States, Canada, from North America, Mexico, from Latin America, (I won't say North America, although Mexico sort of goes into the Latin America basket), and then we got Japan, the large members of the original European Economic Community, (Germany, France, Italy, Turkey), the five BRICS countries we say four, but I think South Africa, Brazil, Russia, India, China, South Africa, Indonesia, South Korea, Mexico, Australia, Argentina, Saudi Arabia and as I said, the European Union. The Presidency can also bring in special invitees, typically these are countries but they can also bring in International Organizations as special invitees. Several of the International Organizations are regular invitees and they sit through the meetings.
There are two tracks – Neelam mentioned those. There is the finals track – where it all really started – and there is what Neelam called the development track, we more loosely call it the Sherpa track which is where I participate, and represent India. In the finance track year, you have the Finance Ministers and Central Bank Governors' meeting. It was originally conceived in 1999. At that time it was the Finance Minister's Forum, but after the 2008 global financial crisis, it then was converted into the Heads of States meetings.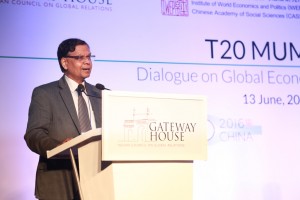 The Sherpa track or the development track meets four times a year – of which one happens to be the summit. Usually the summit meeting is the last run. This time, rather unusually, because the summit is happening earlier in the year,  in September, they're actually going to bring it even further forward because Germany, the next Presidency, has elections  somewhere in July or so. So next year it's going to be even earlier. So as a result, the first three meetings will be followed by the summit this year and there will be a 4th meeting after the summit – this is a bit unusual.  There are also ministerial meetings that take place. We got agriculture, energy, commerce and labour. So the various ministers from the G20 countries meet to negotiate on these specific areas. And then of course we've got the groups – T20, this is a think tank 20, which is where we are today, B20, (Business 20), W20, the Women's Group which Turkey started last year, and so forth.
One of the first questions that was posed to me was "beyond 2008, what relevance will G20 have today?"Of course you know so the crisis really – the 'crisis' crisis – is over, but the aftermath of the crisis remains with us. Global growth certainly has not picked up and so that issue still remains with us. You know this was a big issue in Brisbane and the commitment was made that the countries will take – each member country will take – actions which will together raise the level of GDP by an extra 2% points by 2018. So a lot of countries kind of submitted their country action plans, but that's just an example.
The agenda of the G20 remains quite wide so let me just try to give you a bit of a list. It's not just about – although global crisis is what really led to the upgrading of the G20 to the leader's summit level – the issues are not limited only to the crises. Growth, as I mentioned – that's always an ongoing issue – but a number of other issues which relate to the global economic governance, (some maybe even transcending economic governance although generally with some sort of implications for the economic side as well), do come to G20. So you got growth, as I mentioned. Then climate change is a major issue which remains a recurring theme of discussion at the G20 meetings. Trade remains at the centre. Again these are issues of global economic governance. Energy, that is another important issue, and anti-corruption where India has been at the forefront, is also an issue. Food security and employment, yet new issues get added. I'll also talk a little bit about that as I speak about what is going on under the current Chinese Presidency. But some new issues that have now been added to the agenda includes the sustainable development goals, investment issues, refugee crisis, global health – in particular the entry of microbial-resistance – counterterrorism, finance etc. So it's a very wide agenda and when we go for the meetings for 2 days we are in fact very, very busy. We are kept pretty intensely engaged and occupied.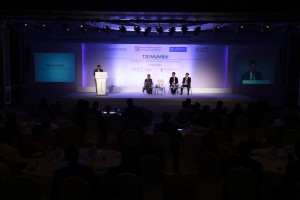 One further question that was given to me was whether G20 is being run by the G7. That is a question about whether the development countries are largely running the show at G20. Let me assure you not. So by a long shot, G7, G20 countries are as tough negotiators as any; G7 countries play a very crucial role in steering the non G7 positions.
We negotiate very intensely, and not all issues necessarily put us into confrontational situations. Nevertheless, there are nuances to every issue which can cut across developed and developing countries and we do negotiate tough. What I found personally –I think my personal experience during 4 or 5 of these meetings that I've attended –is that the very good thing about this forum is it's a very congenial forum. It's a very friendly forum, where I particularly, –to me, since I've been a professor for most of my life – the very refreshing thing is to find out that good arguments find lots of traction regardless of who makes them.  That really is a very fulfilling experience.
Give and take works. If you are always wanting and not willing to give, then life gets tough. You can't get concessions if you're not willing to give concessions.  One has to be somewhat in that spirit – one can negotiate tough, but at the end of the day, if you are simply not offering anything, it is very unlikely that you are going to get anything. That was the first lesson I learned at the first sherpa meeting that I attended. And I was very happily surprised that when I gave a concession on an issue on which I could give a concession, I very quickly was rewarded with something in return. That is the spirit with which we negotiate. The Prime Minister has been, in that respect, very encouraging. We should not be obstructionist as often as we are accused of doing. And so I think we do, and I'll give you lots of examples as I go forward and describe some of the experiences.  The key lesson that I have learned, is that if in a negotiation, you have to confine your negotiation within the negotiating space. Sometimes if you really want to ask for concessions that are outside of the negotiating space, then that gets a bit tougher.
Next issue was about the Chinese Presidency. I've already mentioned my general comment that this has been an extremely well run show. Sure enough, China is setting a very tough example for India, – a very high standard for India – because remember that either in 2018 or 19, India would be the host for G20 so we'll be the Presidency then. It is still not clear whether it's going to be 18, or 19 but certainly one of those 2 years. China has sought to give new direction to ongoing issues while also placing new issues on the table.
So, for example, growth is an ongoing issue but here China has given a new direction to it. China has brought in issues that were not part of the discussion on growth previously. In particular, China has focused on three new areas–digital economy, innovation and new industrial revolution.  That is now on the centre stage of the discussion. It really sits very well for China because that is where China is heading. But it also sits very well for India, because that is where India has some strengths. That is also an issue for the global economy, because we are all now moving towards a much more innovation driven digital economy with a new industrial revolution likely to be happening in the next coming few decades. Among the new issues, as an example, you got the Sustainable Development Goals, these were negotiated in the United Nations but have now been brought centrally also into the G20 discussions by China.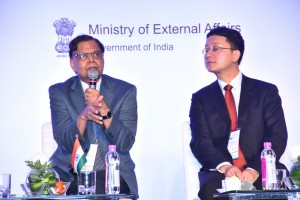 China has also put the investment issue on the table. This was not a part of the discussions before in particular.  This really speaks to where China currently sits, so it's a bit between the developing and the developed, that China is not only now the recipient of large foreign investment but it is also investing abroad just as India is too, but China perhaps much more so. And therefore it is a natural thing for China to want to then lay down the work, the foundation for possibly new rules on investment as we go forward. So this is a major issue that has emerged under the China Presidency.
Then there are also issues that do not necessarily get driven by the Presidency but by other members. Global health in the context of the antibiotics is one such issue. We also try to avoid duplication and therefore the sustainable development goals are on the G20 agenda, but it is not in the same sense that it is on the agenda of the United Nations. What we try to do is we focus on where the collective action matter is, –where, therefore, the G20 can add some value to the subject. So things like infrastructure, finance, food security and nutrition, remittances, international tax cooperation, energy, trade – these are the areas in which collective action can help promote the SDGs so that's what the Presidency is focusing on. So that's some rough labour for what is happening currently in the Chinese Presidency.
Briefly let me speak to the role of India and this is where I can perhaps tell you a little from personal experience. Also perhaps that can highlight a little bit on the role the non G7 countries play in the G20. So we have certainly played a very critical role for articulating the interests of emerging market economies in the G20 discussions. I have excellent working relations with South Africa, Turkey, Saudi Arabia and Indonesia. We also have great partnership with Argentina – this was particularly true, this great partnership worked out with Argentina during the Antalya summit. We worked very closely and that as I will describe briefly, turned out to be extremely fruitful. We also work with Brazil, China, Russia, – there is a subgroup within the G20 called the 'Emerging Market Economies' which these countries are members of. Turkey has joined as the member of that subgroup as well. We don't always agree necessarily on every issue, but issue wise, wherever we see the scope for partnership, we try to do that. And that is also true in some of the cases with the other countries, including sometimes Japan –like on clean coal. We could have some partnership with Japan, so the views that we air at the meetings are often echoed back by other countries at the Sherpa meetings. Let me get to a few details.
The Antalya leaders' communiqué, which I negotiated on behalf of India, had India's stamp everywhere. I'll tell you a few details. The developed countries had demanded much stronger, and also sort of assisted by the ILO, very strong language on the harmful effects of inequality on growth. And I sort of felt that overemphasis on that then can have adverse implications for what you would do for growth. That can, in an odd sort of way, lead you to actually take steps by which you would compromise growth. So I strongly argued and based on very empirical evidence –if you know the empirical evidence, then it's harder for the other side to push you – that the relationship between equality and growth was weaker. So the language that went into the communiqué was somewhat weaker than what the developed countries had pushed for.
International Labour Mobility – there was a gain in efforts by some of the countries to keep reference to international mobility out of the communiqué I insisted and some countries supported us so international labour mobility was very much a part of the communiqué. There were also references to a new acronym called LIDC (low income developing countries).The way LIDC are defined is such that India and Indonesia, who are members of G20, are not counted among LIDCs. And I feel very strongly on any of the trade issues we already had a different terminology – the least developed countries and the developing countries – and so you cannot start using a different classification to define trading rights of the countries. So far, for example, we have the special differential treatment provisions in the WTO – they apply to the developing and the least developed countries and that is how it should remain. So we ensured that when references to LIDCs are made, they are made not in the context of trade issues. So that also went in.
The United States had pitched very much that the references to the Doha Development Agenda not be included in the communiqué. We had insisted that the references ought to be there. So very pointed references to the world development agenda did remain in the communiqué. On energy, the United States had pushed very hard that we adopt some sort of medium term deadline to end all the fossil fuel subsidies. While India has seen huge progress on fossil fuel subsidies having de regulated the price of both diesel and petrol and in other areas, coal cess etc, made lots of progress in cutting subsidies on fossil fuels, nevertheless, we know that our states subsidize farmers on electricity and also on fertilizers. So we really were not in a position to accept a deadline and that deadline was therefore kept out.
I think the toughest negotiation I had in Antalya was on climate change. This was a negotiation on –leave aside all the other issues – climate change which on its own took two very long nights. On the first night, we negotiated for almost 9 hours, could not come to an agreement. And at the end what was then therefore put out that was in a way for the Sherpa track the last day of negotiations. Finally the Turkish Presidency decided to put a particular weak paragraphed one which there was no difference, but the next day actually many of the leaders, particularly the developed countries objected to that. Therefore the Sherpas went to work again that time. So there was the first day of the summit itself when around 10 at night, we went back to work and that negotiation went all the way till 4 o'clock.
The difference was that France, in particular supported by the U.S., U.K., etc, was very keen to achieve some of the or cross some of the hurdles that had to be crossed in Paris where the actual negotiation on climate change was due to happen. France wanted to tie up some of those issues in Antalya. I was of the view that there's a negotiation to happen in Paris, so it was a very torturous negotiation, but in the end, we successfully maintained the status quo. So when our negotiators arrived in Paris, they arrived without their hands tied in any way.  It gave them grater negotiating space, so perhaps the most satisfying thing in all this is that although we did negotiate quite tough, the end of the day, we did it in a very congenial manner, giving our arguments and at the end therefore, you heard not a single nation accuse us of being obstructionists. So I think this was a change for the better from what we had experienced in the past.
Lastly, let me take one or two more minutes, I was asked what the T20 can do. I Let me say that lot of the intellectual work for the G20 is done by the international organizations. These include particularly the OECD, the foremost, I think tends to be most active, the World Bank, International Monetary Fund, FSB, WTO and ILO – these are the main ones. Right now China has also invited UNIDO, I think? United Nations of course also sits there. Many of these international organizations are more attuned to the issues that are of interest to the developed countries, therefore to the G7. And I think really this is where the T20 could fill a major major gap –to look at the issues that are of interest to the developing countries so therefore help identify what positive demands can countries like India and China make at the negotiating table.
We are still, I would say on balance – lot of the negotiating issues actually get put by the developing countries. We then react. It is changing. We have been putting some of our own issues like we talked about the remittances, international labour mobility, etc. So we have tried to bring in issues of interest to the developing countries to the table. Still more issues come from the G7 countries. And I think if you're going in a negotiation and simply react, that's no good, this is where it is very important to identify what we want out of a negotiation. And I think this is where the T20 can really be helpful. Specifically let me say that in 2018 or 2019, India will be hosting and therefore, the natural question is what ought to be India's agenda for the G20 Presidency. I think that is where you could actually do a lot of work, help us. If I'm still serving as the Sherpa, I would be delighted to get that help.
Thank you again, for inviting me. It has been a pleasure.
Arvind Panagariya is the Vice Chairman of Niti Aayog of India.
He delivered the Keynote address at T20 Mumbai 2016.
Watch the full Keynote session here.
Learn more about T20 Mumbai 2016 here.
You can read exclusive content from Gateway House: Indian Council on Global Relations, here.
For interview requests with the author, or for permission to republish, please contact outreach@gatewayhouse.in.
© Copyright 2016 Gateway House: Indian Council on Global Relations. All rights reserved. Any unauthorized copying or reproduction is strictly prohibited