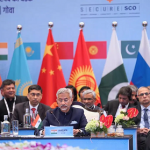 The Shanghai Cooperation Organization's (SCO) all-important foreign ministers meeting took place in Goa over 4th and ­5th May. In the mainstream domestic media, the focus was expectedly on the interaction between the Indian and Pakistani foreign ministers – this was the first official visit by a Pakistani minister to India in a decade. But there are multiple and significant geopolitical dimensions to this Asian grouping,[1] which India chairs in 2023 simultaneously with the G20 Presidency.
India takes the SCO seriously. Prime Minister Modi articulated India's priorities for the SCO through the theme "Towards a SECURE SCO". The acronym SECURE stands for 'S' for security for citizens, 'E' for economic development, 'C' for connectivity in the region, 'U' for unity, 'R' for respect of sovereignty and integrity, and 'E for environment protection.[2] Over 100 events were organized, much as they have for the G20, but on a smaller scale.
The defence[3] and finance[4] ministers' meetings have already taken place earlier this year, and the member nations' National Security Advisors have met multiple times. The foreign ministers' meeting is preparation for the leader's summit slated for July.
But the Russia-Ukraine crisis has changed the tone of what would have been an important and growing regional grouping.
First, the ambit of the SCO has grown beyond Eurasia to include South, Southeast, and West Asia. The foreign ministers' meet reviewed the accession applications of Iran and Belarus. Iran has completed the 35-plus documents and ratification required to upgrade its status from that of an observer to a member. Russia is keen to admit Belarus, around which a consensus was reached, paving the way for its accession process. The meeting also decided to admit five new dialogue partners: Bahrain, Kuwait, Maldives, Myanmar, and the UAE.
Second, Russia's diminishing stature has made the SCO subject to larger Chinese influence. Although Russian support led to India's accession in 2017, the price was the inclusion of Pakistan at the insistence of China. Since then, international dynamics have changed and Russia is now a lesser power. Its hands are full in Ukraine, it is sanctioned by Western countries which now coalesce in greater numbers to challenge Russia. Instead of being an independent source of power and support for India, Russia has become a secondary power relative to China.
This is problematic for India, especially when two member countries, China and Pakistan, are inimical to India. Consequently, Indian proposals at the SCO gather little support. India disassociates itself from statements where China's Belt and Road Initiative (BRI) is lauded. The four central Asians have good bilateral relationships with India and are all members of the India-Central Asia Dialogue.[5] But their linkages with Russia and China are deeper: the former as a source of political support, the latter, economic.
Given this relative isolation within the SCO, what does India get out of it? Can India as Chair, change the nature of SCO communiques to make them efficient, less omnibus and remove objectionable elements from India's point of view?
India has been pursuing an alternative infrastructure buildout to China's Belt and Road through Iran and Afghanistan to Central Asia, but the Taliban takeover of Kabul has paused these initiatives. Through the diversity of SCO meetings, India has been building partnerships with Central Asian countries.[6] There is an agreement to create two new India-led mechanisms on Startups and Innovations and Traditional Medicine among the SCO member states.
But politically China wants to put India under constant pressure and not allow it to play its legitimate role in the international order. China seeks subservience from SCO members and is uncomfortable with India's willingness to stand up and be counted – even in a minority of one.
Its self-importance at the SCO was visible in the itinerary of its foreign minister Qin Gang. It is normal practice for dignitaries who visit India, not to couple it with a visit with Islamabad. Qin Gang ignored this diplomatic courtesy and travelled to Islamabad after Goa. There he held a trilateral with Pakistan and Afghanistan[7].
Similarly, en route to India, Qin Gang stopped over in Naypyidaw, Myanmar, to meet with its military regime,[8] which is disapproved of by ASEAN, one of China's largest trading partners. Although both these visits are outside the ambit of the SCO, when it comes to dealing with strategic neighbours and its own benefit, China has clearly shown that it cares little for the views of regional organizations, be it ASEAN or the SCO.
Nevertheless, the Chinese defence and foreign ministers have both participated in SCO meetings in India, and conducted bilateral meetings with their Indian counterparts even as the situation on the border in Ladakh is untenable.
This is quite different from the lack of bilateral communication with Pakistan at the SCO. Unlike the virtual attendance of Pakistan's Defence Minister, Foreign Minister Bilawal Bhutto travelled to Goa to for the SCO foreign ministers' meet even without a confirmed opportunity for a bilateral with Minister S. Jaishankar.  For India, chairing the SCO means it has to engage with Pakistan, even though it is officially committed not to do so until there is abstention from cross-border terrorism and related problems, while Pakistan refuses to engage with India until its ever-growing demands on Kashmir are met. Nevertheless, the presence of China has an impact given Pakistan's precarious economic and political situation, it cannot afford to offend China and is therefore unable to skirt the SCO.
Despite several such obstacles, India has been running its chairmanship of the SCO with reasonable flair. Rather than shy away from what is often referred to as a 'gathering of autocrats,' India as host has chosen to keep the dissidents within its immediate vision, even as it plays to its strengths and potential for the long term.
Gurjit Singh was India's ambassador to Germany, Indonesia, Ethiopia, ASEAN and the African Union.
This article was exclusively written for Gateway House: Indian Council on Global Relations. You can read more exclusive content here.
Support our work here.
For permission to republish, please contact outreach@gatewayhouse.in  
©Copyright 2023 Gateway House: Indian Council on Global Relations. All rights reserved. Any unauthorised copying or reproduction is strictly prohibited. 
References
[1] India is a SCO member since 2017. The original members were China, Russia, and four of the five Central Asian countries. Turkmenistan declared its neutrality and is not a member. SCO pursues its policy based on the principles of sovereignty and territorial integrity of nations, non-interference in internal affairs, equality of all member States and mutual understanding and respect for opinions of each of them. Critics say its members often violate these among themselves with China in the lead. India and Pakistan both joined in 2017. Iran, Belarus Mongolia and Afghanistan are observer countries. Six "Dialogue Partners" are Sri Lanka (2010); Turkey (2013); Cambodia (2015); Azerbaijan, Nepal and Armenia (2016); and Egypt, Qatar and Saudi Arabia (2022).
[2] Mantra given by Prime Minister Narendra Modi at Qingdao Summit in 2018, India in SCO, Official website of India's Presidency in the Shanghai Cooperation Organisation 2022-2023 (indiainsco.in).
[3] 'RakshaMantri Shri Rajnath Singh to chair Shanghai Cooperation Organisation (SCO) Defence Ministers' Meeting,' Press Information Bureau, 26 Apr 2023, https://pib.gov.in/PressReleaseIframePage.aspx?PRID=1920060.
[4] 'Meeting of the SCO Finance Ministers and Central Bank Governors,' The Shanghai Cooperation Organisation, 6 March 2023, http://eng.sectsco.org/economy/20230306/932115/-Meeting-of-SCO-Finance-Ministers-and-Central-Bank-Governors.html.
[5] The First Meeting of the India-Central Asia Summit, PIB,19 January 2022, https://pib.gov.in/Pressreleaseshare.aspx?PRID=1791257.
[6] Brief on SCO, MEA, September 2022, https://www.mea.gov.in/Portal/ForeignRelation/SCO_Brief_September_2022.pdf.
[7] Mariana Baabar, 5th China-Pakistan-Afghanistan Trilateral Foreign Ministers Dialogue tomorrow, The News, 5 May 2023
https://www.thenews.com.pk/print/1067168-5th-china-pakistan-afghanistan-trilateral-foreign-ministers-dialogue-tomorrow-afghan-chinese-fms-due-today.
[8] Shi Jiangtao, China's Qin Gang pledges economic help for Myanmar, stops short of recognising junta, SCMP, 3 May 2023, https://www.scmp.com/news/china/diplomacy/article/3219288/chinas-qin-gang-pledges-economic-help-myanmar-stops-short-recognising-junta.