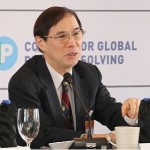 Gateway House (GH): What are Japan's priorities as the chair of the G20?
Naoyuki Yoshino (NY): Quality infrastructure is one of Japan's priorities; promotion of Small and Medium Enterprises (SMEs) is a second; third, how Fintech will affect our society; and lastly, the aging population and social welfare systems.
I'd like to start with infrastructure investment. Many Asian countries require  infrastructure on a large scale. When I came to Mumbai, (I saw) huge traffic jams; public transport is needed. Public Private Partnerships in the past were not so easy because the rate of return from infrastructure investments was very low. They relied mainly on user charges. User charges have to be regulated properly because these (infrastructure) are necessary goods. At the current T20 – and the G20 in Japan – we are focusing on how to increase the rate of return.
Our definition of high-quality infrastructure does not necessarily refer to physical quality, but also how much it will affect economic development and income disparities in the region – and gender participation in the labour market. If economic growth has been achieved by infrastructure, then property tax will go up as will income tax, sales tax, all of it. In the past, all those tax revenues went to the government. But if part of those tax revenues had been returned to the infrastructure investors, then the rate of return would have been much larger.
As for Fintech's role in society, it can, of course, affect the efficiency and utilisation of services. But it also affects how jobs can be created. Many women can work from home, not commute to factories or business offices. Even education can be improved. In many Asian countries, mobile phones have already penetrated most of the rural areas and  good teachers can provide their best lectures through the mobile network. Everybody can learn without having to go to school. So I think it will enhance: income disparities, equal opportunity for education and female participation in the labour market.
But Fintech also has a dark side. There are hackers who can steal or destroy data. It seems as if international organisations will be required to detect and monitor such illegal activities and catch those involved. Or else, the internet will develop alongside activities from outside, internationally, which will affect it.
Small- and medium-sized enterprises (SMEs) are agents of growth in many Asian countries, but they find it difficult to borrow money from banks because they are fragile: start-up businesses find it difficult to raise money. So Fintech can provide credit rating of SMEs. A log of transactions can be put together, then we can know the connectivity of one small business to another. That trail of transactions can provide  big data, suited for banks and other agencies. Since start-up businesses do not have any data, accumulation of big data is impossible.
Home town crowd funding started about 20 years ago in Japan, expanding to Peru, Vietnam and Cambodia. The method is based on mutual trust, with people in the community providing small amounts of money to innovators, start-up businesses; 200 or 300 people contribute these amounts which will create a big innovation in society.
Finally, demography and an aging population as also foreign overseas workers (are our priorities). Japan leads (as an aging population), followed by Korea and China, while  Vietnam and Thailand (are not too far behind). The pension system is very important for developing countries and the insurance system for self-protection. An aging society will affect many growing nations.
GH: What role do you expect India to play under Japan's presidency?
NY: India has many very talented people and Fintech will create big changes in education, the work force and financial industries, areas where India can contribute a lot. In India, the promotion of women and gender equality are very important.
Secondly, financing infrastructure – we should work together to provide good finance for infrastructure investment. Public Private Partnerships, prevalent in India for some time, have had some success, some failure too.
Thirdly, SMEs – of which India has many – and innovators who want to start their own businesses, find it difficult to borrow money from banks. This happened in Japan too 30 to 40 years ago: Honda, which started with only two people, produces very good automobiles. When they wanted to go into small airplanes, Mr Honda went to the local bank and was denied a loan. Likewise, many small businesses have the potential to grow. Community trust, hometown crowd funding and other sources of finance will definitely be needed to promote SMEs in India, and India can contribute greatly in this.
Lastly, pension systems and the insurance sector are not so well-developed in India. India too has an aging society and self-protection will have to be promoted. Insurance is another long-term investment, it (involves) long-term savings. Bank deposits are relatively short-term, for two or five years, but insurance will create very long-term institutional investments that can also support infrastructure. So we want to receive plenty of knowledge and experience from India on these topics.
Naoyuki Yoshino is Dean, Asian Development Bank Institute (ADBI)
This interview was exclusively conducted for Gateway House: Indian Council on Global Relations. You can read more exclusive content here.
For interview requests with the author, or for permission to republish, please contact outreach@gatewayhouse.in.
© Copyright 2019 Gateway House: Indian Council on Global Relations. All rights reserved. Any unauthorized copying or reproduction is strictly prohibited.