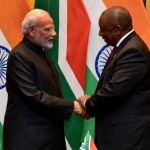 The visit to Delhi later this week by Cyril Ramaphosa, President of South Africa, is yet to generate excitement in political and diplomatic circles. This is not because Ramaphosa is an 'accidental' president[1] or 'accidental' chief guest[2] at the Republic Day celebrations this year. Expectations are low because most people wonder what is new anyway about India-South Africa relations?
Perhaps this sense of déjà vu is to be expected as both countries are at the cusp of elections. South Block's attention may have shifted palpably from external issues, but Ramaphosa is assured of a red-carpet welcome. After Nigeria, South Africa becomes the second country from the African continent to see its president as the chief guest for the second time at the Indian Republic's biggest spectacle.[3] In South Africa too, with elections in May, the visit seems a necessary ritual. "While the (South African) economy staggers along," as an expert, Larry Claasen, put it, "social tensions are increasing."[4] The president is busy stabilising the economy and preparing for the tough electoral campaign ahead, spending only a day in Delhi on his way back home from Davos.
Diplomatic stakes are still significant in the India-South Africa relationship. A series of high-level events since 2018 have marked various milestones, including the silver jubilee of the establishment of diplomatic relations, Nelson Mandela's birth centenary, 125 years of the famous Pietermaritzburg 'train incident',[5] and the Mahatma's sesquicentennial. Here then are some of the issues on the bilateral agenda that Ramaphosa's visit can advance.
One, the challenge for New Delhi and Pretoria is to convince each other – and their media and strategic communities – that they can deepen the bilateral engagement while furthering other partnerships. There is a compelling need to ensure better alignment between India's Africa policy and South Africa's Asia policy. India's relations with several African countries have strengthened considerably in recent years.[6] Likewise, South Africa's quest for partners in Asia has taken it to a much greater level of proximity to China: South Africa co-chaired the Forum of China-Africa Cooperation (FOCAC) summits both in Johannesburg (2015) and Beijing (2018).
Two, the two nations should deepen their understanding to ensure better balance and coherence among BRICS' member-states, especially between China and the other four – India, Russia, South Africa and Brazil. The Johannesburg summit of BRICS nations last year laid out a forward-looking agenda for support of free and fair trade, commitment to multilateralism, and a strategy for leveraging opportunities, created by the Fourth Industrial Revolution. The continuing challenge is to translate commitments into action, in spite of the headwinds created by the U.S.-China trade conflict, Brexit and rising tensions in West Asia. The other pressing issue is to safeguard the credibility of BRICS by fulfilling the expectations of fellow countries from the Global South, especially sub-Saharan Africa and South Asia. This will happen when the New Development Bank of BRICS begins to extend assistance for development projects in the two regions. The prospects for this look dim at present.
Three, the Modi-Ramaphosa discussions in Delhi may produce some clues about the timing of the next summit of IBSA, comprising India, Brazil and South Africa. In July 2014, in Fortaleza, PM Modi and Jacob Zuma, the then president of South Africa, had agreed that India will host the much-delayed summit in 2015.[7] This is yet to happen, ostensibly due to a continuing conflict of leaders' schedules. The real reason may have something to do with the shared perception of China's objections. In the meantime, IBSA has continued to function at the level of foreign ministers. Will it be kept at that level in the future as well?
Four, the Indian Ocean Rim Association (IORA), which is on a positive path, will engage the leaders' attention. The regional grouping's calibrated rejuvenation that began under India's chairmanship (2011-13) has advanced during South Africa's current tenure (2017-19), with a valuable contribution by Australia and Indonesia which held the chair between the two periods. The grouping has strengthened its institutional mechanisms, striven to play an active role in the domain of the Blue Economy and sought active collaboration with its partners
IORA's member-states await financial and technical assistance from 'observers', such as the U.S., China and Japan. They want to enhance cooperation in the realm of the Blue Economy and expand trade and investment linkages. While India and South Africa have been mostly on the same page, they apparently ended up disagreeing on the admission of Myanmar into the IORA. Probably South Africa's non-permanent membership of the UN Security Council may have had something to do with opposing Myanmar's application on grounds of its expulsion of the Rohingyas to Bangladesh.
Equally, the bilateral economic relationship is certain to be high on the agenda of Delhi discussions. Trade is on the decline from $15.7 billion (2011-12) to $10.6 billion (2017-18), while investment flows are on the rise. Over 150 Indian companies are active in the South African and neighbourhood markets; Vedanta leads the pack among the newcomers, having committed $1 billion investment in South Africa; and more new players are showing interest. From the South African side, several majors are engaged in India.[8] Naspers is the lead investor in a billion-dollar investment in Swiggy, India's largest food delivery platform, besides the former's commitments to Byju's and other enterprises.
The India-South Africa Business Summit, held in South Africa last April, demonstrated tangible interest from both sides to expand economic links. There was a promise of 'a joint action plan'. While details are still awaited, the bilateral Business Forum meeting, to be held in Delhi on January 25, is expected to give some fillip to business promotion efforts. On capacity building, an area of proven convergence, India has already fulfilled its commitment by establishing the Gandhi-Mandela Skills Institute in Pretoria recently.
Finally, looking beyond government and business-level exchanges, the two governments are trying to strengthen people-to-people relations. New agreements of cooperation are expected to be finalised between the think tanks of India and South Africa. Besides, while in Delhi, President Ramaphosa will deliver the Gandhi-Mandela Memorial Freedom Lecture "as a part of the celebrations of the 15th Anniversary of IBSA."[9] This may hopefully trigger a long and fruitful series of lectures to sensitise the millennials of both countries about the rich legacy and links of ideas, icons and interests that they share.
Rajiv Bhatia is Distinguished Fellow, Gateway House and a former Indian High Commissioner to South Africa. He comments regularly on developments in Africa and India-Africa relations.
This article was exclusively written for Gateway House: Indian Council on Global Relations. You can read more exclusive content here.
For interview requests with the author, or for permission to republish, please contact outreach@gatewayhouse.in.
© Copyright 2019 Gateway House: Indian Council on Global Relations. All rights reserved. Any unauthorized copying or reproduction is strictly prohibited.
References
[1] His predecessor, Jacob Zuma, was forced by the ruling party – African National Congress (ANC) – to resign prematurely amidst corruption scandals and make way for the newly-elected president of ANC, Cyril Ramaphosa, to take over as the President of South Africa. Thus the latter holds the presidency and is serving Zuma's remaining tenure, which ends in May 2019.
[2] The government invited Donald Trump, U.S. President, to visit India and be the chief guest at the Republic Day celebrations on 26 January 2019. Trump declined the invitation due to other preoccupations. New Delhi then invited Ramaphosa who accepted the invitation.
[3] President Nelson Mandela was the chief guest at the Republic Day in 1995.
[4] Claasen, Larry, Business Live, Cyril Ramaphosa's careful balancing act in 2019, 13 December 2018, <https://www.businesslive.co.za/fm/features/2018-12-13-cyril-ramaphosas-careful-balancing-act-in-2019/>
[5] The incident on 7 June 1893 refers to the time when young lawyer, M.K. Gandhi, was evicted from the first-class compartment of a train in an act of blatant racial discrimination. It launched him on the road to Satyagraha. His non-violent resistance profoundly affected both South Africa and India. South Africans are fond of saying: 'India gave us a lawyer, and we returned a Mahatma'
[6] The reference is to Nigeria, Ghana, Rwanda, Mozambique, Kenya and Ethiopia.
[7] Singh, Mahim Pratap, The Hindu, India to host IBSA Summit next year, 9 November 2016, <https://www.thehindu.com/news/national/India-to-host-IBSA-Summit-next-year/article11269923.ece>
[8] Please see my previous article on the subject: Bhatia, Rajiv, Gateway House, The opportunity with Ramaphosa, 10 May 2018, <https://www.gatewayhouse.in/opportunity-with-ramaphosa>
[9] Ministry of External Affairs, Government of India, <https://www.mea.gov.in/pressreleases.htm?dtl/30932/State_Visit_of_President_of_South_Africa_to_India_January_2526_2019>