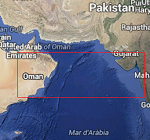 In February 2014, India's Ministry of External Affairs (MEA) suddenly disinterred a long-forgotten infrastructure project from the seabed – an underwater pipeline connecting Oman with India's west coast, which will transport natural gas from Iran, Oman and, perhaps, Qatar. India already has a long-term gas supply agreement with Qatar and is looking to finalise similar deals with Iran and Oman.
A day after Yusuf bin Alawi bin Abdullah, the Sultanate of Oman's minister responsible for foreign affairs, met India's outgoing external affairs minister Salman Khurshid in New Delhi in February 2014, newspaper reports indicated that the discussions included the Oman-India deep sea pipeline. The website of the MEA had no official announcements, but neither were any denials issued. So while the project's details remain unclear, it still holds immense importance for India's energy security strategy.
As India ramps up its growth ambitions, it will need fuel to stoke those aspirations. Among all the fuel options available, India has to import large quantities of natural gas for its petrochemical, fertiliser, and power generation units. According to International Energy Association estimates, the country will require 190 billion cubic metres of natural gas annually by 2035. [1] India has been exploring multiple opportunities to widen its fuel mix and diversify its supply chain, of which natural gas forms a vital component.
The Oman-India pipeline project, initiated during a state visit by the late Prime Minister P. V. Narasimha Rao to Muscat in 1993, was mysteriously buried after much discussion between both sides. Four factors might have forced the recent  reappearance of the project.
The first is probably the relaxing of international economic sanctions against Iran, which is expected to allow the country to freely trade its naturally-occurring oil and gas resources. Iran has huge gas reserves: according to March 2013 estimates of the U.S. Energy Information Administration (EIA), Iran has the world's second largest gas reserves at 1,187 trillion cubic feet, after Russia's estimated 1688 tcf. [2]
However, most of these reserves are undeveloped. Once sanctions are lifted, Iran is expected to once again become a critical presence in the world oil and gas market. Only India, China, Japan and South Korea could buy from Iran even during the sanctions.
Interestingly, Khurshid also met Iran foreign minister Mohammad Javad Zarif on the same day that he met Oman's foreign affairs minister.  Oman and Iran have signed an agreement in March 2014 to build a pipeline that will deliver Iranian gas to Oman by 2017.
The second reason could be the large gas reserves in Oman itself.  While liquefied natural gas has played a large part in Oman's growing gas exports so far, this pales in the face of the potential of underdeveloped gas fields. According to the EIA: "The greatest growth potential for Oman's natural gas production may lie in the Khazzan-Makarem field in BP's Block 61. The field is a tight gas formation, and BP suggests that there are between 15 and 20 tcf of recoverable natural gas resources in the play, and up to 100 tcf of natural gas in place. The development plan anticipates first volumes in 2017, with eventual production of 1 billion cubic feet of natural gas per day and 20,000 bbl/d of condensates."[3]
Massive investments will be needed to develop these fields, which will be economically viable only after Oman finds committed buyers. With India's strategic need to secure fuel supplies, there could be a convergence of interests here.
Third, technological progress has allowed the successful commissioning of numerous similar pipelines. Some examples are worth mentioning: the Langeled pipeline project – connecting North Sea fields with UK and helmed by Exxon, Mobil, Stat Oil and Royal Dutch Shell – is successfully transmitting gas to UK. The $2.8-billion, 1166-kilometres pipeline delivers 900 billion cubic feet of natural gas every year to UK. [4] Gazprom's 1,213-kilometres long Blue Stream pipeline – which traverses mountain passes as well as the Black Sea – has helped Russia deliver natural gas to Turkey without having to go through Ukraine, Moldova, Romania and Bulgaria.
Preliminary signs indicate that the Oman-India pipeline will originate at the Ra's al Jifan in east Oman and traverse 1,300-1,400 kilometres (the distance will depend on the final routing decided by the contractors) across the Gulf of Oman and the Arabian Sea to make landfall on India's west coast, near Porbandar.
Finally, there are geopolitical and commercial considerations regarding some of the transnational pipelines under discussion that will necessarily require a physical hedge. For example, of the three transnational pipelines that India was contemplating to join, two –  the Iran-Pakistan-India (IPI) pipeline and the Myanmar-Bangladesh-India (MBI) pipeline – are now practically off the table, though nothing has been put officially on record.
In both cases, geopolitical and security considerations seem to have outweighed economic compulsions. For example, the MBI pipeline had to be abandoned because India could not accede to certain demands from Bangladesh, which included the use of Indian sovereign territory for Dhaka's energy needs. This would have set a precedent for other bilateral negotiations. For the IPI pipeline, various costs (such as the transit fee charged by Pakistan, transportation tariff, and pipeline security costs) were inflating the final landed cost of gas. In addition, with U.S.-Iran relations deteriorating, it was reported in the media that India was under pressure from the U.S. to bail out of the tripartite deal.
The last point seems credible since India is still interested in another transnational project: the Turkmenistan-Afghanistan-Pakistan-India (TAPI) pipeline, which is being partially shepherded by the Asian Development Bank (ADB). In this case too, the pipeline crosses two strife-torn countries. However, India seems committed to TAPI for now. ADB has been appointed the transaction advisor and is responsible for selecting a consortium leader to build, own and operate the 1,800-kilometres pipeline. As the largest consumer in the trilateral deal, India's withdrawal will force ADB to reconfigure the entire project.
The sea-based pipeline option seems to have been influenced by a desire to avoid the Pakistan land mass. There are widespread concerns over security of routing supplies through Pakistan. It is quite likely that India might transport natural gas from even Turkmenistan and Tajikistan to Iran's Chabahar port for onward movement to India, thereby avoiding the volatile terrain of Pakistan. In fact, this could be a vital component in India's plans to also develop Iran's Chabahar Port, which is to be used as a launch-pad for India's trade with Central Asia without having to rely on the land-route through Pakistan.
It remains to be seen how the new government in New Delhi assesses India's energy security matrix, and whether it will go ahead with the Oman-India pipeline.
Rajrishi Singhal is Senior Geoeconomics Fellow, Gateway House.
This article was exclusively written for Gateway House: Indian Council on Global Relations. You can read more exclusive content here.
For interview requests with the author, or for permission to republish, please contact outreach@gatewayhouse.in.
© Copyright 2014 Gateway House: Indian Council on Global Relations. All rights reserved. Any unauthorized copying or reproduction is strictly prohibited
References:
[1] Van der Hoeven, M. International Energy Agency, (2012). 7th Asia Gas partnership Summit 2012. Retrieved from  http://www.iea.org/newsroomandevents/speeches/India.pdf
[2] U.S. Department of Energy, (2013). Iran. Retrieved from
http://www.eia.gov/countries/analysisbriefs/Iran/iran.pdf
[3] U.S. Department of Energy, (2013). Oman. Retrieved from
http://www.eia.gov/countries/analysisbriefs/Oman/oman.pdf
[4] Cooney, M. (2012, December 19). 'World's World's Longest Under Water Gas Pipeline, 1166 km "Giant Serpent".' Industry Tap. Retrieved from: http://www.industrytap.com/worlds-longest-under-water-gas-pipeline-1166km-