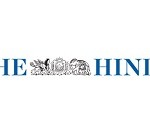 Below is the quote from Neelam,
'According to former Ambassador Neelam Deo, now with Gateway House, the Indian leadership would have no issue dealing with a businessman-diplomat or for that matter the U.S.'s businessman-President.
"PM [Narendra] Modi is himself quite comfortable dealing with businessmen, and is seen as a dealmaker and risk-taker. I don't see that he would have any trouble hitting it off with Mr. Trump or Mr. Tillerson. Despite their obvious differences in temperament, he and President [Barack] Obama were extremely close, remember."'
Read the rest of the article here.