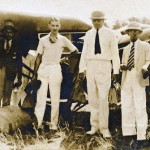 The search for a whiff of France in Bombay has inevitably to begin at Le Cercle Littéraire, located in the Kala Ghoda precinct of Fort. It is the oldest, and probably only, private French library in India.   Located on the third floor, in the south west corner of a building as old as itself (it was founded in 1886), the premises were awash with sunshine, a pleasant breeze wafting through its many open windows.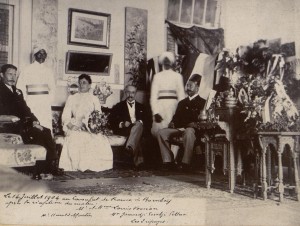 The once large, open hall of this library holds all the charm of antiquity, with its teakwood book cabinets and their well-worn contents. It is now partitioned, but once upon a time, doubled up as a performance space for Molière plays, enacted by the city's cognoscenti. They were mostly Parsi, but by end 19th century, there were a few British, Jews, Portuguese Christians, Muslims and Hindus too.
The only archival record of the library's history is a one-page article by the French Avesta scholar, James Darmesteter, written for the Journal Des Débats, dated 2 November 1891. The article congratulates Mr Davar (secretary and founder of Le Cercle Franco-Parsi de Bombay[1] or the Franco-Parsi Literary Circle, as it was then called) for his recent French government honour as 'Les palmes d'officier d' academie', bestowed on him for his services to the French language.
Interestingly, this write-up, which elucidates the early roots of French literature, language, theatre and music in Bombay, points out how the elite among Parsi youth was keen on studying French. Two French citizens, visiting Bombay for the scientific study of 'fire-worshippers' (Parsis), responded to this need by donating  books, written in French, on  the Zoroastrian religion, culture and history. This formed the original collection of books at Le Cercle.
A large donation of 10,000 francs from Sir Dinshaw Manockjee Petit, first baronet, helped boost the early efforts of this small group of French enthusiasts. Sir Dinshaw confessed that though he did not know the language he was proud of his name, which originated from the French word, petite, which means 'of small build'.
French trade with Bombay
Though the islands of Bombay hold the distinction of being the first British royal possession in the east (they were gifted in dowry by the Portuguese to the English crown in 1661)[2], they were soon leased to the English East India Company in 1668. This was the year that the French East India Company, a latecomer to Indian Ocean trade, set up its first factory (trading establishment in a foreign port or mart) on the subcontinent in the Mughal entrêpot at Surat. It later acquired Mahé on the southern Malabar Coast, its second outpost on the  west coast.
In spite of the intermittent Anglo-French conflicts in Europe[3], which often spilt over to the Indian subcontinent, French shipping increasingly began using Bombay port instead of Surat,  en route their colonies on the east coast–Pondicherry, Yanam, Karaikal, Chandernagore, and onwards to French Indo-China (today's Laos, Cambodia, Vietnam).
One indication of this is the migration of Sir Dinshaw's grandfather, Nasarvanji Kavasji, to Bombay in 1785. As a shipping agent and dubash (interpreter) for all French shipping that passed through Bombay, he was referred to by French ship officers as 'le petit Parsi' (the petite Parsi), which was soon shortened to the nickname Petit. [4] It is this nickname that his son Manockjee and grandson Sir Dinshaw, both pioneers of Bombay's cotton mill industry, adopted as their surname.
By the mid-19th century, France's business engagement with the city was important enough for it to open a consulate in 1865, barely four years before the Suez Canal that the French built. The dramatic shortening of the sea route to the east from Europe in 1869, catapulted Bombay into an important financial and diplomatic hub. France's first consul to Bombay was Monsieur Albert Thenon, whose letter of appointment was signed by Napoleon III.
It's clear that very few French people were resident in the city in 1865, though the French bank, Comptoir National D'Escompte (today's BNP Paribas) had a branch as early as 1861, and the Lyon-headquartered shipping company, Messageries Maritime, also had a presence in the city.
By the late 19th century, Bombay's home-grown multinational company – the Tata Group – and numerous Bombaywallahs heightened the engagement with France.
A slice of Bombay in Paris
One of the most poignant reminders of the historic Bombay-France legacy is in the well-known Paris cemetery–Père Lachaise–where Ratanji Dadabhai Tata (known as R.D. and a young cousin of Jamsetji Nusserwanji Tata), his French wife Suzanne (Sooni) Brière [5], and their son Jehangir R. D. Tata (J.R.D. Tata), lie buried next to each other.
Though it is well-known that J.R.D. Tata (chairman of Tata Sons from 1938 to 1988) had a French mother, not many are aware that, as a child, he spent his holidays in Hardelot, a beach resort near Boulogne, on the French side of the English Channel. Young J.R.D's friend in Hardelot was the son of the legendary Louis Blériot, the first man to fly across the Channel in 1909.
It was in the sleepy town of Hardelot that J.R.D. Tata took his first joy ride in a plane at the age of 15, an experience that made up his mind that he wanted to be a pilot, and inspired him (along with his friend Nevill Vintcent, an ex-Royal Air Force pilot) to start an air mail service in 1932 on the Karachi-Bombay-Madras route.
This was the early beginning of Tata Airlines and, what was later to become Air India Ltd., when this company, a division of Tata Sons, went public in 1946. However, much before J.R.D.'s time, there was another feisty young Bombay Parsi, Bhikaiji Cama, better known as Madame Cama, [6] who perforce had to make Paris her home in 1909, when it was rumoured that she would be arrested in England for her nationalist activities and deported to India.
It was in Paris that Madame Cama, who was a member of the British committee of the Indian National Congress, headed by Dadabai Naoroji, founded the Paris Indian Society along with two fellow nationalists. It was from this platform her Paris home doubling up as headquarters for the Society–that she continued her agitation for Indian independence till the outbreak of World War 1, when she was interned from 1915 to 1918 by France, which was under pressure from its ally, the British. Madame Cama returned home to Bombay only in 1936, aged 73 and very ill, she passed away a year later.
Today, the Bombay-France connection spans chambers of commerce and technology, the  network of Alliance Française classes across the city, a wide spectrum of cultural activities, and, most importantly, the presence of 400 French companies either through manufacturing facilities or branch offices, largely in the Mumbai-Pune belt. These tangible networks, as history reveals, are built on the foundations of a long history of people-to-people contacts, cultural engagements, and the fragrance of many shared ideas and ideologies between the two countries.
Sifra Lentin is the Bombay History Fellow at Gateway House. 
This article was exclusively written for Gateway House: Indian Council on Global Relations. You can read more exclusive content here.
For interview requests with the author, or for permission to republish, please contact outreach@gatewayhouse.in.
© Copyright 2017 Gateway House: Indian Council on Global Relations. All rights reserved. Any unauthorized copying or reproduction is strictly prohibited
References
[1] The author would like to thank Mr. Dara Mehta (solicitor), president, Le Cercle Littéraire, and an active member of the managing committees of the Indo-French Chamber of Commerce and Alliance Française; and Prof. (Mrs) Aban Davar, secretary, Le Cercle Littéraire, and professor of French, who translated James Darmesteter's article. Both shared their valuable insights on France's linkages with Bombay.[2]  The seven islands of Bombay were gifted to King Charles II of England on his marriage to the Portuguese Princess Catharine da Braganza in 1661.
[2] The seven islands of Bombay were gifted to King Charles II of England on his marriage to the Portuguese Princess Catharine da Braganza in 1661.
[3] The 18th century witnessed many wars and skirmishes between England and France, which peaked in the Napoleonic Wars (1793-1815)
[4] Edwardes, S.M., Memoir of Sir Dinshaw Manockjee Petit, First Baronet, 1823-1901, (England, Frederick Hall at The Oxford University Press, 1923), p. 3.
[5] Lala, R.M., Beyond The Last Blue Mountain: A Life of J.R.D. Tata (New Delhi, Viking/Penguin Books India, 1992), p.7; Lala, R.M., The Creation of Wealth (Bombay, IBH Publishing Company, 1981), pp 59-64.
[6] Encyclopaedia Britannica, Bhikaiji Cama, <https://www.britannica.com/biography/Bhikaiji-Cama> (Accessed on 15 March 2017)