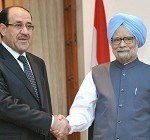 After Iraqi Prime Minister Nouri al-Maliki's visit to India from 22-25 August 2013, cooperation in the oil and petrochemical sector could become the cornerstone of the bilateral relationship. Both countries have signalled their intention to increase cooperation in energy security through joint ventures in oil exploration, petrochemical complexes, and fertiliser plants.
According to official figures, bilateral trade, the bulk of it of crude oil, accounts for $21 billion in 2012-13.With India's increasing demand and the sanctions against Iran, the need for importing oil from Iraq is bound to grow. Iraq is today, after Saudi Arabia, India's second largest supplier of crude oil.
Now, after Maliki's visit, the oil exploration contract with ONGC will be revived – it was awarded in 2000 by Iraq's former regime for Block No. 8, the field closest to the prolific Rumaila field in south Iraq, which was frozen after the U.S. invasion of Iraq. It will add an important arrow in the quiver of India's energy security.
A lot will now depend on the alacrity with which India responds to the opportunities offered by Iraq. This is as crucial for the bilateral relationship as for the sustainability of the Indian economy.
Yet, it is not by oil alone that the bilateral relationship is defined. In his interaction with the apex chambers of Indian trade and industry, Prime Minister Maliki sought their participation and expertise in projects to re-build an Iraq that has been serially destroyed by unrelenting wars from 1980. India was involved in the development of Iraq's infrastructure in the 1980s – Maliki's invitation can restart this involvement.
The agreements signed after official discussions during Maliki's visit to cover cooperation in agriculture, education, health, infrastructure, and information technology, will be the basis for this wide-ranging cooperation. With adequate support from the government, India's industry should be able to respond in good measure.
Iraq today is severely short not only on modern equipment, but also trained personnel. Thousands of Indian professionals worked in Iraq until the early 1990s – university teachers, doctors, healthcare technicians, nurses, engineers and others. They went there under the Minister of External Affairs' ITEC programme. Maliki's visit and the evolving bilateral relationship is an excellent opportunity for India to revive the practice of sending professionals to Iraq, and move from quantity to quality in our manpower exports to the region. It will help to mitigate the slack that has resulted from labour-indigenisation programmes in some Gulf countries, including Saudi Arabia.
In past decades, India had also sent Army and Air Force training teams to Iraq; there is no reason why this exchange, as well as the presence of officers of the Iraqi Army and Air Force in courses in India's defence training institutions, cannot be revived.
India will have to continue to deftly exploit the opportunity that Maliki's visit presents to build a meaningful relationship with Iraq, which is the third regional power besides Saudi Arabia and Iran. This is especially important considering the flux in the region, the ongoing pro-democracy protests, burgeoning sectarian and religious divides, and the growing profiles of major powers like the U.S. and China, and regional powers like Saudi Arabia, Iran and Turkey.
India will also have to calibrate its relationships with Saudi Arabia and Iran, besides Iraq, so that India is not entirely dependent on any one of the three countries. Before 1990, Iran and Iraq supplied almost all of India's crude requirements. India can again work towards this goal, now including the growing off-take of crude oil from Saudi Arabia. India must ensure that supply from the three countries with the largest crude oil reserves in the Gulf becomes stable and sustainable.
During Maliki's visit, the two countries also discussed their perceptions on the evolving political situation in Egypt, the intensification of the civil war in Syria, and its fall-out on Lebanon and Turkey. Iraq's assessment of the internal situation in Iran after the election of President Hassan Rouhani, and its likely posture in the nuclear talks with western powers, was of great interest to the Indian side.
Iraq is consolidating its political clout in the region, as a consequence of greater stability in its oil production and output, improving internal security, and fostering better relations with the GCC countries and Turkey. Over time, Iraq will weigh a lot in regional and global matters.
The way forward will be for India to maintain an equidistant position on the ongoing political and religious tensions between Saudi Arabia and Iran, while enhancing bilateral industrial and commercial exchanges based on Indian skills and its market, and the natural and financial resources of the GCC countries, Iran and Iraq through in-situ fertiliser, petrochemical, educational, and communication projects, and foreign direct investment in the Indian economy.
The triangulation of India's foreign policy vis-à-vis these three players is now a major agenda that India has to master.
Ambassador Rajendra Abhyankar is Visiting Professor, School of Public and Environmental Affairs, Indiana University, Bloomington and Chairman, Kunzru Centre for Defence Studies and Research, Pune.
This article was exclusively written for Gateway House: Indian Council on Global Relations. You can read more exclusive content here.
For interview requests with the author, or for permission to republish, please contact outreach@gatewayhouse.in.
© Copyright 2013 Gateway House: Indian Council on Global Relations. All rights reserved. Any unauthorized copying or reproduction is strictly prohibited.