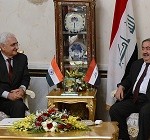 Foreign Minister Salman Khurshid's visit to Baghdad on 19-20 June has reconnected India with Iraq in the penultimate year of the United Progressive Alliance government. India desperately needed to rejuvenate its age-old ties of friendship with Iraq after a decade of neglect since the 2003 U.S. invasion, and Khurshid's visit is a good start.
Khurshid received a warm response from Iraqi Foreign Minister Hoshyar Zebari and Prime Minister Nouri al-Maliki. They expressed Iraq's desire for heightened and wide-ranging relations with India, and fixed the 17th meeting of the India-Iraq Joint Commission, led by the Oil Ministers, for 8-9 July 2013 in Baghdad.
After the National Democratic Alliance government in India refused to succumb to President Bush's inordinate pressure to send Indian troops to north Iraq, India had distanced itself from the U.S.-backed democratic experiments in Iraq, especially given the relentless violence, both sectarian and against the U.S. occupation forces. The kidnapping of Indian truck drivers in Iraq in 2005 put on hold any thoughts of Indian companies playing a role in the reconstruction of an Iraq ravaged by multiple wars.
It would be facile, but possibly opportune, to say that the primary aim of Khurshid's visit was to look for crude oil supplies. Iraq and Iran supplied almost all of India's requirements before 1980. Iraq supplied 24.5 million tonnes in 2013, making it our second supplier after Saudi Arabia, while India has scaled down imports from Iran, due to UN sanctions, to 8 % since 2010. [1, 2]
The Maliki government's overtures demonstrate that India remains a non-polarising factor in Iraq's foreign policy and our relations go beyond oil. The two countries now need to jointly rebuild on the mutuality of their current interests in the region and globally.
A return to the pre-1980 situation is a goal to work towards, given the benefit for both countries. But now the scenario has changed: Iraq's total dependence on its oil revenues, the absence of an agreement between the Iraqi central government and the provincial Kurdistan government on oil royalties and contracts, and the Iraqi government's insistence on converting all oil exploration contracts to production-sharing contracts, have been a damper on India's existing and new contracts, including OVL's Block No. 8 and Tuba contracts, and Reliance's contract in Iraqi Kurdistan.
The 17th meeting of the India-Iraq Joint Commission in July is expected to strengthen economic engagement through partnership in the hydrocarbon sector, and joint ventures in downstream and fertiliser projects. It will give a boost to identified projects in water resources, agriculture, medicare, education, pharmaceuticals, and IT.
India and Iraq share common regional concerns on the evolving situations in Syria, Iran, Egypt and Turkey, as well as on Palestine. In the midst of ongoing sectarian conflicts, the Iraqi government's involvement in the Syrian civil war, Iran's significant influence on the Iraqi government, and Maliki's autocratic tendencies, can all potentially impact the stability of the Iraqi government. Iraq's relations with the GCC, prickly at the best of times, are still a black hole, given the way the forces are ranged on either side of the Syrian divide. Meanwhile, India's relations with the GCC have become vastly closer in the last decade.
Still, Iraq represents the coming together of threads from the entire region and can become a valid interlocutor in the region. Now that Salman Khurshid has invited Foreign Minister Zebari to New Delhi, the proposed visit will be an opportunity to address some of these concerns.
India's strong historical and cultural connections with Iraq, along with its growing economic clout, can be the backdrop to jump-start its economic resurgence in Iraq. It is not widely known that Iraq was administered from Bombay during British times, although the relations between our peoples go further back in time. Shia scholars have gone for theological studies to Najaf and Karbala since the 16th century, and Indian pilgrims continued to visit the two shrine-cities throughout the disturbed decade.  Sikh religious literature records Guru Nanak spending nine months in Baghdad, in discourse with a Sufi pir, on his way to Mecca. Indian troops have seen military action since the Mesopotamian Wars in various cities of Iraq, and the plushest quarter in Baghdad is named Arasat al-Hindiya, recalling the Indian army camp there nearly a century ago.
These are matters not only of record but of popular memory in Iraq. Such historically close relations need frequent reiteration if they are to count in today's globalised and fractious world.
India faces a challenge in making up for lost time. Even after its withdrawal, the U.S. continues to retain an influence in Iraq, and the economic presence of Russia, Japan, UK and France, and new players like China and Iran, is growing. Indian trade and industry will have to build on its stellar reputation when it had civil, mechanical and electrical contracts in Iraq valued at $3 billion in the 1990s. [3]
Nouri al-Maliki's expected visit to New Delhi at the end of 2013 will hopefully take the relationship back to its special and privileged level. The door is now open for India's trade and industry.
Ambassador Rajendra Abhyankar, former Secretary, Ministry of External Affairs, is Chairman, Kunzru Centre for Defence Studies and Research, Pune. He was posted in Baghdad during the Iraq-Iran war and last visited Baghdad in June 2003 after the U.S. invasion.
This article was exclusively written for Gateway House: Indian Council on Global Relations. You can read more exclusive content here.
For interview requests with the author, or for permission to republish, please contact outreach@gatewayhouse.in.
© Copyright 2013 Gateway House: Indian Council on Global Relations. All rights reserved. Any unauthorized copying or reproduction is strictly prohibited.
References
(2013). India-Saudi Arabia relations. Retrieved from Ministry of External Affairs website: http://www.mea.gov.in/Portal/ForeignRelation/Saudi_Arabia_Bilateral_Brief_for_website_-_28_January_2013.pdf
India: Iran oil shipment levels to stay. (2012, October 15).Hindustan Times. Retrieved from http://www.hindustantimes.com/business-news/WorldEconomy/India-Iran-oil-shipment-levels-to-stay/Article1-945147.aspx
Mohamedi, F. & Diwan, R. (1995, April). The Saudis, the French and the embargo. The Iraq Sanctions Dilemma, 25, Retrieved from http://www.merip.org/mer/mer193/saudis-french-embargo