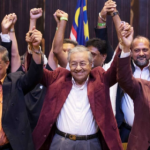 This is the fourth in a series about the ASEAN nations.
Six months after the Pakatan Harapan (PK) coalition's win in Malaysia's parliamentary elections in May 2018, greater political certainty has not come to the South East Asian nation.
The PK, which replaced the United Malays National Organisation (UMNO), the party that had governed Malaysia ever since it won independence in 1957,[1] had stressed on a 'New Malaysia', prior to being elected. It has been working on its promised agenda – fighting corruption, misgovernance and concentration of power – but seems to have little intention of introducing constitutional reforms to change the polity. Malaysia has had a change of ruler – from Najib Razak to Mahathir Mohammad – not of system. Thus, those who envisaged a realignment in the present mix of the three R's – Royalty, Race and Religion, which stands at the heart of the Malaysian political system – are disappointed.
The transition is still incomplete. Mahathir Mohammad is 93 years old now; he declared, upon his electoral victory, that he would serve as PM for one or two years only.[2] The next change, probably due in 2020, is beginning to cast its shadow. Anwar Ibrahim, who joined hands with Mahathir Mohammad to unseat Razak, has moved from jail (after receiving a royal pardon) to the parliament (after winning a seat in October). He expects to be the next PM.
However, well-informed sources contacted over three recent visits to Kuala Lumpur, say the level of trust between Mahathir Mohammad and Ibrahim is on the decline. The Mahathir Mohammad camp seems to prefer as successor Mohamed Azmin Ali, minister of economic affairs. But Ibrahim, perhaps the more powerful and popular of them, is cannily pledging public support for Mahathir's leadership. The PM, he said, should have "the space and latitude to continue unaffected by the constraints of time or pressure."[3] Ibrahim is also open to giving the mentor's role to Mahathir after his final retirement.
Could there be a dark horse, a third candidate, with better chances to be the next prime minister? Not yet. Wan Azizah Wan Ismail, the present deputy prime minister and Ibrahim's wife, is unlikely to be elevated to the top spot, say political insiders. And so, a 'wait-and-watch' game is underway.
Re-engineering external ties
With the domestic situation defying prediction, Mahathir has pursued his deep interest in foreign affairs predictably enough, recalibrating Malaysia's important relationships in the neighbourhood.
The Malaysian government now follows its own 'Look East' policy, paying greater attention to relations with Japan. As PM, Mahathir has visited Japan three times – in June, August and November 2018. Besides strengthening the political and strategic partnership and deepening personal ties with Japanese Prime Minister Shinzo Abe, the main objective has been to secure a sharp increase in Japanese assistance and investment.
The Japanese government will help Malaysia issue Yen-denominated Samurai bonds worth 200 billion Yen ($2.4 billion), guaranteed by the Japan Bank for International Cooperation (JBIC).[4] Mahathir will use these Samurai bonds to retire some of the costly loans taken by his predecessors. Japan-Malaysia cooperation will focus particularly on sectors such as transportation, education and human resource development.
China seemed a bigger challenge for Mahathir as former PM Najib had moved Malaysia very close to Beijing. China-linked projects became a serious election issue and a source of corruption. To address this head on, Mahathir leveraged his old record of friendship and cooperation with the Chinese government during his visit to China in August. He managed to secure China's concurrence for the cancellation of the East Coast Rail Link (ECRL) project, a part of China's Belt and Road Initiative, as well as two pipeline projects.
He did not abandon his customary bluntness either at a joint press conference with Premier Li Keqiang, when he said he favoured free, but fair, trade, adding: "You don't want a situation where there is a new version of colonialism happening because poor countries are unable to compete with rich countries in terms of just open, free trade."[5] Apparently, the Chinese had no choice but to go along, promising to ensure that the next phase in China-Malaysia relations remained positive while the local media applauded the outcomes of his visit: Mahathir took "an important step in putting our relations with our most important neighbour and economic partner on firm footing".[6]
Singapore, a neighbour with memories of tensions in their relations during Mahathir's previous tenure (1981-2003), braced itself for more of the same. Bilateral ties have come under stress once again as the two countries prepare themselves for lengthy negotiations on two important issues: the Kuala Lumpur-Singapore High-Speed Rail (HSR) project and the 99-year Water Agreement of 1962 which expires in 2061. Experts predict that bilateral relations are "expected to cool" in the coming years, but their mutual dependence on trade and connectivity will not disappear.[7] How the changing relationship affects the internal balance within the Association of South East Asian Nations (ASEAN) merits a close watch.
Malaysia's relations with the ASEAN or with India, currently at a low ebb, do not seem an immediate priority. While Mahathir has accepted "with appreciation" Pakistan Prime Minister Imran Khan's invitation to visit,[8] he has a 'love-hate' attitude towards India. Razak, the previous prime minister, strengthened Malaysia's economic ties with India even though China was his clear preference. Prime Minister Modi's courtesy call on Mahathir on 31 May 2018, soon after the latter's return to power, was thus a prudent and productive move.
If there were hopes of an early visit to India, Mahathir has not fulfilled them. The 'New Malaysia' leadership may decide to connect with Indian leaders only after India's upcoming parliamentary elections. If so, it is a missed opportunity for Malaysia.
Rajiv Bhatia is Distinguished Fellow, Gateway House. A former ambassador to Myanmar and former DCM at the Indian Embassy, Jakarta, he comments regularly on Southeast Asian affairs.
This is the fourth in a series about the ASEAN nations.
This article was exclusively written for Gateway House: Indian Council on Global Relations. You can read more exclusive content here.
For interview requests with the author, or for permission to republish, please contact outreach@gatewayhouse.in.
© Copyright 2018 Gateway House: Indian Council on Global Relations. All rights reserved. Any unauthorized copying or reproduction is strictly prohibited.
References
[1] Pakatan Harapan (or the 'Alliance of Hope') is a grouping, formed in September 2015, comprising four political parties: Democratic Action Party, People's Justice Party, National Trust Party and Malaysian United Indigenous Party. As regards UMNO, the main opposition party now, it is at the center of another political alliance named Barisan Nasional which also includes the Malaysian Indian Congress and Malaysian Chinese Association.
[2]AP, The Hindu, Malaysia's Mahathir says he will remain leader for 1-2 years, 16 May 2018, <https://www.thehindu.com/news/international/malaysias-mahathir-says-he-will-remain-leader-for-1-2-years/article23893520.ece>
[3] Hassan, Hazlin, The Straits Times, Anwar says no plans for Cabinet post, stresses need for Mahathir to be unaffected by 'constraints of time or pressure', 15 October 2018, <https://www.straitstimes.com/asia/se-asia/anwar-sworn-in-as-port-dickson-mp-marking-official-return-to-malaysian-politics>
[4] Viwanath, Anurag, Financial Express, The return of Mahathir Mohamad: Malaysia leans on Japan, 18 August 2018, <https://www.financialexpress.com/opinion/the-return-of-mahathir-mohamad-malaysia-leans-on-japan/1284296/>
[5] Martin, Peter, and Anuradha Raghu, Bloomberg, Mahathir Warns Against New 'Colonialism' During Visit to China, 20 August 2018, https://www.bloomberg.com/news/articles/2018-08-20/mahathir-warns-against-new-colonialism-durin
[6] Ignatius, Dennis, Free Malaysia Today, Mahathir's China visit a success, 23 August 2018, https://www.freemalaysiatoday.com/category/opinion/2018/08/23/mahathirs-china-visit-a-success/
[7] Aruna, P., The Star, Malaysia-Singapore ties expected to cool in near future, 25 July 2018, <https://www.thestar.com.my/business/business-news/2018/07/25/malaysia-singapore-ties-expected-to-cool-in-near-future/>
[8] The News, Pakistan, Malaysia joint statement, 21 November 2018, <https://www.thenews.com.pk/latest/396775-pm-imran-khans-malaysia-visit>