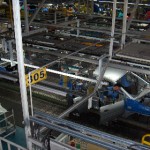 Mexico has overtaken China in 2013-14 as the world's top destination for automobile investment, according to the Financial Times. In 2013, Mexico attracted 12.6% of global FDI in auto-manufacturing as against 12.4% by China. Recent years have seen many global automakers open or announce plans to set up manufacturing units in Mexico—where car production is projected to increase to 4.7 million vehicles by 2020 from 3.2 million in 2014. The country accounts for 20% of the total vehicle production of North America and is the seventh largest producer of cars in the world. As the fourth largest exporter of vehicles in the world, Mexico exports 80% of its total production, which earned the country $85 billion in 2014.
Unlike South America that primarily exports raw materials, Mexico has emerged as a major exporter of manufactured products such as automobiles, electronics and aerospace equipment. Manufactured products account for 83% of the total exports of Mexico, which is the world's largest manufacturer of flat screen television sets and two-door refrigerators.
Over time, Mexico has become more competitive vis-à-vis China, evident in its average manufacturing labour costs that are almost 20% lower than in China, where labour costs have significantly increased. In fact, in 2000, Mexico's labour costs were 58% higher than China's. Furthermore, in its August 2014 report titled The shifting economics of global manufacturing, Boston Consulting Group has estimated that Mexico—referred to in the report as "a rising global star in manufacturing"—now also has lower average manufacturing costs than China on a unit-cost basis.
This trend is also reflected in payscales, with Chinese wages ($5,726 per year) now considerably  higher than Mexico's annual wage of $3,645 for unskilled workers in the auto sector.
There are other advantages that Mexico offers over China, and in doing so, presents opportunities to American multinational corporations, not least of which is its proximity. Apart from being home to a large and growing young population unlike the ageing Chinese society, Mexico also offers better protection to intellectual property rights than China. Unsurprisingly, total U.S. imports from Mexico are growing quicker than those from China, with Mexico being dubbed the "China of the Americas".
To facilitate this process, Mexico has developed manufacturing clusters: Querétaro for aerospace; central and northern industrial heartlands for automobiles; Guadalajara as a Silicon Valley; and the southern part of the country for manufacturing of goods like clothing and textiles. It also has an ecosystem conducive for manufacturing and exports with an integrated supply chain, reasonably good infrastructure, logistics and transport networks, as well as stable and predictable policies and tax regimes.
As a member of a Free Trade Agreements(FTAs) including North American Free Trade Agreement (NAFTA), Pacific Alliance, Asia-Pacific Economic Cooperation, Organisation for Economic Co-operation and Development and the under-negotiation Trans-Pacific Partnership, Mexico has made itself attractive for export-oriented manufacturing for 44 countries. Most foreign manufacturers use Mexico as the export platform for NAFTA.
The "Make in India"  campaign can learn from the manufacturing success story of Mexico, which ranks 39th in the World Bank's "Ease of Doing Business" index of 2014, as compared to India which is ranked 142nd. Prime Minister Narendra Modi can seek inspiration from President Enrique Peña Nieto, who has brought about a dozen major reforms in such sectors as energy, education and telecommunications, by forging a historic and unprecedented consensus with the opposition parties through 2012's Pact for Mexico. This national political agreement is a framework of 95 public policy proposals aimed at strengthening the country, democratising its economy and politics, and involving citizens as key actors in designing and executing public policies.
Since the Indian growth model is different from the Mexican one of manufacturing for exports, India should only draw appropriate lessons to forge its own path. India cannot replicate what China has done since the Chinese political system is very different to India's. Mexico, therefore, provides a more replicable model and Modi should look at expanding the bilateral engagement between the two countries in his second year as prime minister.
Ambassador Viswanathan is Distinguished Fellow, Latin America Studies, Gateway House. He is the former Indian Ambassador to Argentina, Uruguay, Paraguay and Venezuela, and Consul General in Sao Paulo. 
This blog was exclusively written for Gateway House: Indian Council on Global Relations. You can read more exclusive content here.
For interview requests with the author, or for permission to republish, please contact outreach@gatewayhouse.in.
© Copyright 2015 Gateway House: Indian Council on Global Relations. All rights reserved. Any unauthorized copying or reproduction is strictly prohibited.