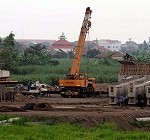 Even as the controversial amendment to India's land acquisition law was winding through Parliament last week, the World Bank's president made an admission that highlights the complex global conflict between democracy and land use.
On March 4, World Bank President Jim Yong Kim issued a statement that the Bank has not kept track of how many people may have been forced off their land and lost their jobs without fair and timely compensation because of projects it funded in developing countries. "We took a hard look at ourselves on resettlement and what we found caused me deep concern," Kim said. His statement accompanied the release of a new action plan by the World Bank to improve its management of safeguards and resettlement practices.
Though the Bank's action plan will directly apply only to the projects it funds, it will have a much wider impact on the global discourse on land acquisition.
Firstly, Kim's admission and the new action plan reaffirm that unfair displacement of millions of people in the name of development, which continues at an alarming rate, is not compatible with 21st century aspirations for more equitable generation of wealth through more fair market mechanisms in democratic societies.
Secondly, it highlights the impact of sustained pressure from a wide range of global entities—within governments and in civil society—to ensure full compensation and resettlement in all projects that involve acquiring land.
The amendments to India's land acquisition law, passed by the Lok Sabha on March 10, must be seen in this global context.
Concerns about the rights of people affected by projects funded by the World Bank are a small part of a much larger phenomenon, sometimes described as "land grab"—when large tracts of land change hands from relatively small holders to governments or large private companies, across the world. A wide range of civil society organisations, in some cases funded by European aid agencies, are monitoring this process globally.
For example, The Land Observatory aims to improve the inclusiveness of policy dialogue and decision-making on land-related investments—partly by ensuring access to much more information than project-affected people have had in the past.
This initiative of the International Land Coalition and the Centre for Development and Environment at the University of Bern is funded by Swiss Agency for Development Cooperation. Its objectives include empowering "stakeholders to exercise accountability for good land governance in areas of investment interest."
Like many such efforts, it is not opposed to land transfers. Instead, the focus is on generating sufficient knowledge on an open web-based platform so that everyone who is affected by the project can have a better understanding of its implications and thus negotiate the trade-offs.
In India, the National Alliance of People's Movements, a network of grassroots organisations, has championed the cause of displaced people for over 20 years. While the Alliance has often been accused by bureaucrats and industry as being "anti-development", most of its members actually want development, but of a more equitable nature.
When business and political leaders from across the world gathered for the Vibrant Gujarat summit in Gandhinagar in January this year, they were presented a petition by 102 civil society organisations and individuals. The petition pointed out that many of the investors come from countries with higher ethical standards in business than are practiced in India. Without greater fairness in the dealings between business and the people from whom land is acquired in India, the petition warned, many of the agreements being signed between businesses and government, will not be put into action.
Many companies across the world have realised that the resistance and turmoil generated by forced land acquisition is actually more expensive than a fair and mutually-negotiated deal. This is why, in 2013 the International Council on Mining and Metals, a consortium of mining multinationals, made a commitment that its members would voluntarily seek the free, fair and informed consent of indigenous peoples affected by projects.
In a presentation made in July 2013 at Madariaga-College of Europe Foundation, a think tank supported by the European Union, Pascal Liu, a senior economist of the Food and Agricultural Organisation, highlighted the positive effects of inclusive business models—when farmers become business partners—on the local economy. This creates more jobs, adds value, and generates higher incomes among people who would otherwise be displaced by a project.
However, Liu points out, inclusive models require strong external support in the form of patient capital and public-private partnerships. There is no ready-to-apply business model, and situation-specific solutions have to be improvised. The laws of each country are important, but not enough—there is no substitute for the private sector pro-actively fostering win-win deals.
But as I.U.B.Reddy, a social development specialist at the World Bank, writing in a blog on the Bank's site, has pointed out,"fairness" is not easy to establish. It is only through a process of consultation and dialogue that a valuation can be perceived as more "fair".
Reddy gives the example of the World Bank-financed Rampur Hydro Project  in Himachal Pradesh. When the project-affected people rejected the first valuation, all the stakeholders agreed to hold further consultations. These sessions brought forth many more factors, including the use of the land, and the rates paid by the private sector for the land. The revised market value of the affected lands turned out to be four to 10 times higher than the compensation offered. With this changed valuation in place, the project was speedily implemented.
"A more fair long term solution will only lie in successfully addressing underlying challenges to establishing an impartial, uniform basis for evaluation of market value of land, both in rural and urban areas," Reddy argues.
Instead, the Right to Fair Compensation and Transparency in Land Acquisition, Rehabilitation and Resettlement Act of 2013 has been amended this week by the lower house of the Indian Parliament, to make it easier for private industry and public sector entities to acquire land relatively cheaply without the consent of current owners and users.
But the spirit of the 2013 legislation, which was crafted after a prior elaborate and inclusive consultative process, is to make land acquisition more compatible with democratic aspirations as well as with a market system based on fairness and not force.
Business people and policy-makers who only have an eye on the short-term will rejoice at what the amendments now make possible. Those who have a long-range mission of true nation-building will honour the significance of the World Bank's admission of guilt, and pay close attention its new action plan for fairness in all matters of land use.
Rajni Bakshi is Senior Gandhi Peace Fellow, Gateway House.
This blog was exclusively written for Gateway House: Indian Council on Global Relations. You can read more exclusive content here.
For interview requests with the author, or for permission to republish, please contact outreach@gatewayhouse.in.
© Copyright 2015 Gateway House: Indian Council on Global Relations. All rights reserved. Any unauthorized copying or reproduction is strictly prohibited