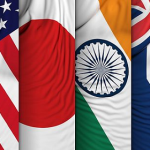 During 2022, some of the anxiety strategically associated with China in the Indo-Pacific was relegated to the backburner due to the emergence of the Ukraine crisis.
Many countries took their eye off China and focused instead on Russia. Cleavages in the international order and big power rivalry became accentuated. But in the Indo-Pacific, the Quad countries followed a policy of economic disengagement from China, in the backdrop of the COVID pandemic and the regeneration of some economies. How the Quad managed this, is a worthwhile assessment.
China's global trade in 2022 reached record levels of $6.2 trillion, a 7.7% increase over the previous year.  Chinese customs statistics show exports rising by 10.5% to $3.5 trillion, and imports by 4.3% to $2.6 trillion.[1] Despite this, China's real GDP at 3% was its lowest in several decades, the result of unsuccessful COVID control policies.
China wants a comeback. At the World Economic Forum in Davos in January 2023, Chinese Vice Premier Liu said that China was "back" and would prioritise economic growth.[2]
It may happen. Each Quad partner saw increased economic interaction with China in 2022. US-China trade at $691 billion set a new record despite several tense moments over Taiwan, Chinese imports from the U.S. rose by $2.4 billion to reach $154 billion, while exports to the U.S. also rose, by $31.8 billion to hit $537 billion.  These figures run counter to the hype about decoupling between the US and China.
There were reduced imports in strategic products like semiconductors[3] but the growth in toys, plastics and other items of consumer interest have outrun any sanctions or restraint. Political rhetoric has not curtailed US-China trade.
Japan has struggled in 2022, and had its largest annual trade deficit of $155 billion. It was mainly due to higher energy and raw material prices but also the sharp depreciation of the yen which impacted Japanese imports without too much benefit for its decreasing exports.[4] Consequently Japanese imports increased by 40% while exports grew by 18 per cent.
Japan's trade surpluses rose to $49 billion with the U.S. but with China, a major partner, trade was curtailed by COVID restrictions causing Japan's trade deficit with that country to rise 100% to $44 billion. Japanese imports from China grew by 21.8% to $190 billion while export growth crawled by 5.7% to $145 billion. Tokyo's Itochu Research Institute said last month that the stalling Chinese economy was unexpected and, coupled with the economic slowdown in Europe and the US, created a worst-case scenario for Japanese exports.[5]
With Australia, China remains its largest bilateral trading partner, its fifth-largest source of imports and tenth-largest export market. Despite the political discord and Chinese sanctions on Australian coal and wine, bilateral trade between them was $221 billion,[6] a 39% drop. Australian exports decreased by 13% to $142 billion – quite significant given that Australia imports 25% of its manufactured products from China. Australian investment in 2021 in China increased 14.5% to $6 billion, unsurprising given the result of a 2022 survey by the Australian Chamber of Commerce which reveals that 58% of its entrepreneurs see China as their top three investment priority countries for the next three years.[7] Australian businesses want to enhance their investment into China and increase trade.
Conversely, Chinese investment in Australia carried the burden of the sanctions, dropping by 70% in 2021 to $0.6 billion. No wonder that since the Xi-Albanese meeting at the G 20 in Bali in November 2022, Australia has tried to warm up to China and bring relations back on even keel. Foreign Minister Penny Wong visited Beijing last December to mark the 50th anniversary of China-Australia relations, while the trade ministers of both countries met virtually this month. Their warmth acknowledges that decoupling is not taking place.
The same trends are with India. Despite unsettled political relations, India-China trade in 2022 touched a record $135.98 billion with the trade deficit crossing the $100 billion mark for the first time. China's exports to India rose by 21.7% to $118.5 billion, and during 2022, China's imports from India decreased by 37.9% to $17.48 billion.[8] India too was finding decoupling difficult.
It appears that despite strategic contentions, the businesses of the Quad prefer not to exit China, focusing instead on reducing dependence on strategic products like semiconductors, solar panels, pharmaceuticals and making a push towards China+1 strategies.[9] The lure of the Chinese market is just too great for the private businessmen in the U.S., Japan and Australia, as also their G7 partners like Germany.[10]
In short, the decoupling as originally thought is not taking place. Strategies to redirect some investment towards alternative areas other than China, are being explored.
China sees the Indo-Pacific Economic Framework (IPEF), as a challenge to its economic dominance and a means to draw ASEAN, with its biggest two-way trade, away from China.[11]. China is seeking a diversification from such external dimensions by increasing domestic demand to rejuvenate its slumping economy, which is impacting its ambitious BRI as well.
For the IPEF to truly see success, and for the Quad to truly overcome economic realities and the lure of value chains, the grouping must work closely with India[12] and ASEAN to develop new value chains which can substitute those already in China, for the long term. Both India and ASEAN offer large markets, growing middle classes, better absorption of technology, access to manufacturing ventures, and an FTA among them will help.
Meanwhile, in the short and medium term the coupling continues.
Gurjit Singh was India's ambassador to Germany, Indonesia, Ethiopia, ASEAN and the African Union.
This article was exclusively written for Gateway House: Indian Council on Global Relations. You can read more exclusive content here
For permission to republish, please contact outreach@gatewayhouse.in  
©Copyright 2023 Gateway House: Indian Council on Global Relations. All rights reserved. Any unauthorised copying or reproduction is strictly prohibited. 
References
[1] Xinhua, 'China's foreign trade hits record high in challenging year', 14 January 2023, <https://english.news.cn/20230114/dd9d7df9d8a34d4caa0b9621494e3abd/c.html>
[2] World Economic Forum, 'Davos 2023: Special Address by Liu He, Vice-Premier of the People's Republic of China', 17 January 2023, <https://www.weforum.org/agenda/2023/01/davos-2023-special-address-by-liu-he-vice-premier-of-the-peoples-republic-of-china/>
[3] Kharpal, Arjun, "China brings WTO case against U.S.', CNBC, 14 December 2022, <https://www.cnbc.com/2022/12/13/china-brings-wto-case-against-us-chip-export-restrictions.html>
[4] Yoshiaki, Nohara, 'Japan's trade gap hits record on commodities impact and weak yen', Japan Times, 17 August 2022, <https://www.japantimes.co.jp/news/2022/08/17/business/economy-business/trade-def-japan/>
[5] Tetsushi, Kajimoto, "Slumping China-bound Japanese exports raises fears of global downturn, 19 January 2023, <https://www.reuters.com/markets/asia/japans-trade-deficit-persists-recession-risks-loom-2023-01-19/>
[6] Intersesse, Giula, 'China-Australia Trade Relations Growing Stronger', China Briefing, 8 February 2023, <https://www.china-briefing.com/news/china-australia-trade-relations-growing-stronger/>
[7] Doing Business in China Report 2022, AustCham, https://austcham.org/38743-2/
[8] Embassy of India, Beijing, China, "Trade and Economic Relations', <https://www.eoibeijing.gov.in/eoibejing_pages/Mjg>
[9] Bateman, Jon, "U.S.-China technological decoupling', Carnegie, 25 April 2022, <https://carnegieendowment.org/2022/04/25/conclusion-pub-86934>
[10] J. Stewart Black and Allen J. Morrison, "The Strategic Challenges of Decoupling", Harvard Business Review, May/June 2021, <https://hbr.org/2021/05/the-strategic-challenges-of-decoupling>
[11] Zhang, Hui , Xu, Yelu, and Bai, Yunyi, 'US eyes 'luring' ASEAN to 'decouple from China' with its Indo-Pacific economic framework', Global Times, 12 May 2022, <https://www.globaltimes.cn/page/202205/1265514.shtml>
[12]Yoji, Okano, 'India seeking optimal solution to "decouple" from China – turning to QUAD for investment and economic cooperation', Mitsui & Co. Global Strategic Studies Institute Monthly Report, February 2022, <https://www.mitsui.com/mgssi/en/report/detail/__icsFiles/afieldfile/2022/03/28/2202sp_okano_e.pdf>