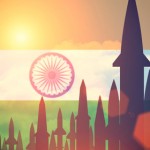 The launch of the Chandrayaan-2, the world's first spacecraft targeted to visit the south pole of the Moon, is now scheduled for 22 July 2019. A technical glitch with the GSLV MK-III rocket delayed the launch, which was scheduled for earlier this week.
The Indian Space Research Organisation's (ISRO) decision to defer the launch despite the tremendous public euphoria is commendable. Its speedy public briefing reflected institutional transparency and accountability.
While ISRO swiftly scrutinised the snag at a technical level, the postponement is an opportunity for the Department of Space (DoS) to assess the strategic issue at the core, viz. the lengthy space-worthiness tests of the nation's only heavy-lift launch system, the GSLV MK-III. The tests took so long because ISRO chose to go it alone instead of partnering with the private sector and developing public-private rocket manufacturing capacities in the country that can competitively design heavy-lift rockets as well as build cryogenic engines, their most critical element.
Today most established and aspiring space powers want a suite of launch systems – from rockets carrying less than 100 kg to those carrying as much as 100 tonnes at one go. There is a market for all of them. Small launchers are needed for small and low-cost satellites built at short notice and on demand. Newly formed space agencies, like those in New Zealand, are working with the private sector to build small launchers. The heavy-lift nevertheless remains the central strength of the established space powers.
Over the years, these space-faring countries have been allocating to a multitude of entrepreneurial players in the commercial sector. Such heavy-lift rockets can launch high-tech and heavy-duty spacecraft and space-probes which travel to distant planets and celestial bodies, take humans into space and launch modules of space stations and large space-based telescopes.
No established space-faring country allocates rocketry to any one agency or company now. For instance, the Russian heavy-lift, International Space Station transporter, Soyuz, is built and operated by the joint-stock companies, NPP Energia and Progress. The United States' heavy-lift Atlas V, Falcon Heavy, Big Falcon Rocket, and New Glenn are all developed, constructed and operated by private companies, such as Boeing, Lockheed Martin, SpaceX and Blue Origin.
Without a completely space-worthy GSLV MK-III, India's communication satellites have to be launched on Ariane rockets, which are constructed by a European consortium, led by Airbus. India also loses a growing market in its neighbourhood: for instance, Bangladesh's first communication satellite, the Bangabandhu-1, was launched by the U.S. private launcher, SpaceX in 2018.
It is time the DoS viewed the private sector as something beyond an on-demand supplier of components to ISRO and purchaser of the technologies that ISRO spins off. The unforeseen turn of events that led to rescheduling the launch of the Chandrayaan-2 is a sign, urging the government to create new space industrial ecosystems to compete effectively with the established and aspiring space powers.
Chaitanya Giri is Fellow, Space and Ocean Studies, Gateway House.
This blog was exclusively written for Gateway House: Indian Council on Global Relations. You can read more exclusive content here.
For interview requests with the author, or for permission to republish, please contact outreach@gatewayhouse.in
© Copyright 2019 Gateway House: Indian Council on Global Relations. All rights reserved. Any unauthorized copying or reproduction is strictly prohibited.