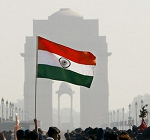 2014 was the year India saw a more dynamic foreign policy than in the preceding decade. Shortly after his swearing-in, Prime Minister Narendra Modi embarked on a series of international visits, to chart an ambitious new foreign policy course to power India's economic development and enhance its global standing.
With some of the groundwork done, what should India's foreign policy priorities be in 2015? The goals are both domestic and global. Gateway House's team of experts list their top foreign policy objectives for India in the new year.
---
Geoeconomics:
Free Trade Agreements: Push for increased service exports, primarily through the instrumentality of Free Trade Agreements (FTA)
Foreign Direct Investment: Implement a 'one-window solution' for foreign investors to improve ease of doing business in India and achieve higher levels of FDI in manufacturing
Tax Reforms: Make the tax regime business-friendly by implementing the Goods & Service Tax (GST) and easing direct tax laws
– Rajrishi Singhal, Senior Geoeconomics Fellow 
---
Geopolitics:
India-China: Sustain Chinese interest in Indian infrastructure so it translates into investment, and leverage this in its relationship with Russia and Pakistan. It is important that India is not viewed as an aggressor for China as  this will reduce India's strategic space internationally.
SAARC: Retain primacy within SAARC to ensure that China is not given a more prominent role within the grouping and India is able to constrain Pakistan on security issues.
India-U.S.: Expand economic, political and defence relations with U.S. and its allies—Japan, Australia, EU so as to increase India's strategic space and leverage.
– Neelam Deo, Director, Gateway House
---
National Security
National Counter-terrorism Centre: Implement the long-pending proposal of a National Counter-terrorism Centre for intelligence analysis and co-ordination between the different security agencies.
'Make in India': Invigorate private sector involvement in defence by assigning India's private shipyards in a large-scale defence shipbuilding order.
Privacy Bill: Expedite the introduction of the privacy bill in Parliament with stringent provisions for surveillance and data protection.
-Sameer Patil, Associate Fellow, National Security & terrorism Studies
---
Energy
Diversification: Tie up natural gas supplies from the U.S., Canada, Russia and Australia to diversify away from West Asia and from crude oil.
Hydro-power: Expedite investments in hydropower in Nepal in order to develop it as a long-term source of hydropower for India
Nuclear power plants: Push for financial closure and the completion of nuclear power plants planned with Russia, the U.S. and French companies.
-Amit Bhandari, Fellow, Energy & Environmente
---
Climate Change 
Climate Summit in December 2015: In the build-up to the summit, play a leading role in rallying other developing countries to keep up the pressure on developed nations to create carbon-emission shares on a per capita basis.
Domestic: Internally, undertake an ambitious and urgent shift towards renewable energy as an essential tool for the long-term, sustained growth of the Indian economy.
Economic democracy: Encourage international and domestic investments that expand India's manufacturing and services in a geographically and demographically dispersed manner.
-Rajni Bakshi, Senior Gandhi Peace Fellow
---
Latin America
Sign FTAs with Mexico, Colombia and Peru: Make exports competitive to take advantage of these growing markets, which also have similar agreements with other countries where our exports face tariffs. 
Credit lines: Increase these by $200 million for projects, investments and joint ventures in Latin America, which currently has small credit lines compared to those provided to Africa and Asia.
Rejuvenate the India-Brazil partnership: As well as the IBSA alliance by inviting President Dilma Rousseff to India for a bilateral visit following the IBSA summit, which India will host in 2015.
–R. Viswanathan, Distinguished Fellow, Latin American Studies