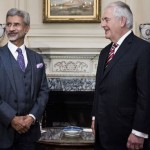 India's first formal high-level engagement with the Trump Administration and the U.S. Congress has ensured that the broad and substantive relationship with the United States will continue, if in a new avatar.
There will be some adjustments and a reconfiguration of priorities, to be sure, given the very different outlook of this White House but the overall positive trend in Indo-U.S. relations is not expected to suffer. There is recognition in Trump's cabinet that India is "a good, solid partner."
India's foreign secretary, S. Jaishankar, ended his four-day visit last week with a "strong sense of optimism" after meeting nearly all key officials in the new administration, including National Security Adviser Lt. Gen. H.R. McMaster, Secretary of State Rex Tillerson, Secretary of Commerce Wilber Ross, Secretary of Homeland Security John Kelly and Kenneth Juster, deputy assistant to the president on international economic affairs.
The top-level access given to Jaishankar and Commerce Secretary Rita Teaotia in the midst of the new administration's multiple domestic difficulties and distractions is significant. It shows the wheels are coming into motion and the system's muscle memory on India is intact.
This was Jaishankar's third trip to the United States since Donald Trump's election. The first two visits, including one during which he met then Vice President-elect Mike Pence – were quiet and aimed at establishing preliminary contact. Once that was done, the Indian side made itself felt across-the-board in the new and distinctly charged Washington.
The plan to have an early visit by Prime Minister Narendra Modi remains a possibility but to organize a meaningful trip will be a challenge. At the State Department, Tillerson functions without the second and third rung officials who are yet to be named and appointed. Reports say vacancies mean big cuts are expected across the federal bureaucracy.
The Indian delegation spent a good amount of time on Capitol Hill, meeting leaders on both sides of the aisle, starting with House Speaker Paul Ryan, chairman of the Senate foreign relations committee, Bob Corker, his House counterpart, Ed Royce, senior Democrat on the Senate intelligence committee Mark Warner and Democratic leader Nancy Pelosi.
The Republican-controlled U.S. Congress will play an out-sized role in the next four years as it tries to help further Trump's agenda both on foreign and domestic policy fronts in the face of Democrats trying to undermine him. Indian delegation's concerted outreach to the legislative branch of the U.S. government is especially important for ensuring continuity in bilateral relations.
But the visit was somewhat overshadowed by the debate on H-1B visas and the killing of Srinivas Kuchibhotla, an Indian engineer, in a hate crime last month. Another Indian was injured in what many see as unleashing of anti-immigrant sentiment after Trump's election. His strong message of economic nationalism and America First has found expression in hundreds of acts of intimidation by Americans.
Jaishankar received assurances and support from the officials he met that justice will take its course. He noted that in the last few days Trump had condemned the crime, the White House had issued a statement and the House of Representatives had observed a moment of silence.
Kuchibhotla was working on an H-1B visa, an issue that has become a bone of contention between this administration and New Delhi. A flurry of bills in the U.S. Congress to restrict the visa programme and rumors of a Trump executive order on the subject have raised concerns in India about disruption.
While Indian officials repeated their arguments that skilled Indian professionals were a crucial asset to U.S. companies in increasing competitiveness and innovation, the American side said any H-1B review would be a part of overall immigration reform. It could be good news for Indian IT companies because reaching an agreement on comprehensive immigration reform will take time. But putting H-1B visas in the immigration basket will present its own difficulties.
The U.S. Congress has been trying for more than a decade to deal with the issue of 12 million illegal immigrants without success. It is a political hot button that has singed many an American politician.
"H-1B in many ways is an economic issue, a trade and business issue. We have certainly made our point forcefully and believe it was met with a degree of acceptance," Jaishankar said.
But within hours of him concluding his meetings in Washington, the U.S. Citizenship and Immigration Services or USCIS suspended a programme, which expedites the processing of H-1B visas for an extra fee. It's an avenue used by many Indian IT companies to avoid delays. The timing of the order – a day after Jaishankar met Kelly – is significant but not unexpected. Trump Administration's determination to do something or to be seen as doing something on H-1B is obvious.
But H-1B issue isn't the centre of Indo-U.S. bilateral relations – it is but one lever in the strategic partnership. The "full-spectrum" discussions last week covered international hot-spots, counter-terrorism efforts, Afghanistan, Pakistan and the Asia-Pacific region. Tillerson and Ross are expected to visit New Delhi for the Strategic and Commercial Dialogue, the dates for which are being worked out.
New Delhi has no choice but to engage Washington with the full force of its diplomatic might to push the bilateral agenda forward. While initial soundings are positive, it will be a while before the real picture becomes clear.
Seema Sirohi is a Washington-based analyst and a frequent contributor to Gateway House: Indian Council on Global Relations. Seema is also on Twitter, and her handle is @seemasirohi
This article was exclusively written for Gateway House: Indian Council on Global Relations. You can read more exclusive content here.
For interview requests with the author, or for permission to republish, please contact outreach@gatewayhouse.in.
© Copyright 2017 Gateway House: Indian Council on Global Relations. All rights reserved. Any unauthorized copying or reproduction is strictly prohibited