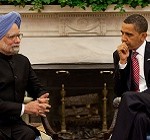 Washington: The forecast had called for rain and clouds of anger from the U.S. business community hung heavy over the final summit between Indian Prime Minister Manmohan Singh and U.S. President Barack Obama.
The day Singh landed, expensive ads paid for by the National Association of Manufacturers against New Delhi's trade policies appeared in major U.S. newspapers alongside thinly disguised tirades of industry spokesmen on opinion pages. The attempt was to dominate and overwhelm the official agenda.
But the campaign bombed completely except for creating unnecessary static. Many wise Americans were embarrassed by the shrillness but expressed an inability to stop this pharma-driven media terrorism. Pfizer and a few other companies are angry at the Indian Supreme Court decision on Novartis and recent issuing of a compulsory license for an anti-cancer drug.
The U.S. industry is generally in an anti-India mode over a host of Indian policies such as retroactive taxation, local content requirement and preferential market access. Under pressure, Singh has put some in abeyance while on others he has promised a second look. Seeing that pressure tactics work, the U.S. industry has kept up the campaign.
But Obama and the White House wisely ignored the noise and chose not to speak to the leader of a billion people in the language of "either, or."
The Obama-Singh summit can be seen as a success – the two leaders managed to corral their troops, consolidate relations that seemed in disarray and quiet down the dissonance to some extent. They accommodated, even indulged each other on various issues to conclude a summit that could have almost drowned in domestic cacophony in both capitals.
Singh had to bravely soldier on to the Oval Office in the face of Rahul Gandhi's sudden awakening in New Delhi on the ethics of protecting convicted MPs and MLAs through an ordinance that the prime minister had approved. And Obama was gracious in not poking the prime minister with the litany of American complaints. He himself was under tremendous pressure in the face of an impending shutdown of his own government and the war on Obamacare.
The high point of the summit was the joint declaration on defence cooperation, which will send some necessary signals around Asia.
The other significant plus was the extremely strong language against terrorism aimed at Pakistan which interestingly stressed "the need for joint and concerted effort, including dismantling of terrorist safe havens and disrupting all financial and tactical support for terrorism."
Obama still seems to "get" Pakistan. While discussing the post- 2014 situation in Afghanistan, he called Pakistan a "wildcard" – an indication he has not really changed his opinion on the essential problem in South Asia. The American rhetoric in public is considerably softer because the U.S. needs Pakistani cooperation for the safe return of its troops and equipment but it appears Obama's views haven't changed.
Singh and Obama had an extensive discussion on the reach and capabilities of Lashkar-e-Taiba and other terrorist groups. Hopefully, the frankness will trickle down to working levels.
The Indian side flagged the need for better "exchange" of intelligence information on known and suspected terrorists, something that still is not free flowing. Americans are cagey on sharing information.
Apart from putting strong anti-terrorism language down on paper, Singh smartly used the Oval Office to make even stronger references to Pakistan being the "epicenter" of terrorism in his verbal remarks.
On the Indo-U.S. bilateral agenda, the bold vision on transfer of defence technology should help infuse new enthusiasm in the relationship, which has seen a dip over the past two years. The magnitude of cooperation envisioned is extensive and allowed only with treaty allies. The progress on the defence track is a result of the dialogue between Deputy Defence Secretary Ashton Carter and National Security Adviser Shivshankar Menon.
U.S. officials privately say that "everything" is on the table. One knowledgeable analyst said, "we have offered to India things not even offered to NATO allies." There is also recognition on the U.S. side that restrictive American requirements on end-use monitoring are a roadblock and Indian complaints on the issue are genuine.
Both sides are keen to push the defence technology and trade initiative to start co-production and co-development of major weapons. India is receptive but extremely slow in responding, something that is being addressed by putting a deadline of a year on identification of defence projects for co-development.
It is worth recalling that a similar statement in 2005 innocuously dubbed "New Framework Agreement" led to seismic shifts in Indo-U.S. defence relations, including an unprecedented number of joint military exercises. Where the new declaration may take the two countries would depend on synchronization of the two bureaucracies within and with each other.
On the civil nuclear front, despite last minute efforts, a pre-early works agreement between Westinghouse and Nuclear Power Corporation of India Ltd. on building a nuclear reactor in Gujarat could not be signed during the visit. The procedures between the two governments have been agreed and a preliminary contract between the supplier and operator is concluded but Westinghouse has reportedly asked for some time to run it by its lawyers.
Part of the anger in the U.S. Congress has stemmed from a feeling that India got the nuclear deal from the US but has failed to operationalise it because of a nuclear liability law that puts the onus on the supplier, which goes against current international norms.  How that circle would be squared remains unclear.
All in all, Singh goes home scoring success and having given a much-needed political push to the relationship he once championed. He should have just done it sooner and not disengaged in the interim.
Seema Sirohi is a Washington-based analyst and a frequent contributor to Gateway House: Indian Council on Global Relations. Seema is also on Twitter, and her handle is @seemasirohi
This article was exclusively written for Gateway House: Indian Council on Global Relations. You can read more exclusive content here.
For interview requests with the author, or for permission to republish, please contact outreach@gatewayhouse.in.
© Copyright 2013 Gateway House: Indian Council on Global Relations. All rights reserved. Any unauthorized copying or reproduction is strictly prohibited.