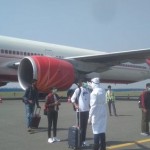 "Even if you are stuck on the Mars, Indian Embassy there will help you," tweeted Sushma Swaraj, India's then external affairs minister, on 8 June 2017, to an Indian abroad.
Over the last month, the ministry, along with Air India, supplemented by the Indian Air Force, has, under challenging circumstances, evacuated 2,981 Indian citizens, stranded in the hotspots of the coronavirus epidemic around the world.
These special flights may as well have been on Mars. Wuhan, China, the epicentre of the pandemic, was in lockdown, a "ghost town", its airport plunged in darkness. Yet, here they were, evacuating Indians – and people of other nationalities too – multiple times. In all,2,245 persons were evacuated from China, Iran, Italy and Japan. Of this, 48 were foreign nationals belonging to 10 countries viz. the U.S., China, South Africa, Peru and Madagascar as well as our neighbours: Bangladesh, Maldives, Myanmar, Sri Lanka and Nepal. Other commercial flights on similar evacuation missions brought home 736 Indians from Malaysia, Singapore, Amsterdam and Paris. Thus, nearly 3,000 persons have been the beneficiaries of these rescue operations until 24 March 2020.
A history of evacuation
The Coronavirus Disease (COVID-19) evacuations may be added to a long list of India's rescue ops, led by the Ministry of External Affairs, since 1990. The notable ones include the following:
* 1990: In the wake of the Gulf War, India conducted the largest evacuation still known to the world, namely, airlifting home 120,000 Indian citizens from Kuwait through 488 flights.
* 2006: The Indian Navy (IN) evacuated 2,280 persons, including 1,764 Indians, from Lebanon.
* 2011: The IN and Air India rescued 18,000 Indian nationals from Libya.
* 2014: Indians totalling 4,500 were evacuated from Libya.
* 2015: The IAF, IN and Air India collaborated in the evacuation of 6,710 persons from war-torn Yemen – 4,741 Indians and 1,947 foreign nationals from 48 countries.
* 2015: The return of 7,000 Indian nationals from Iraq was facilitated.
* 2016: A total of 153 Indian citizens and two Nepalese citizens were evacuated from Sudan.
* Between May 2014-2018, 2,08,186 Indian nationals in distress were repatriated, "including from war-torn countries." [1]
It used to be that only developed countries evacuated their people abroad during crises. Most of these were done by their militaries.
Over the years, however, India has become adept at these evacuations, and this has led to an increased confidence in Indians abroad. It is now an expectation. Former external affairs minister Sushma Swaraj's 'Twitter Diplomacy', anchored in humane considerations, was certainly a contributing factor. Her successor, S.Jaishankar, has continued – and reinforced – this positive trend, buoyed also by the high importance accorded by the Modi government to 'Diaspora Diplomacy'.
Far-flung Indian diaspora
This has its challenges. India's labour, blue- and white-collar, seeks its economic chances in foreign lands. It is the result of India's long-held policy of encouraging its people to look for work abroad, unable as it was to provide enough jobs for its unskilled or educated citizens. The Indian diaspora's population abroad is 30 million[2], including the descendants of those Indians taken in the 19th century as indentured labour by the British to their far-flung empire, with 7 million alone in the Gulf countries, largely labourers, often assigned to remote construction sites.
Indian students, now at the centre of the country's population bulge, have been limited by the options at home. Many choose to study abroad, in places like China and Central Asia, where admission into colleges offering technical degrees is more easily available. And that's how an estimated 700 students came to be in Wuhan, mostly studying medicine.[3]
The COVID-19 evacuations have been a success, showcasing India's increased ability and commitment to offer assistance at short notice. This has been absorbed in the country's missions abroad – right down from the level of junior diplomats, second and third secretaries to the mission head.
And for the first time, a senior diplomat, Dhammu Ravi, Additional Secretary, was assigned to coordinate the global efforts with India's missions abroad, with Air India, the Air Force, the Health Ministry and the Home Ministry. Daily press conferences were held to disseminate information on the operations as also to receive public input.
The challenge was, and is, to bring back people safely, while ensuring that the rescuers – pilots, crew, doctors and nursing staff on the special flights – are well protected. A unique set of screening and testing procedures, travel drills and health protocol have been devised at short notice and executed with precision to ensure desired results. A 100% success rate seems to have been achieved so far.
The evacuations are likely to continue for a while, but the all-India lockdown is certain to pose new challenges. There is a fear that the government may halt endeavours to bring back the remaining Indians in transit at international airports. The Ministry of External Affairs has advised Indian nationals abroad to stay where they are for the present.
Developed-country mindset
A country's ability to assist its citizens in trouble is considered proof of the maturity and effectiveness of its governance structures and civil service systems. While an overview of rescue operations in the past 30 years reveals a story of notable achievements and considerable success, some commentators differ. They maintain that the experience needs to be studied critically and evaluated professionally to pinpoint systemic shortcomings, and enhance the quality and response time of operations.[4]
Certainly, processes can always be improved with experience. And advantages can also disappear. India is one of the few countries in the world that still has a national carrier, and Air India, indebted as it is, is pressed into service for this purpose. But once privatised, Air India will cease to be under the government's control. The share of defence services in carrying out evacuee operations, particularly at times of natural disasters, will expand.
India is becoming increasingly globalised – its government, its companies, its citizens. With foreign travel becoming easier for Indian nationals, their presence abroad – as students, tourists, business persons and professionals, and at family reunions or weddings – is on the rise. In 2019, 50 million Indian tourists travelled abroad, more than twice that in 2017.[5]
They depart from Indian shores, confident that if they face problems, the country's diplomatic and consular missions are just a call away. It is a developed-country mindset, and it is commensurate with an India that sees itself as a 21st-century nation. A serious exercise at self-appraisal, with some specialist assistance from outside of government, will be valuable, once the coronavirus crisis has receded.
Rajiv Bhatia is Distinguished Fellow, Foreign Policy Studies Programme, Gateway House and a former ambassador to five countries.
Manjeet Kripalani is Co-founder and Executive Director, Gateway House.
This article was exclusively written for Gateway House: Indian Council on Global Relations. You can read more exclusive content here.
For interview requests with the author, or for permission to republish, please contact outreach@gatewayhouse.in
© Copyright 2020 Gateway House: Indian Council on Global Relations. All rights reserved. Any unauthorized copying or reproduction is strictly prohibited.
References
[1] Ministry of External Affairs, 'Question No.1412 Indians Trapped Abroad', Government of India, 19 December 2018,
https://www.mea.gov.in/lok-sabha.htm?dtl/30777/QUESTION+NO1412+INDIANS+TRAPPED+ABROAD
[2]Parameswaran, Pragit 'Indian Diaspora: A unique global assset', Press information Bureau, 7 August 2017,  https://pib.gov.in/newsite/printrelease.aspx?relid=169695
[3] Dua, Rohan & Uniyal, Ruchika, 'Indians in Wuhan appeal for help', Times of India, 12 February 2020, https://timesofindia.indiatimes.com/india/under-house-arrest-for-week-indians-in-wuhan-appeal-for-help/articleshow/73690174.cms
[4] Xavier, Constantino, 'India's Expatriate Evacuation Operations: Bringing the Diaspora Home', Carnegie India, 4 January 2017, https://carnegieindia.org/2017/01/04/india-s-expatriate-evacuation-operations-bringing-diaspora-home-pub-66573).
[5] https://publications.unwto.org/sites/all/files/pdf/090616_indian_outbound_travel_excerpt.pdf.