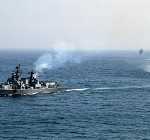 Warships from India, Japan and the United States are participating in the large-scale Malabar 2014 naval exercise off the southern coast of Japan. The exercise, hosted out of the port of Nagasaki, involved three Indian warships, two Japanese destroyers and several U.S. ships, including the aircraft carrier USS George Washington. These exercises are an important step forward in the India-Japan security relationship.
Although the Malabar exercises have been conducted by the Indian and U.S. navies since 1992, the UPA government has long been reluctant to see third countries, including Japan, participate. But this policy was overturned in January, when an invitation was publicly extended to Japan during Prime Minister Abe's visit to India.
The Malabar naval exercises have been politically controversial in India. The 2007 exercise, which involved ships from the United States, India, Japan, Australia and Singapore, sparked protests from Beijing and Indian leftists on the grounds that it signaled a "containment strategy" aimed at China. This gave the former defence minister, A. K. Antony, cold feet over participating in anything that might be read as a coalition against China. As a result, since 2009 Delhi has resisted the participation of Japan and other countries such as Australia in the exercises.
The inclusion of Japan in the 2014 edition of the Malabar naval exercise indicates that Delhi has now stopped jumping at Chinese shadows.  The Indian Navy sees considerable operational benefits from the Malabar series, particularly when they are held in a multilateral format.  As the former Indian navy chief, Admiral Mehta, commented, "Our Navy periodically exercises with many naval forces, be it the British, the French, the Russian, the Japanese or the American, but large-scale multilateral exercises are more complex and therefore needed.  We are not going to align with anybody.  But it is important for us to learn from those operating more advanced platforms."
In the coming years the Indian Navy will most certainly be called upon to participate in international or coalition naval operations of one sort or another – whether it be in combating piracy, disaster relief operations or, say, the evacuation of a large numbers of civilians from civil conflicts.  These types of cooperative operations have now become the bread and butter of modern navies.
Japan's participation in this year's Malabar exercises should also be seen as an important development in the India-Japan relationship.  This is a sign of the deepening of the political-security relationship and it will no doubt be helped by ideological affinities between Narendra Modi and Shinzo Abe, but it will also require Delhi and Tokyo to show considerable flexibility in order to go further.
One pending development is the agreement to purchase Japanese nuclear technology, which some see as extremely important for the future of the Indian nuclear power industry. While a deal has been in the offing for several years, it has come up against the roadblock that India formally sits outside the international nuclear non-proliferation system which is a major political issue in Japan. Negotiations were effectively placed on hold since the 2011 Fukushima disaster, but there are reports that talks have now re-started, although, not to the  extent of Delhi's complete satisfaction. Mr. Modi in fact, chose to go to Fortaleza for the BRICS Summit which delayed his planned trip to Tokyo, and reports suggest that this move might have placed additional pressure on Tokyo to close the nuclear deal.
The other big development in the security relationship is the planned purchase by India of 15 ShinMaywa U.S.-2 aircraft from Japan, which was announced with some fanfare in January. The U.S.-2 is one of the most technologically advanced aircraft in the world and was selected because of its amphibious nature, which is primarily designed for air sea-rescue work. This allows Tokyo to claim that it is not really a sale of "military" aircraft.
At a price of $1.65 billion, the transaction is not very large in international terms. However, it is extremely important in symbolic terms as a 'gateway' transaction – it represents Japan's first ever sale of military hardware to a country other than the U.S. since foreign military sales were prohibited in 1967.   A fast and smooth deal between India and Japan would give an important signal to China of the potential for transfer of sophisticated military technology in the years to come. The Indian Navy is also interested in acquiring Japanese patrol vessels and electronic warfare equipment and no doubt the Indian Army and Air Force have their own shopping lists.
But despite the strategic significance of the U.S.-2 deal, negotiations have been bogged down by various issues. The Japanese feel that India is being too rigid over requirements for technology transfer in connection with the sale. Japan also has its own political compulsions, and it would prefer to strip some military features out of the aircraft – on the assumption that India will later retro-fit them for military use. Tokyo hopes that the symbolic importance of the U.S.-2 deal will help avoid some of the usual impediments associated with Indian defence acquisitions.
Perhaps Narendra Modi's visit to Tokyo in a few weeks time will provide impetus and help realize the immense potential of the India-Japan relationship.
David Brewster is Senior Visiting Fellow, Maritime Studies Programme, Gateway House: Indian Council on Global Relations.
This article was exclusively written for Gateway House: Indian Council on Global Relations. You can read more exclusive content here.
For interview requests with the author, or for permission to republish, please contact outreach@gatewayhouse.in.
© Copyright 2014 Gateway House: Indian Council on Global Relations. All rights reserved. Any unauthorized copying or reproduction is strictly prohibited